Description & Technical information
China, Early Tang Dynasty (618 – 907)
TL tested by Oxford, UK

A naturalistically modelled pottery horse, , in an elegant pose with its right leg raised. The sleek head, which is turned slightly to the left, has flared nostrils, finely inset eyes and open mouth. There is a groove down the arched neck, which would have had a mane made of real hair. The tail is docked and tied together in a style typical of the early Tang period. The facial features and musculature of the body and legs, give the horse a realistic appearance. It is covered all over in white slip, with the eyes accented in black pigment and the nostrils and hooves in red. The left flank has a small area of bronze encrustation, which was probably transferred from a bronze object next to which it stood when interred.

During the Tang era, there was a substantial increase in the import of the coveted thoroughbred horses from the middle-east. These beautiful and elegant beasts, were brought into China as tributes from vassal states. The large demand for this type horses, also lead to the flourishing of stud farms on the Western and Northern borders of China. A special Horse Policy bill was passed and a special unit called the Tai Po Zhi 太僕寺, was set up to take care of the imperial horse husbandry. This with the aim of multiplying horses for military, as well as recreational, purposes. It was understood that a powerful and superior cavalry, was essential to retaining their power in the region.

Horses were an the ideal vehicle for impressive displays of grandeur. The Tang dynasty Emperor Xuanzhong (r.712-756), is recorded to have had a troupe of a hundred performing dancing horses, (wuma 舞馬) which performed at his birthday celebrations. Zhang You, a minister at the Emperor's court, describes how they performed to special music and lyrics called the 'Song of the Upturned Cup'.

With colourful tail pennants the eight dancing rows form into columns;
The five hues of the temporal dragons (dragon-horses) are adapted to the directions.
Bending their knees, they clench wine cups in mouth, attending to the rhythm,
Inclining their hearts, they offer up longevity never ending

This pottery figure, could well represent such a dancing horse, due to its posture and lack of a saddle.

Date: 618 – 907
Period: Middle Ages, 7th century, 10th century
Origin: China
Medium: Terracotta
Dimensions: 57 cm (22¹/₂ inches)
Provenance: Private Collection, The Netherlands
Categories: Oriental and Asian Art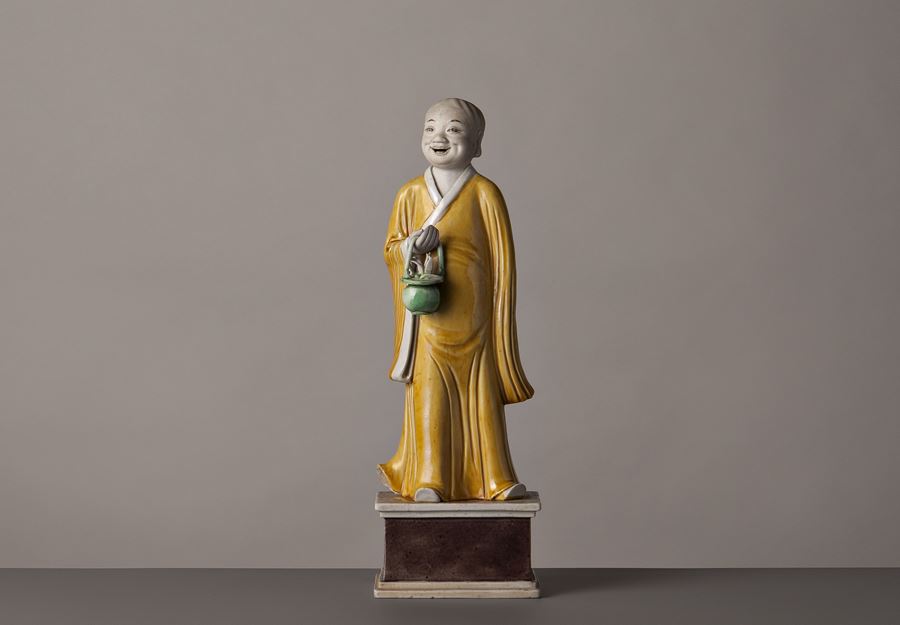 Discover the gallery
Vanderven Oriental Art
Chinese Ceramics and Works of Art
More Works From This Gallery