Description & Technical information
China, Kangxi Period (1662-1722)

These two glazed biscuit figures of Luohans (or Arhat), would probably have originally been part of a larger group. The bald and sinewy figures - sitting crossed legged - have loose fitting brown robes, edged in green. They wear a cord of large yellow beads around their necks and each has a different pose and attributes. Their bodies are left uncoloured covered with just a thin transparent glaze. The sharply moulded facial features have the eyes and eyebrows are picked out in black.

Luohans were the followers of Buddha and having attained the highest state of enlightenment, were freed from the cycle of reincarnation. They were be able to remain on earth to help spread Buddha's teachings. In temples and monasteries they are generally depicted in groups of 16 or 18 and are portrayed as elderly monks with shaven heads. Each one represents a different personage and are distinguishable by heir attributes, much like the Christian saints.

The figure leaning on his left elbow on a straw coloured bag is probably Budai (布袋羅漢), Luohan of the Calico Bag. He is known as the Buddha of infinite life and carries a bag containing the secrets of heaven and earth. The other figure holds a bowl in one hand and a spiritual pearl in the other, identifying him as the Xianglong (降龍羅漢),Taming Dragon Luohan. He is called this for a legendary act of bravery, subduing a dragon and thus rescuing important sutras.

Period: 1600-1750, 17th century, 18th century
Origin: China
Medium: porcelain, Enamel
Dimensions: 7.5 cm (3 inches)
Provenance: Private Collection, France
Literature: Jessica Rawson, The British Museum Book of Chinese Art, London, 2007, p.159-159

Patricia Welch, Chinese Art: A Guide to Motifs and Visual Imagery, North Clarendon, 2008, p197

C.A.S. Williams, Outlines of Chinese Symbolism & Art Motives, New York, 1976, p157-168

Categories: Oriental and Asian Art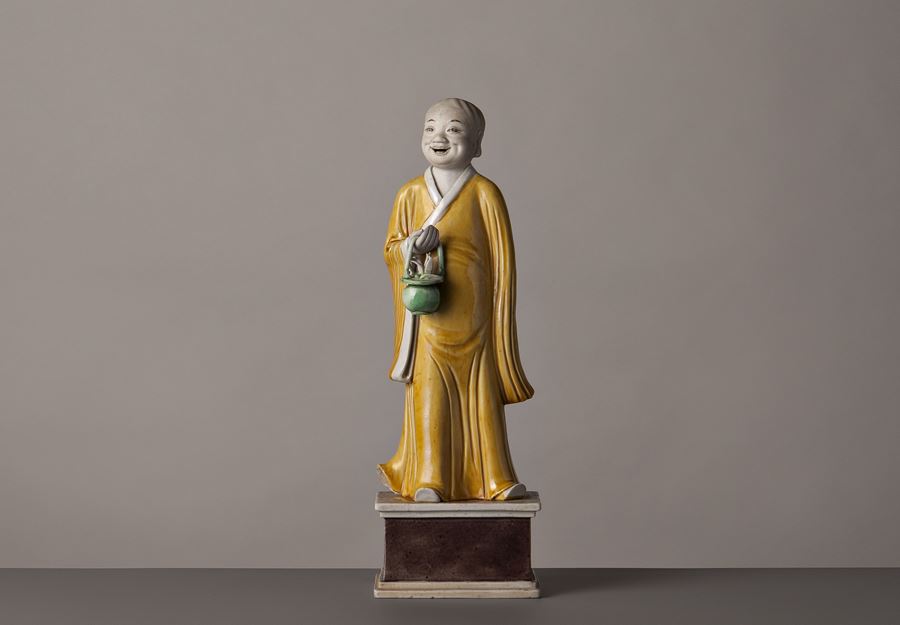 Discover the gallery
Vanderven Oriental Art
Chinese Ceramics and Works of Art
More Works From This Gallery