Description & Technical information
This figure, made of glazed pottery, represents a Luohan seated on rockwork with one hand resting on a raised knee. He is dressed in loose fitting robes, secured with a ring fastening. The face has a serene, contemplative expression and on the forehead is an urna – symbolizing wisdom.

Large scale ceramic glazed figures, such as this one, were mainly produced for religious purposes and were once part of temple decoration schemes. 16 or 18 Luohans such as these, would be placed in rows flanking either side of the main hall of the temple. Luohan – or Arhat - were the disciples of Buddha who, having attained enlightenment, were free of the cycle of reincarnation. They were seen as sages and revered as minor deities and are generally depicted as elderly monks with shaved heads. Each Luohan has its own characteristics and can often be recognized by their attributes, much like Christian disciples.

Buddhism was first introduced into China from north-eastern India, through Nepal and Tibet, during the Han Dynasty, around the first century AD. By the Ming Period it had divided into two main branches: Mahayana in China, Korea and Japan and Hinayana, which was more prevalent in south-east Asia. The Mahayana concentrates on universal enlightenment, and having many affinities with Daoism, could be easily assimilated into Chinese culture. Daoism is an indigenous Chinese religion and emphasizes personal freedom and harmony with nature.

This figure would have been moulded in sections, finished by hand and fired in specially built small kilns. The production process was similar to that of funerary figures and tiles form the same period. The typical three coloured glazes – aubergine, yellow and green- were already in use as early as the Tang Dynasty and is referred to as sancai (three colour) glaze.

Date: 16th century
Period: 1400-1600, 16th Century
Origin: China
Medium: Glazed pottery
Dimensions: 61 cm (24 inches)
Provenance: Private Collection, UK
Literature: • Anthony du Boulay, Christie's Pictorial History of Chinese Ceramics, Oxford, 1984, p. 181, pl 6
• Jessica Harrison-Hall, Ming Ceramics in the British Museum, London, 2001, p. 537-543
• Sheila Riddel, Dated Chinese Antiquities, London, 1979, p.124
• Patricia Welch, Chinese Art: A Guide to Motifs and Visual Imagery, North Clarendon, 2008, p. 197
• C.A.S. Williams, Outlines of Chinese Symbolism & Art Motives, New York, 1976, p.157-168

Categories: Oriental and Asian Art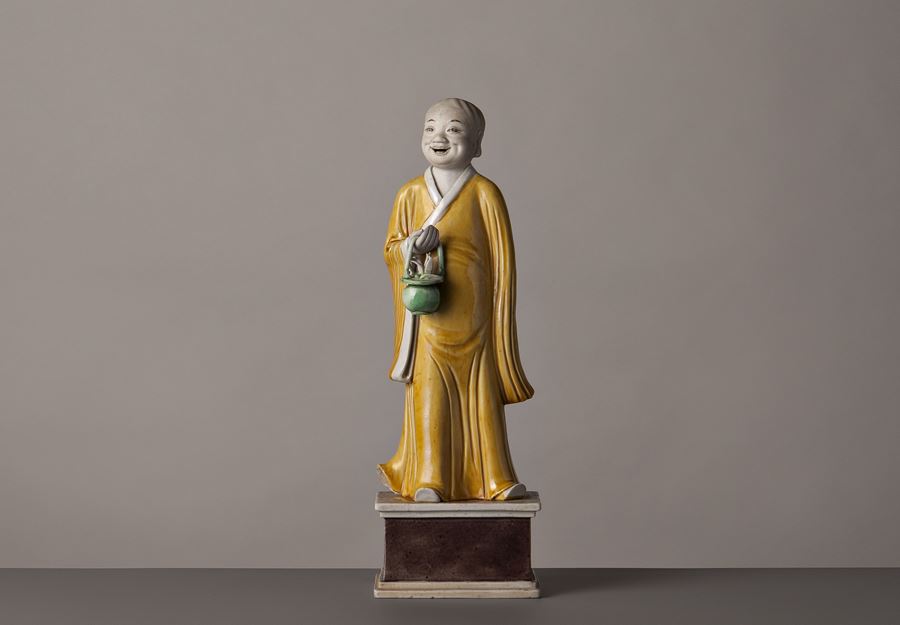 Discover the gallery
Vanderven Oriental Art
Chinese Ceramics and Works of Art
More Works From This Gallery