Description & Technical information
Featuring a strap hole and a lid, the form of this vessel - also known as cockscomb pot, jiguanhu 鸡冠壶, or horse-stirrup pot, madenghu 马镫壶.. The shape originates from the leather satchel-like containers employed by early Qidan people to carry liquids such as water, milk and wine. This form appears to have originated in present-day Chifeng, Inner Mongolia, as early as the fourth century and has been excavated mainly from graves belonging to members of the Qidan aristocracy. The simulated holes for attachment of a carrying strap and the raised stitched-like decoration and rivets, such as can be discerned on this vessel, are typical features occurring on the earliest ceramic versions of this form. With time, a variant form of the bottle, featuring a loop-handles, and thus more appropriate for a settled life, evolved from the primitive form, thus reflecting the increasing adoption of a sedentary life on behalf of the Qidan, following their contacts with their Han Chinese neighbours.

Comparable examples of cockscomb bottles have been unearthed from high-ranking tombs in Liaoning and Inner Mongolia and can also be found in notable Chinese collections such as the Mengdiexuan, Xiwenguo Zhai and Jiurutang (Hong Kong); and in western collections such as the Meiyintang Collection Rietberg Museum (Zurich) and the Avery Brudage Collection (San Francisco).

Date: 907-1125 A.D.
Period: Middle Ages, 10th century, 12th century
Origin: China
Medium: Earthenware
Dimensions: 24.5 cm (9⁵/₈ inches)
Provenance: Private collection, UK
Categories: Oriental and Asian Art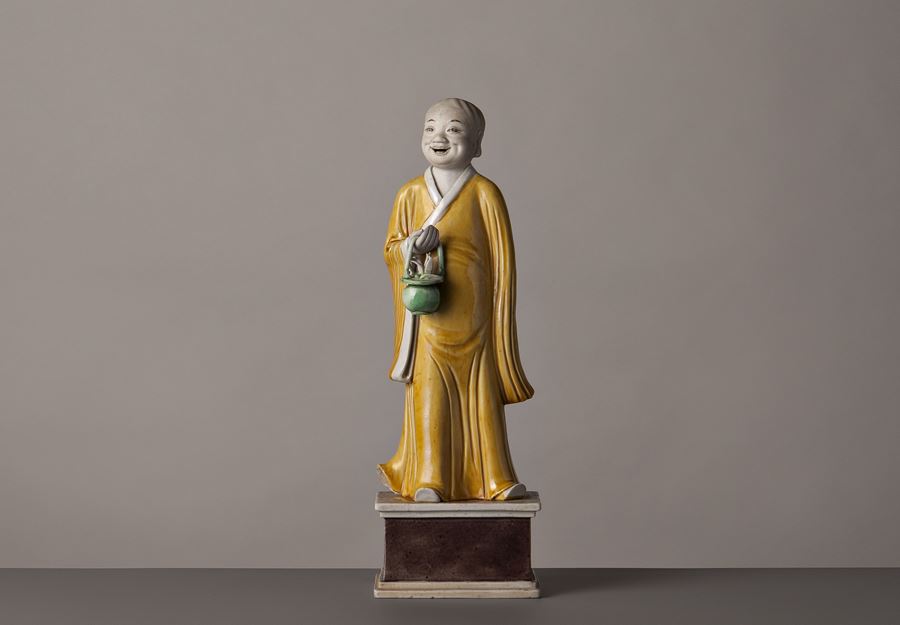 Discover the gallery
Vanderven Oriental Art
Chinese Ceramics and Works of Art
More Works From This Gallery