Description & Technical information
European Market

Price: £1,600

A Chinese export porcelain dinner plate decorated en grisaille with a scene of European figures.

The scene is Les Oies de Frère Philippe, engraved by Nicolas de Larmessin IV after a painting by Nicolas Lancret that is now in the Metropolitan Museum, New York.
The story is from Jean de la Fontaine's Contes et Nouvelles, and is inspired by one from Boccacio's Decameron. An innocent young man spies some beautiful girls and asks Br Phillip what they are. To prevent the youth succumbing to temptation the monk replies that they are only geese.
This was a popular subject on Chinese export porcelain mostly on teawares but a few plates are also known in famille rose. It was produced for about twenty years and some later pieces are quite crudely drawn. It is here executed in high quality suggesting these are from an early order - it is known with several different borders. Its popularity may be a consequence of its echoes of the Dame au Parasol pattern from the Pronk workshop.
Around 1730, a collection of engraved illustrations for La Fontaine's Contes using paintings by a number of artists including Boucher, Le Mesle, Vleughels, Pater, Eisen, Lorrain and Lancret were published. Known as Le Suite de Larmessin after the principal engraver, these prints were initially sold as a print collection and then published in book form along with Fontaine's text.
Six of the prints from the Suite are reproduced on Chinese export porcelain, including this one. The others are: Le Villageois Qui Cherche Son Veau, after a painting by Nicolas Vleughels; La Servant Justifiée, also after Lancret; Le Cuvier after P. Le Mesle; Le Baiser Rendu and Le Baiser Donné, both engraved by Pierre Filloeul after Jean Baptiste Pater. Most are reversed, suggesting that the prints taken to China were re-engraved copies of the Larmessin prints.

References: Hervouët & Bruneau 1986, p199, Nos 9.13-15; Arapova 2003, a plate in purple and grisaille; Cohen & Cohen 2015, p90, No 58, a dinner plate with this design in famille rose now in the Metropolitan Museum, New York; Shimizu & Chabanne 2003, p211, No 163, grisaille plate; Pinto de Matos 2011, Vol 2, p244, No 329, grisaille plate; Brawer 1992, p110, Cat 83, a plate.

Date: 1750
Period: Qianlong period circa 1750
Origin: China
Medium: porcelain
Dimensions: 23 cm (9 inches)
Literature: References: Hervouët & Bruneau 1986, p199, Nos 9.13-15; Arapova 2003, a plate in purple and grisaille; Cohen & Cohen 2015, p90, No 58, a dinner plate with this design in famille rose now in the Metropolitan Museum, New York; Shimizu & Chabanne 2003, p211, No 163, grisaille plate; Pinto de Matos 2011, Vol 2, p244, No 329, grisaille plate; Brawer 1992, p110, Cat 83, a plate.

Categories: Oriental and Asian Art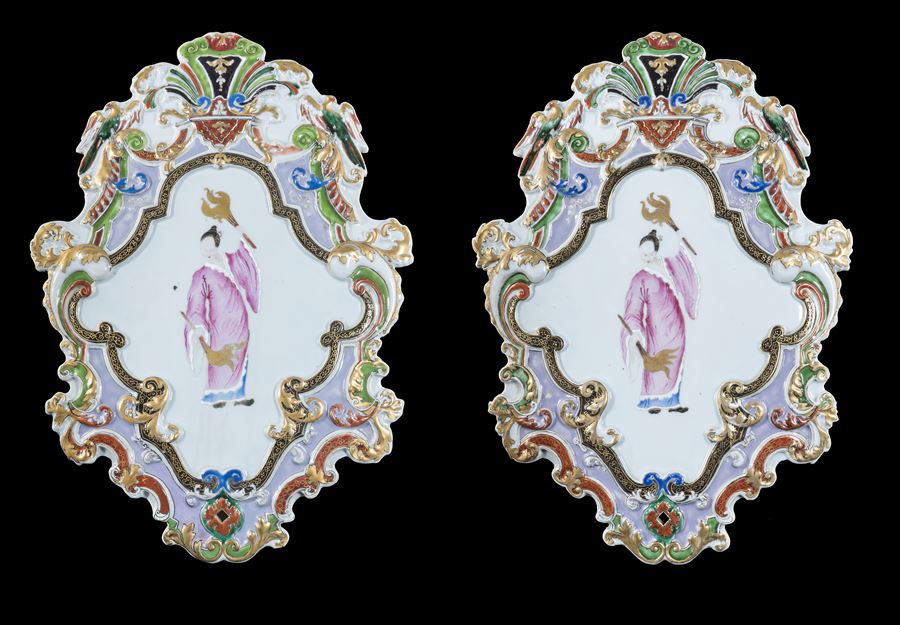 Discover the gallery
Cohen & Cohen
Chinese Export Porcelain, 17th & 18th Century, Works of Art
More Works From This Gallery