Description & Technical information
The performer wore the Mourners mask high on the head, looking out from the mask's mouth, rather than the eyes, his body covered with a net cloak covered with black pigeon feathers. The symbolism of the mask made connections with the underwater world of the dead and its acting performance was supposed to underline the chief's abiding power. The nose is typically beak-like, curving out and down. In this case the nose has extended exterior nostrils flaring in an aggressive manner. The mask was topped with human hair, also used to form the beard (both now missing). The hair of male mourners was used for this; they grew it long, and cut it after the period of mourning. At the back of the head is a band of plaited vegetable fiber, similar in construction to the hats worn by men of high rank. The wearer carried a club and spears as if ready for battle.

This type of mask was first recorded by the French botanist and explorer Jacques-J.H. de Labillardiere in 1792. When the first missionaries met the Kanak, they thought the masks were representations of devils and tried to stop their use. As a result, few were made after French colonization in 1853. Masks were used in the north and central part of New Caledonia at the time of European contact, by which time their use had diminished in the south. Southern masks are usually carved with small noses and those from North with big extended curved ones. There is some uncertainty about the original role of such masks. They have been associated with gods and spirits, in particular an evil water spirit. They symbolize the power of the community leader: a mask was given to the leader when he attained this rank. Masks were worn as part of the mourning rituals performed for a dead leader, and were regarded as a substitute for him in the ceremony.

Kanak, North New Caledonia, Melanesia. Wood, human hair, bamboo, cane, vegetable fiber, and trade cloth. The face of the mask is stained black with a concoction made from the burnt nut of the Bancoul tree (Aleurites moluccana) - the Candle Nut. Restoration to the tip of the nose and conservative consolidation to the face and coif. 42 cm. 19th century.



Date: 19th century
Period: 1750-1850, 1850-1900, 19th century
Origin: Melanesia, New Caledonia
Medium: Wood, Human hair, Bamboo, Cane, vegetable fiber, Trade cloth
Dimensions: 42 cm (16¹/₂ inches)
Provenance: Admiral William Oswald Story, C.B.E. (18 April 1889 / 14 January 1938). William O. Story was an officer in the British Royal Navy. He served during the 1875-1876 expedition to Perak (Malaysia), in 1882 in Egypt and from 1885 to 1856 in Suakin (Sudan). He emigrated to Canada in 1911 and in the First World War he was loaned by the British naval service to Canada, where he was appointed Admiral Superintendent of Esquimalt Dockyard, the Canadian naval base on the Pacific Coast. He remained in Canada until his death in 1938. This mask, together with a group of Oceanic artifacts, would have been collected around 1890, and remained in England when the Admiral left for North America. These objects were found by his descendants in the family home and offered for auction in the 1990 Bonham's sale.
Categories: Tribal Art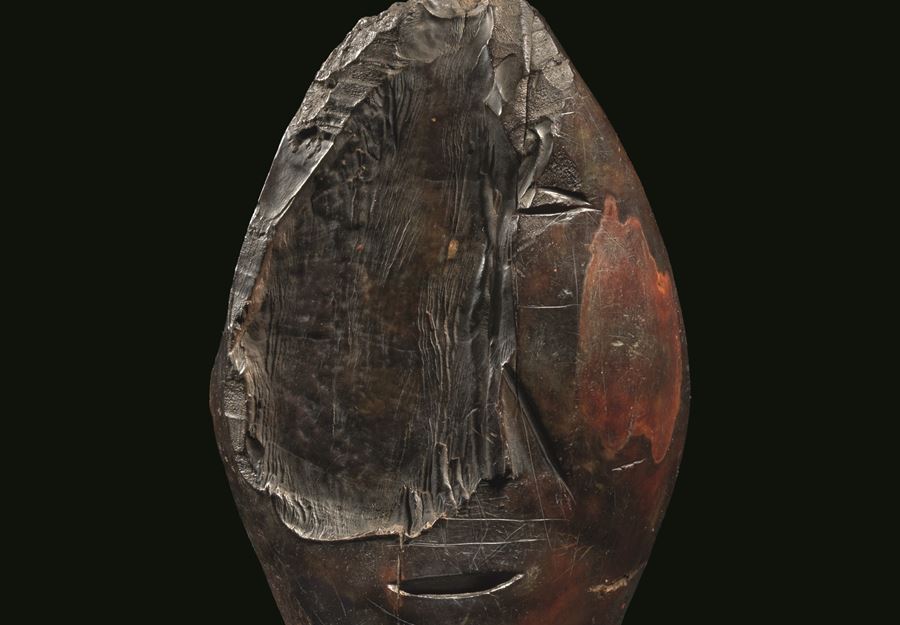 Discover the gallery
Galerie Meyer-Oceanic Art
Tribal Art dealer specializing in early Oceanic Art since 1980 and archaic Eskimo Art since 2010
More Works From This Gallery