Description & Technical information
Qianlong period
European Market

Price: £2,600 for the pair

A pair of Chinese export porcelain dinnper plates painted en grisaille and gilt with highlights of rouge de fer, with a mythological scene of a bathing goddess attended by two putti, the rim with an elaborate border of floral swags and symbols.

The central image is taken from a small oval ornament print by Claude Duflos, circa 1710. The image, described as Venus Bathing, had originally been traced to a painting by Nicolas Fouché that was engraved by Benoît Audran the Elder circa 1700. The main figure and one of the putti are taken from that but the addition of another putto at her feet suggested an intermediate print, which has now been found and which indicates that goddess is intended to be Diana.
Between about 1700 and 1720 Duflos and others based in the rue St Jacques in Paris, produced and sold a large range of these small prints, mostly in an oval frame, and taken from other prints and paintings. The subjects were classical, pastoral and erotic.
As well as appealing to collectors, these were sold as designs for workers in the decorative arts to be reproduced on snuff boxes, European porcelains, silver and other media. The images are about four inches long and on sheets ten inches long. Quite a number of these designs also found their way to China, being easily transportable, and were copied onto teawares and plates like this pair. Recent research has identified about forty of these prints used on export porcelain.
Fouché was a pupil of Pierre Mignard and worked mainly in Paris. Benoît Audran the Elder was from a family of engravers based in Paris. Another work by Audran, Flora and Zephyr, after Charles Antoine Coypel, is also known en grisaille on Chinese export porcelain. That also exists as a small oval ornament print copied from the Audran print.

Date: 1750
Period: 1600-1750, 18th century
Origin: China
Medium: porcelain
Dimensions: 23 cm (9 inches)
Literature: References: Mezin 2002, p92, No 73, a plate with this scene, but a different border; Hervouët & Bruneau 1986, No 13.16, a plate with the same border as this one.

Categories: Oriental and Asian Art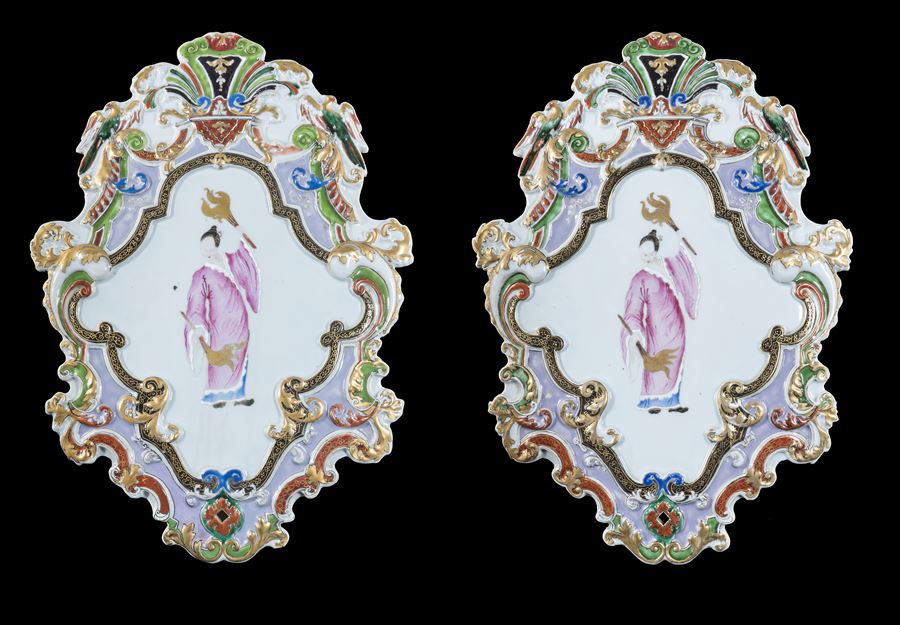 Discover the gallery
Cohen & Cohen
Chinese Export Porcelain, 17th & 18th Century, Works of Art
More Works From This Gallery