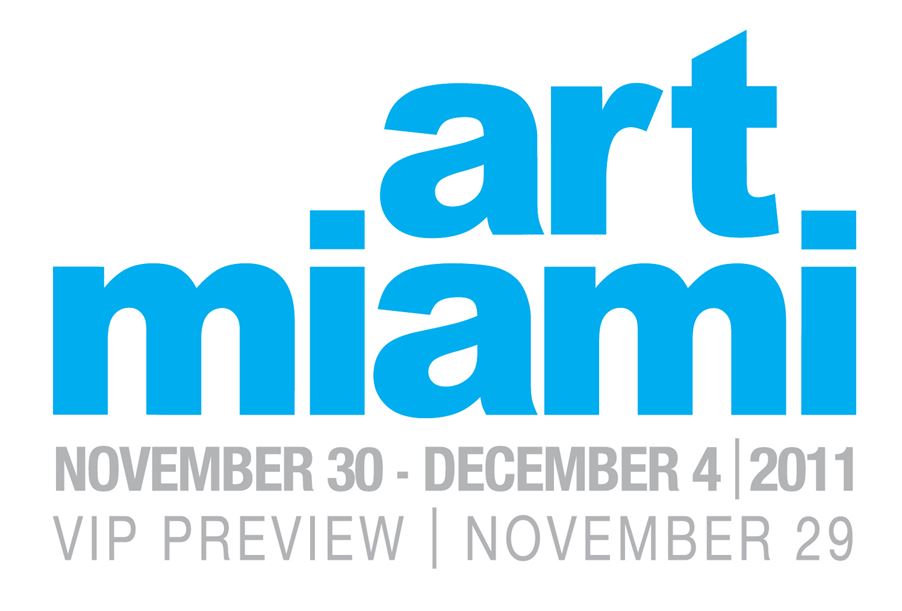 December 5, 2011 (MIAMI, FL) – Art Miami (www.art-miami.com), the city's longest running contemporary art fair and anchor fair to the City of Miami, announced a new record attendance of 55,000 and significant sales of blue-chip artists at the close of the five-day fair. Many galleries also reported strong leads from high-profile collectors, museum professionals and curators that will continue to foster sales in the days and weeks following Art Miami. Distinguished for its quality, depth and diversity, the 22nd edition of Art Miami presented an incredible showcase of extraordinary modern and contemporary art from 110 international art galleries.
"The year's fair has exceeded all of our expectations, from the vast array of high-quality works and extraordinary galleries to a record number of important sales," said Nick Korniloff, Director of Art Miami. "The high volume of transactions and record attendance at Art Miami are also strong indicators that the art market is thriving. We anticipate millions of dollars in sales will be finalized in the coming weeks as a result of the strong interest and serious collectors at Art Miami this year. We look forward to hearing continued updates from our exhibitors."

Hollis Taggart, owner of Hollis Taggart Galleries, stated, "This show has been well attended and has had a very strong energy throughout. Sales have been strong and the contacts made this year exceed any previous show. Many people commented that the Art Miami show is 'user friendly and more open and spread out than the Art Basel, Miami fair – you can actually buy things here.' Well-organized and managed by Nick Korniloff, the Art Miami show has grown and evolved into one of the truly elite art fairs in America."
Highlights from day five (Sunday) sales included:
McCormick Gallery/Vincent Vallarino Fine Art sold a Robert Motherwell acrylic painting titled "Untitled 1971" for approximately $325,000, a Mark di Suvero untitled steel sculpture for approximately $85,000, and two Jack Roth electrified mixed-media assemblage boxes totaling approximately $15,000
Osborne Samuel sold a rare Cyril Power linocut print in four blocks titled "The Eight" for approximately $150,000 and a William Kentridge work for $45,000
Antoine Helwaser Gallery sold nine pieces at the fair totaling $1.5 million
JGM. Galerie sold a Jonathan Lasker painting for $65,000 and two Augustín Cárdenas sculptures one titled "La Pareja" for $30,000 and one titled "Le Repos du Discobole"
Mark Borghi Fine Art sold an Alex Katz painting titled "Daytona Beach" for approximately $38,000 and a Sol LeWitt ink on paper for approximately $35,000
Bridgette Mayer Gallery sold a Charles Burwell acrylic on canvas painting titled "Large Overlay no. 1- Black & Tan" (2011) for $30,000 and a Paul Oberst sculpture titled "Blue Heart" (2011) for $3,500
Juan Ruiz Galería sold Martin C. Herbst's "Moon 4" for approximately $23,000, a work by Abel Barroso titled "The Border" for $2,500, and Patricio Reig's print "Notebook Series Notebook #19"
Jim Kempner Fine Art sold a Deborah Kass piece titled "OY/YO" for $20,000, a Carole Feuerman work titled "Miniature Serena (Pearlescent Cap)" for $12,800, a Christopher Beane print titled "Spinning Cineraria (Virgin Man Eater)" for $9,500 and two Charlie Hewitt woodcut prints for $5,000, and an acrylic and rubber work by Rinaldo Frattolillo entitled "$5.99 Shark from Ebay" for $5,000
Westwood Gallery sold a Boris Lurie ink on paper from the "Dance Hall Series" for $19,000
Aldo de Sousa Gallery sold an untitled Alberto Delmonte acrylic on canvas (1996) for $16,000
Ferrin Gallery sold several Molly Hatch pieces totaling approximately $15,000 including a gouache on paper and ceramic figure titled "Mon Plaisir: Monsieur Le Fritzuer (Triptych-Center)" (2011), and a full set of earthenware plates (45 pieces) by the same artist
Waterhouse & Dodd sold a Karen Gunderson oil painting for $15,000
Galerie Terminus sold two Jan Davidoff oil on metal totaling approximately $12,000
Graham sold a Mary McDonnell painting for $6,000
Contessa Gallery sold a David Drebin digital C print titled "Girl in Red Mirror" for $5,800
The following galleries also reported important sales for undisclosed amounts:
Barry Friedman sold two Ian Ingram self portraits "Forgotten Offerings" and "Springer", eight Michael Eastman photographs, and a perforated acrylic painted canvas by Anne-Karin Furunes titled "Portraits of Archive Pictures"
Tresart sold 12 pieces including 10 works by Loló Soldevilla, an untitled oil on wood panel by Sandu Darie, and an oil on burlap piece by Guido Llinás titled "Antipintura"
Arthur Roger Gallery sold five David Bates paintings and 12 Richard Baker paperback book cover paintings
Peter Zimmermann Gallery sold a first edition Simon Raab sculpture of polymer and stainless steel titled "Tablet of Moses #1" (2011)
Richard Levy Gallery sold a William Betts piece
Jackson Fine Art sold two Greg Lotus photographs, titled "Black Paper Back" (2011) and "Paper Do" (2011) respectively
Priveekollektie sold two Hans Kotter acrylic, glass and LED pieces titled "Tunnel View (right curved)" and "Tunnel View (left view)"
Fu Xin Gallery sold a John Safer polished bronze on black lucite sculpture titled "Interplay" (2011)
Denise Bibro Fine Art sold a Jerry Meyer piece titled "Convenient Map of Worries and Unhappiness, Local and Express" (2011)
Westwood Gallery sold an Andy Warhol screen print on cardstock titled "Happy Flyaway Days" (1955)
Pace Prints sold several works from Jim Dine works
Arcature Fine Art sold two chromogenic prints from Lex Guofeng Cao titled "Steve Jobs vs. Neil Armstrong" and a Hal Buckner steel cut titled "Elvira"
James Barron Art sold works from Yun-Fe Ji and Lori Ellison
Edelman Arts sold a Doug Argue painting
William Shearburn Gallery sold a painting from Roxy Paine
Eli Klein Fine Art sold 15 works from six artists
Art Miami was held from November 29 – December 4, 2011 in a state-of-the-art 125,000 square foot pavilion in Midtown Miami's burgeoning Wynwood Arts District. Now in its 22nd edition, Art Miami includes modern and contemporary paintings, drawings, sculpture, photography and prints from Europe, Asia, Latin America, India, the Middle East and the United States. Art Miami has grown to include over 110 galleries from 18 countries, with a showcase of 1,000 artists from 60 countries around the world. From the United States, 400 artists are on display from nearly 100 cities. For a complete list of exhibitors, visit www.art-miami.com.
Press Contact:
For more information on Art Miami or for media credentials to attend, please contact Nicole Janok at 917-603-9001/ nj@sharpthink.com, Beryl Crofton-Atkins at bc@sharpthink.com /917-833-0082 or Stephanie Grabbe at sg@sharpthink.com /917-969-7479.
About Art Miami:
Miami's longest running contemporary art fair, Art Miami was held from November 29 – December 4, 2011. As the anchor art fair to the City of Miami, the fair offered a compelling array of modern and contemporary artwork from 110 international galleries and prominent art institutions. Art Miami was held in a state-of-the-art 125,000 square foot pavilion in Miami's burgeoning Wynwood arts district. Art Miami's Opening Night VIP Preview occurred on Tuesday, November 29, 2011, and benefited The Lotus House Women's Shelter.
Art Miami Sponsors + Partners:
Art Miami is generously supported by: Mandarin Oriental, Miami; Persol eyewear; Sotheby's International Realty; Balthazar magazine; Bootlegger 21 NY Vodka; Juan Montoya Design, Gander + White; Universal Travel; The Miami Herald; Spuntino Catering; Société Perrier; Heineken and Midtown Miami.
About Art Miami, LLC:
Art Miami, LLC is a partnership consisting of art and media industry veterans Nick Korniloff, Mike Tansey and Brian Tyler. Art Miami LLC produces Art Miami (www.art-miami.com), Miami's longest running contemporary show.
About Art Wynwood
Art Miami, LLC is pleased to announce the launch of Art Wynwood for President's Day Weekend, February 16 - 20, 2012 in Miami. The five-day fair is scheduled to take place during Miami's busiest holiday weekend and will open with a VIP Private Preview on Thursday, February 16, 2012. This inaugural international Contemporary Art Fair will be held in the spacious 125,000 square foot Art Miami Pavilion located in Midtown Miami Wynwood Arts District. Art Wynwood will feature carefully selected art dealers, showcasing curated indoor and outdoor projects, art video & new media, solo exhibitions and conceptual art. The Fair will continue to distinguish the Wynwood Arts District as Miami's epicenter where art, fashion, design and the culinary arts intersect.