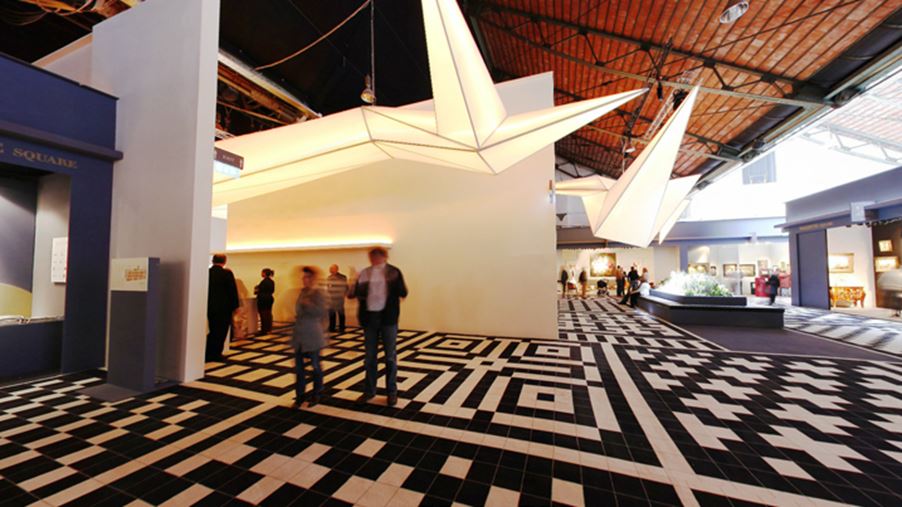 MASTERART is pleased to present its stunning addition to BRAFA's website—The Virtual Tour--a joint initiative with BRAFA. Collectors may now browse the stands in advance online, zoom in on a particular object and view it from different angles. The Virtual Tour is a welcome addition to the collector pressed for time.
This year's fair is very TWEET, APP and FB–oriented. Contrary to popular belief, the antiques world is far from being incompatible with new information technologies. Already on Facebook, BRAFA is now easily accessible thanks to its new iPhone and iPad applications.
At BRAFA 2012, one hundred and twenty-two exhibitors from twelve countries are showing their most exquisite pieces at the Fair, hosted in a gem of industrial architecture in the heart of Brussels. World reputed galleries have chosen to show their finest collections to a public that has become increasingly enamored with Art.
This year, the King Baudouin Foundation is Guest of Honour at BRAFA, more specifically, the King Baudouin Foundation Heritage Fund, which will be celebrating its 25th anniversary with an exceptional exhibition of a few key works from its collection of around 7,000 artworks entrusted to 20 public institutions in Belgium. Canvases by Henri Evenepoel, Fernand Khnopff and Jo Delahaut will be displayed alongside watercolours by Félicien Rops, silverware, sculptures and antique tapestries.
The majority of the established names who raise the profile of the Fair will once again be attending—namely, galleries Bérès, Berko, Claes, De Backker, Bernard De Leye, Florence De Voldère, Manufacture Royale De Wit, Jean-Jacques Dutko, Ludorff, Mermoz, Phoenix Ancient Art, Steinitz, Ronny Van de Velde, Axel Vervoordt, and N. Vrouyr--along with other well-known traders, some of whom will be exhibiting at the event for the first time.