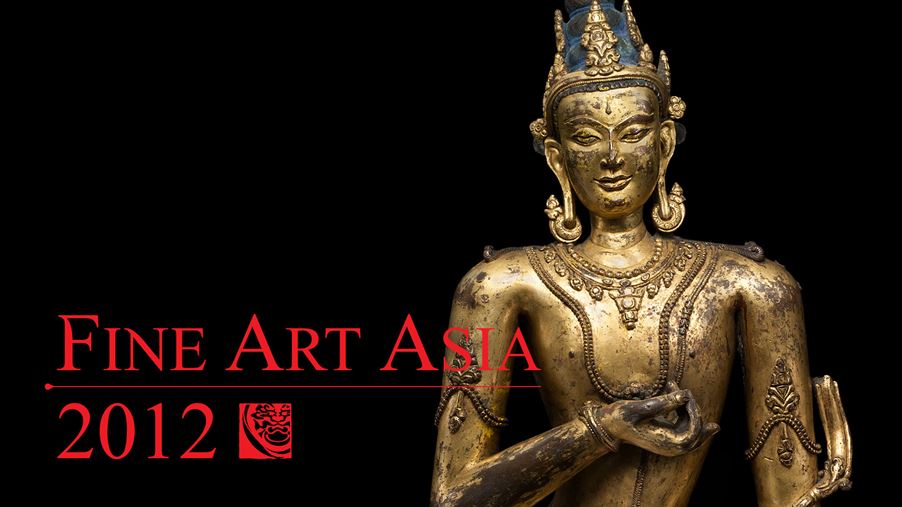 The 8th edition of Fine Art Asia, the region's leading fine art fair, returns to the Hong Kong Convention and Exhibition Centre from 4 to 7 October 2012 with its strongest presentation and line-up ever. Over 90 exhibitors will be showing more than 6,000 art pieces, with a total value of over HK$2 billion. Key artworks premiering at Fine Art Asia 2012 include Monet's Pommiers en Fleurs (1878) at the value of HK$66,300,000, as well as a Tibetan Bronze Bodhisattva dating from the 9th century, with the value of HK$42,900,000. The fair anticipates over 20,000 visitors from all over the world this year.
Fine Art Asia displays the best in Asian and International fine art items. Visitors can expect museum-quality collectibles ranging from ancient Chinese bronzes to European decorative arts from the 17th to 19th centuries. Jewellery and watches by the world-renowned designers including Cartier, Van Cleef & Arpels, Boucheron, Tiffany and Bulgari will be on display. Chinese and Western masters in modern art are equally well-represented with works by Zao Wou-Ki, Monet and Van Gogh. A wide range of contemporary art in different media will also be featured.
Fine Art Asia 2012 offers a number of special programmes. An Italian Design Furniture Exhibition, "From 20th Century to Eternity", highlighting the newest category of artworks at the fair will be previewed at K11 from 1 to 30 September 2012. The preview exhibition features such iconic items of furniture as Carlton (1981) by Ettore Sottsass and Table (2008) by Nanda Vigo, as well as masterpieces of modern design by Matteo Thun, Michele De Lucchi and Marco Zanuso Jr. The complete presentation will be staged the Hong Kong Convention and Exhibition Centre's Hall 5BC for the fair, after the special preview exhibition.
Another Preview Exhibition of Fine Art Asia 2012 will run at the luxury boutique hotel, The Upper House, from 16 September to 7 October. The third collaborative exhibition between Fine Art Asia and The Upper House, entitled '"Within Shan Shui'", will feature a selection of artworks by outstanding contemporary artists, who translated the traditional style of shan shui (Chinese landscape painting), into their contemporary creations.
Fine Art Asia warmly welcomes Hong Kong Arts Centre and Hong Kong Art School step up this year as the Education Partner with an academic programme titled "Aesthetics Past & Present". The presentation will include a display of works by Hong Kong Art School's distinguished alumni, and analytical workshops and guided tours to further investigate and understand the topic.
For the second year in a row, the beneficiary of the fair is the Hong Kong Cancer Fund, which presents "CONNECT", a contemporary art exhibition by a group of Hong Kong artists that explores the links of love, care and humanity that bind us all. A charity auction of the works displayed will be held in aid of the Hong Kong Cancer Fund's free services, in particular, their peer support network that unites all those touched by cancer. Part of the proceeds from fair ticket sales will also be donated to the Hong Kong Society for the Protection of Children.
Chong Hing Bank sponsors Fine Art Asia 2012 for the seventh consecutive year, while Martell, the world's oldest French fine cognac house, will sponsor an exclusive VIP lounge, presenting the world's most precious cognac, L'or de Jean Martell, to the fair's VIPs.
About the Fair Organiser
Art & Antique International Fair Ltd (AAIF) was founded in 2006 by Hong Kong art experts to provide an international showcase in Hong Kong for the art world from Asia and worldwide. Fine Art Asia is now established as the leading and only fair during the important Hong Kong autumn art auction season. AAIF and the Fair Advisory Board have a firm belief in Hong Kong's significant role as the centre of the art market in Asia. Advisory Board members including Michael Goedhuis, Fabio Rossi, Sundarum Tagore, Jenny So, Elizabeth Knight, Martin Fung, Charles Wong, Wallace Chan, Kai-Yin Lo, Floris van der Ven and Pierre Dumonteil.
Further information about Fine Art Asia 2012 www.fineartasia.com