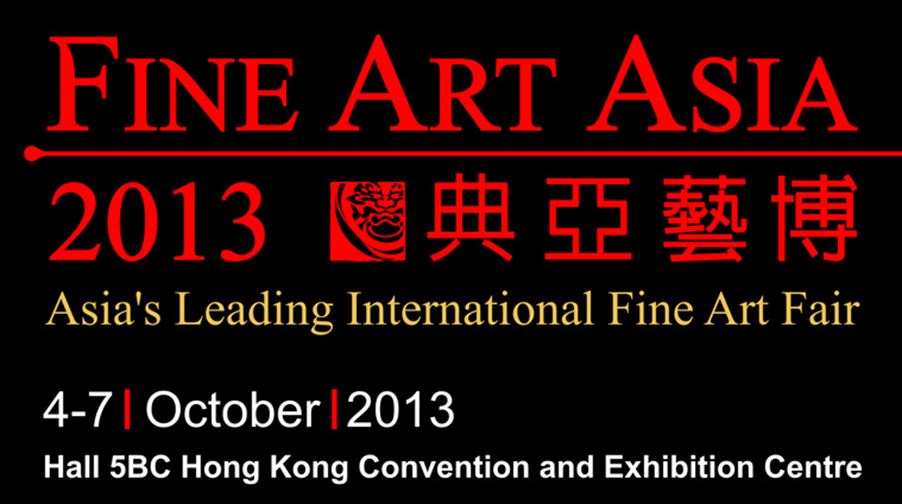 Fine Art Asia 2013, Asia's leading international fine art fair, returns for its 9th edition from 4-7 October at the Hong Kong Convention and Exhibition Centre, with a Private Preview and Vernissage on 3 October.
Fine Art Asia 2013 will again create a high-quality platform for the international art world, with an 8,000-square-metre exhibition space showcasing an array of museum-quality fine art from both East and West. Some 100 world-renowned galleries will display more than 6,500 stunning works of art, worth a total of over HK$2.5 billion.
Key artworks include La Seine à Bougival by Claude Monet (HK$69,434,995) and Guitar Accroché au Mur by Pablo Picasso (HK$65,922,923), presented by Gladwell & Patterson, London; an outstanding 18th century gilt bronze sculpture of the goddess Palden Lhamo, defender of Tibet, at Rossi & Rossi, London (in the region of HK$46,500,000); a 19th century French silver wine cisten by Sazikov (HK$10,000,000) offered by Koopman Rare Art, London; and a magnificent Van Cleef & Arpels brooch (HK$4,653,442) featuring an emerald originally from a diadem given by Emperor Napoleon to his wife Marie Louise, displayed by Simon Teakle, Connecticut, USA.
Fine Art Asia 2013 is staged at the peak of the important art season in Hong Kong and coincides with Sotheby's auctions in the same venue. The fair is expected to attract over 25,000 visitors including major dealers, collectors, curators, connoisseurs and art enthusiasts from throughout Asia as well as from all over the world.
On display at Fine Art Asia 2013 will be ancient Chinese bronzes, rare Himalayan, Egyptian and Islamic art, Chinese lacquer, porcelain, furniture, textiles and snuff bottles, as well as European decorative arts from the 17th to the 19th century. Visitors can discover iconic jewellery pieces by the world's greatest designers including Cartier, Van Cleef & Arpels, Tiffany and Bulgari, and the finest antique silver from both East and West. Old Masters, Impressionist and Modern art will be a highlight, including exceptional paintings by Monet, Sisley and Picasso, and sculptures by Rodin. Design and decorative arts are an important category; as are Chinese and international contemporary art.
Andy Hei, founder and co-chairman of Fine Art Asia, said: "Fine Art Asia 2013 is unique, the only fair in Asia where the link between tradition and modernity, East and West, can be viewed and appreciated under one roof. Once again this year, we are delighted to welcome leading international galleries from all over the world. Hong Kong is the centre of the art market in Asia and has established a key role in the global art market. Fine Art Asia 2013 is the 9th edition of our fair, proving that it provides the perfect platform for local and international galleries to do business in Asia at the highest level."
"Everlasting 20th Century", Special exhibitions at the fair
A special exhibition, "Rooted", will focus on 20th century Chinese ink paintings and will include works by leading masters including Zao Wouki, Ma Desheng Xu Bing, Gu Gan, Chen Guangwu. The 20th century was a crucial period in the history of Chinese art, as artists embraced Western influences, combining them with Chinese tradition to produce new styles and perspectives.
Another highlight of the fair will be a solo exhibition of the Chinese realist master Ai Xuan. This will be the first time Ai Xuan has staged a solo exhibition at an art fair, and Fine Art Asia 2013 is privileged to showcase seven of the most important oil paintings from the artist's studio (total value over HK$100 million). Ai Xuan will be present to officiate at the opening of his solo show at Fine Art Asia 2013.
A collection of fine silver by Georg Jensen, a name synonymous with excellent Danish design throughout the world, will be featured at the fair. In his early years, Jensen was influenced by Art Nouveau style which he made his own by combining the sculptor's strong, free lines with the silversmith's intuitive feel for the material. The lushly ornamented pieces of the Grape Collection, for example, are a tour de force of the Art Nouveau style.
Calvin Hui, co-chairman & director of Fine Art Asia, said, "The 20th century was a time of vibrant change and innovation in the art world, in the East and the West. With the expanding theme of 'Everlasting 20th Century", visitors will be also able to appreciate outstanding Western 20th century artworks including bronze sculptures by the master Auguste Rodin, paintings by the great Russian émigré artist Marc Chagall, ravishing leaded glass lamps by Tiffany; fine art jewellery by Cartier and Van Cleef & Arpels; and iconic designs by French luminaries René Lalique and André Sornay.
European Pavilion
Following the success of the Hong Kong Pavilion presented by Fine Art Asia 2013 at Masterpiece London 2013, which attracted widespread critical acclaim, Masterpiece will in turn host a pavilion of European Treasures at Fine Art Asia 2013. The pavilion will feature impressive examples of Western heritage and craftsmanship reflecting the amazing breadth and range of art created in Europe over the last 3000 years, from ancient stone sculpture to contemporary design.
Highlights include classic European furniture exhibited by Ronald Phillips and Robbig Munich; maps by the 17th century Dutch cartographer Willem Blaeu from Daniel Crouch; an 18th century view of Venice by Michele Marieschi from Robilant & Voena; an aquamarine crystal mounted as a seal by Carl Fabergé shown by Wartski; and a rare bronze lamp by Alberto Giacometti (1901-66) exhibited by Rose Uniacke.
Nazy Vassegh, CEO of Masterpiece London, commented, "It is part of our strategic growth plan to create a pioneering pavilion devoted to European Treasures at Fine Art Asia in Hong Kong this year. We see Hong Kong as a sophisticated and well-established art hub in Asia and expect Hong Kong's crucial role in the market place to continue growing."
Academic Programme and Charity Auction
An Academic Programme of lectures and seminars by leading art experts from Hong Kong and overseas will be held during the fair. The Consulate General of France and Macau, the fair's Cultural Exchange Partner, will present a number of lectures on French art and design. The Hong Kong Arts Centre and Hong Kong Art School, the fair's Education Partner, will host a series of workshops and demonstrations at their booth, as well as a lecture programme at
the Hong Kong Arts Centre focusing on how art responds in an era of change.
For the third consecutive year, the beneficiary of the fair is the Hong Kong Cancer Fund, which will present an exhibition entitled "INSPIRE", bringing together some of Hong Kong's most exciting contemporary artists. The artworks on display will be sold in a silent charity auction, the proceeds of which will support the Hong Kong Cancer Fund's free services.
Meanwhile, the Hong Kong Society for the Protection of Children, together with the Sovereign Art Foundation, will host an interactive exhibition of children's artworks at the fair.
Sponsors of Fine Art Asia 2013
Fine Art Asia 2013 is sponsored for the eighth year in succession by Chong Hing Bank.
Martell, leading producer of fine cognac since 1715, will sponsor an exclusive VIP lounge at the fair, as well as an installation by Chinese contemporary artist Zhang Yu.
A key figure in contemporary experimental ink painting in China since the 1990s, Zhang is renowned for his "Fingerprint" series, in which he uses his finger instead of a brush to apply ink to his works, leaving thousands of overlapping fingerprints symbolising identity and uniqueness on the paper. So far, Zhang has limited his colours to red, white and black. At Fine Art Asia 2013, he will create an installation using blue fingerprints for the first time.
For more information on Fine Art Asia 2013, please visit www.fineartasia.com
Notes to Editors
About the Fair Organiser
Art & Antique International Fair Ltd (AAIF) was founded in 2006 by well-known antique Chinese furniture expert, Mr. Andy Hei, to provide a vibrant new platform in Hong Kong for the art world in Asia and worldwide. The company is the pioneer of art fairs in Hong Kong: its inaugural fair in 2006 was the first international art fair in Hong Kong in more than a decade.
In 2010, Fine Art Asia was recognised as Hong Kong's first global art brand, featuring internationally renowned exhibitors specializing in a wide range of antiques, fine art, jewellery and design, as well as attracting the world's foremost collectors. In 2011, art collector and cultural advisor, Mr. Calvin Hui, joined Fine Art Asia as Co-Chairman and Director.
With his expert knowledge of the art market and a passion for promoting art and culture, Mr. Hui brings new visions to Fine Art Asia and aims to enhance the fair's status in the international art world. In the same year, the number of exhibitors at Fine Art Asia reached over 100. In 2012, the 8th edition of Fine Art Asia broke records of attendance, total sales and level of quality of the exhibits. At Fine Art Asia 2012, Asia's first 20th century Italian design furniture exhibition was held and received positive reviews.
In 2013, a new Chinese name of Fine Art Asia is announced. This year will see the first-ever partnership with Masterpiece London, in which Fine Art Asia will present a Hong Kong Pavilion in the 4th edition of Masterpiece London; Masterpiece London will also sponsor a European Pavilion at Fine Art Asia 2013. This exciting partnership underlines Fine Art Asia's status in the international art world as Asia's leading international fine art fair.