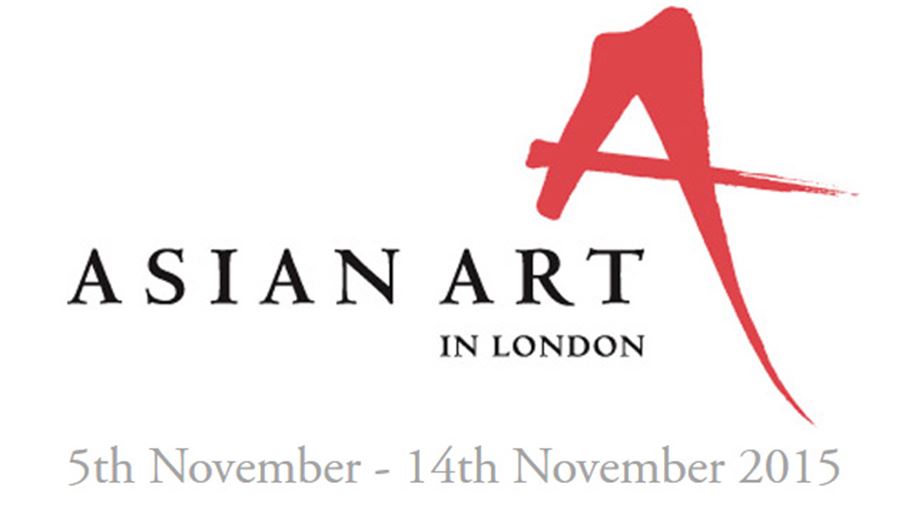 After 18 years, Asian Art in London remains the only Asian Art Event to unite
world class dealers, auction houses and leading museums in Central London with a series of selling exhibitions, auctions and lectures held in Mayfair, St James's and Kensington Church Street.

Late night openings:-
Kensington Church Street: Saturday 7 November
St James's: Sunday 8 November
Mayfair: Monday 9 November

Entry to participating galleries is free. Please see the Calendar of Events on the AAL website to view the enormous variety of Events available during the week. www.asianartinlondon.com

In 2015 AAL is pleased to be associated with the UK-China Year of Cultural Exchange and to promote our chosen charity 'Place2Be', whose Royal Patron is HRH The Duchess of Cambridge. The charity is dedicated to, "making a lifetime of difference to children in schools, unlocking children's potential in the classroom and beyond".

Asian Art in London is delighted to announce Fortnum & Mason as its premier sponsor for 2015. Fortnum & Mason will sponsor the 2015 AAL Art Award for a one and two dimensional work of art, together with Apollo magazine. The competition is open to all AAL Participants and is judged in October by a panel of experts including; James Lin, Fitzwilliam Museum Cambridge, Rosemary Crill, Victoria & Albert Museum, London and Clare Pollard, Ashmolean, Oxford, together with celebrity judge Ruth Watson of BBC fame. The awards will be presented at the AAL Gala Party.

The AAL Gala Party will take place on Friday 6 November at Mandarin Oriental
Hyde Park. Canapés and entertainment: £60, ticketed admission only.
Exhibit courtesy of The Fan Museum Greenwich, 'Made in China' exhibition.
5 Sept – 31 Dec 2015.
Tickets enable entry into a three-prize draw courtesy of the Mandarin Oriental.
Complimentary stay for two, for one night, at the Mandarin Oriental, Hyde Park. Two nights for two, at the Mandarin Oriental, Hong Kong and two nights for two, at Mandarin Oriental, Sanya, China (Resort Hotel).

Asian Art in London Sponsors; Fortnum & Mason, Apollo, ATG, Afex, & Dorsett Shepherds Bush, will co-host the first AAL Symposium to be held by AAL for over a decade, at the Royal Institution, Albemarle Street, Mayfair on Wednesday 5 November. The Symposium explores the 'Psychology of a Collector', with eminent speakers including; Dr Tao Wang, formerly of SOAS London and now Curator of Chinese art of The Art Institute Chicago, Dr Nicole Rousmaniere, Curator of Japanese Art at the British Museum, William Dalrymple, author of White Mughals, and Alvin Hall, TV presenter & author, plus psychologist Dr Dattenberg-Doyle, Fellow of the British & American Psychological Association.

Ticket are available online: £114 (including lunch/refreshments).
http://www.asianartinlondon.com/content/asian-art-london-symposium
Ticket includes a free prize draw to win a stay for two, courtesy of The St Regis Chengdu, (where you can visit the Giant Panda Breeding Research Base, or the world's largest statue of Buddha).

New Participants AAL 2015
ArtChina, contemporary Chinese art;
Nicholas Grindley, photographic exhibition & Chinese furniture expert;
Gallery Elena Shchukina, contemporary art;
Yewn Heritage Jeweller, Chinese contemporary jewellery;
Runjeet Singh, Eastern arms and armour;
Kent Antiques, Islamic, Middle Eastern and Indian art;
Paul Harris, Asia Arts representing Chen Dapeng Sculptor of China
Returning to AAL 2015:
Rossi & Rossi, contemporary and antique Asian works.

Exhibitions of special interest:
Raquelle Azran; 'Raquelle Azran, Vietnamese Contemporary Fine Art.
Nudes and Narratives from the Mekong'. Works of art for the enlightened.
John Berwald; 'Eight Transitional Treasures 30th Anniversary Exhibition'.
Visual perfection in porcelain.
Cohen & Cohen; 'Baroque and Roll'. Opulent works for the connoisseur.
Francesca Galloway; 'Asian Textiles, 500 Years' & 'Indian Graphic Art from
The Paul Walter Collection'. Costumes include a 1930"s Deco Silk jacket from the Maharaja of Darbhanga. Ruler of Bihar until Independence in 1947, he once exchanged dinner jackets with Sir John Whitty, Governor of Bihar, who felt he had the better deal, since the one he gave the Maharaja was plain black!
Kaikodo; 'The silent season : images of winter in Chinese & Japanese paintings'
Exquisitely executed works of art.
Marchant: '90th Anniversary Exhibition of Chinese Jades'. Museum quality objects.
Simon Pilling; '10th Anniversary'. Masterpieces in Japanese lacquer.
Yewn Heritage Jeweller; 'Filling the Hundred-Year-Void of Chinese
Jewellery'. Exceptional creations of unique pieces!

The AAL guidebook is available now and is also available online via the AAL app.
Presentation of the AAL guidebook allows £2 discount, on full price tickets to "The Fabric of India Exhibition" at the Victoria & Albert Museum. 30 Oct – 10 Jan 2016.

A Map leaflet showing all AAL Participants, is available during the AAL Event.