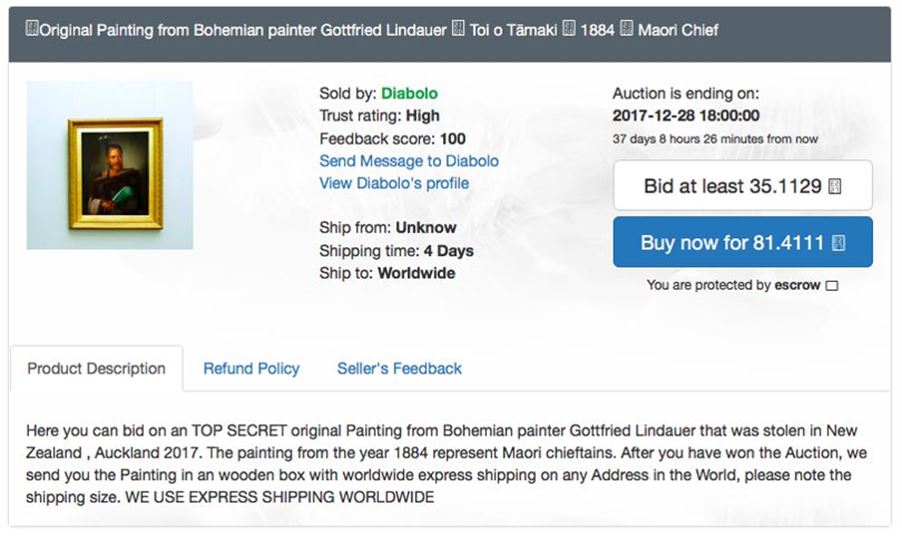 The New Zealand art media is buzzing about the recent appearance of a message on the dark web from user Diabolo advertising the auction of a stolen painting – Chief Ngatai-Raure (1884) by Gottfried Lindauer (1839-1926). Lindauer was a portrait artist known for his paintings of the Māori, an indigenous Polynesian people native to the country.

The painting was stolen earlier this year in a smash-and-grab at the International Art Centre in Auckland. Diabolo has set a "buy now" price of around £500,000, payable in bitcoin. But of course the problem for prospective buyers, just like with legitimate online auctions from trusted auction houses, is authentication.

Aside from the red flag that the seller is an untraceable, self-verified thief advertising on a platform known to be frequented by gangsters, terrorists and drug dealers, Jason Bailey of the Artnome project has posted compelling evidence on his site that the painting is a fake. Using image recognition software, Bailey proved the picture in the ad is a composite. The picture of the actual painting was lifted from the web, resised then stuck inside a picture of a frame on a wall, also taken from the web. Nonetheless, Bailey has only proven the picture in the ad was manipulated with photo software. That does not mean Diabolo does not have the painting. All we can say is, furtum caveat emptor!