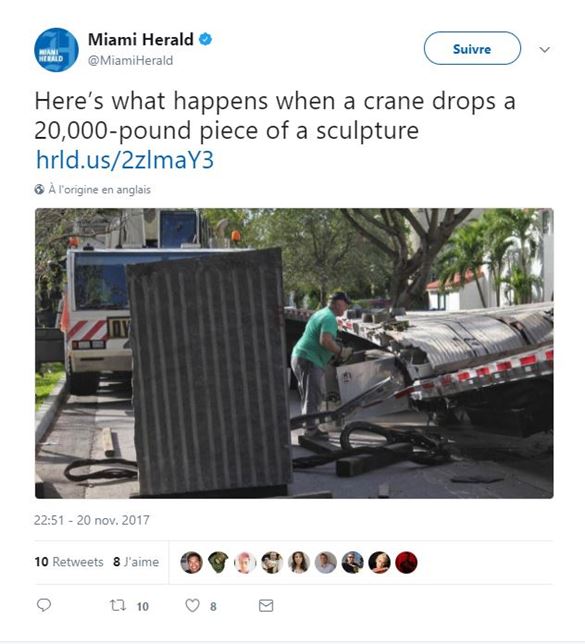 Sometimes art imitates life. Sometimes life imitates art. Sometimes it is impossible to tell which is which. Take, for example, Unspecified Promise (2017), the latest sculpture by collaborative duo Jennifer Allora and Guillermo Calzadilla. It fell from the sky earlier this month in Miami.

The piece consists of two 20,000-pound blocks of granite nestled next to a bisected construction loader. As a crane was loading one of the two granite blocks into the sculpture garden of the new Institute of Contemporary Art, a cable snapped, causing the stone block to fall, partially crushing the flatbed semi-truck it rode in on and puncturing a hole in the residential street below.

Ironies immediately piled up. Allora and Calzadilla make work about gentrification, occupation, and other political and social realities affecting marginalised populations. This particular work speaks to the current difficulties in reconstructing Puerto Rico. After the accident, neighbours complained they had not been notified of the installation. They were prevented from driving their kids to school by the install and then after the accident, their street was blocked all day causing rubbish pickup to be missed. Suffice to say this work takes the definition of constructivist public art to new heights and new depths at the same time.