Description & Technical information
The present egg cup represents a type of vessel that was particularly popular in the eighteenth century. It can namely receive the egg in a horizontal and an upright position as well (reversable egg cup). Both sides of the egg cup are finely and deeply chiselled and punched with a beautiful floral Régence décor. The two sides of the cup are connected with a short shaft. The marks are ligated inside the décor.
During the meals in earlier times, one would often eat eggs. Thus, a special cup for the reception of it had been developed, in order to comply with the luxury character of table silver. There were two possibilities to serve the egg: putting the egg horizontally on a moulded ship-type cup (the oldest alternative). Such egg cups are also often to be found in the toilette cases made in Augsburg and Strasbourg in the eighteenth century. In France and other Romanesque countries, the egg was served in a cup, having an upright position. The German princely courts and noble men of the eighteenth century had adopted both ways. Hence, many pieces combine both ways of presentation and cup-types.

Maker

Johann Jakob I. Schoap was son of the goldsmith Johann Marx and was born around 1697. He became a master maker in 1725 and died in 1774. S. his works in Claus Overzier, Deutsches Silber: Formen und Typen 1550-1850, frontispiece and fig. 22.

Date: 1734/36
Period: 1600-1750, 18th century
Origin: Germany, Augsburg
Medium: silver-gilt
Signature: City's hallmark: a "pyr" for Augsburg, period 1734/36 (Seling 2007, no. 1740)
Maker's mark: the initials "IIS" in a rectangular shield for Johann Jakob I. Schoap (Seling 1980, no. 1815).

Dimensions: 4 cm (1⁵/₈ inches)
Provenance: Collection Dr. Seling, Munich

Literature:
Gruber, Al., 1982, Gebrauchssilber des 16. bis 19. Jahrhunderts, Würzburg: Edition Popp
Seling, H., 1980-2007, Die Augsburger Gold- und Silberschmiede 1529-1868, Bd. I-III, München: Beck Verlag
Categories:
Silver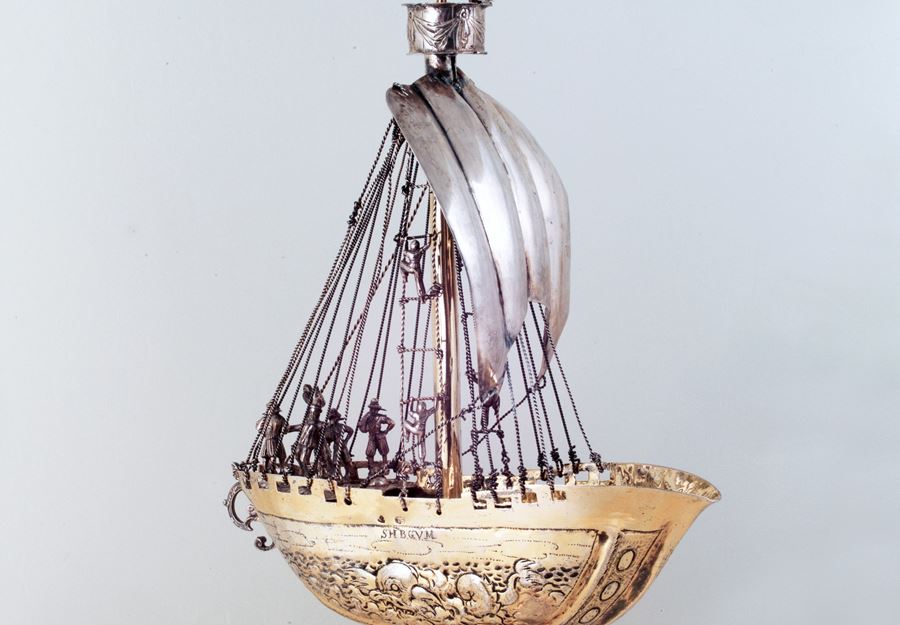 Discover the gallery
Helga Matzke
European Silver and Silver-Gilt Objects coming from the 16th to the early 19th centuries. Our key areas are collectibles and tableware, especially of German cou...
More Works From This Gallery