Description & Technical information
The foot is bright, profiled and shows on the most decorated part of it a vaulted form. This part is decorated with acanthus leaves and flowers.
The body of this silver parcel gilt coin tankard is set with 24 coins in 3 rows. The coins date from the period 1615-1621 and they show a portrait of the Polish King Sigismund III. Further coins on the lid and in the bottom depict the portrait of Prince Leopold and date from 1666 and a further French coin dates from 1653.
Between the inserted coins, there are wonderfully chiseled flowers in relief. The lid of the tankard is similarly decorated as the foot. There is a cast, ear-shaped handle applied on one side, which has a wonderful and typical for such objects thumb rest in the form of a "V". The tankard is gilt inside.
Tankards were initially used for liturgical uses and they were later integrated into profane uses, in particularly used as a vessel for beer. As beer was usually drunk warm, tankards have always a lid.
Drinking vessels like this, decorated with coins of earlier periods were a particularly popular decorative fashion in Prussia during the seventeenth and eighteenth centuries. They were very often destined to be personal, representation objects.
Maker: the identity of the maker with the initials "BH" remains until now unrevealed. There are however several objects of him documented (s. Czihak).

Weight: 930 gr.



Period: 1600-1750, 17th century
Origin: Germany
Medium: Silver Parcel-Gilt
Signature: City's hallmark: a crown over a cross for Königsberg (Prussia, mark used since 1684) (s. Czihak No. 404, p. 67)
Maker's mark: BH in shield (s. Czihak No 404, p. 67)
Date letter: "V" for 1708 (s. Czihak, Die Edelschmiedekunst früherer Zeiten in Preussen, p. 46/47)

Dimensions: 19 cm (7¹/₂ inches)
Categories: Silver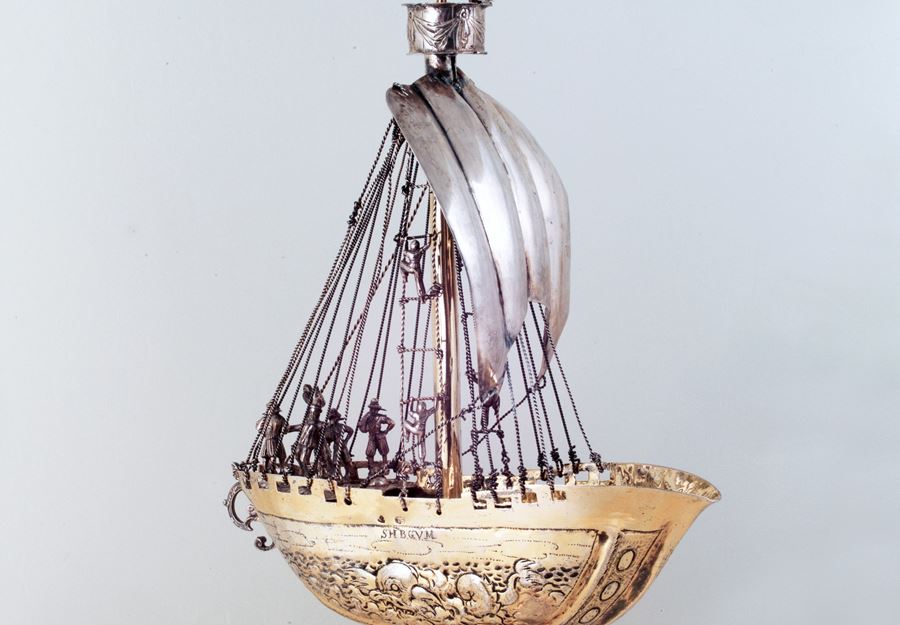 Discover the gallery
Helga Matzke
European Silver and Silver-Gilt Objects coming from the 16th to the early 19th centuries. Our key areas are collectibles and tableware, especially of German cou...
More Works From This Gallery