Description & Technical information
A spear thrower, or Atlatl, with partial decoration.

The spear thrower is used to augment both the thrust and accuracy of the spear/harpoon as it adds an extra de-multiplication to the leverage of the user's arm. The motifs are carved as individual elements and pegged to the outside of the spear thrower in an organized fashion. There is a single human figure remaining from the pegged decoration. The edges of the Atlatl are rimmed with pegged bone frame (partially missing). The bone upper socket is inserted and pegged to the main section. There is a single bone rimmed hole for the attachement to the harpoon when not in use. Ammassalik (Angmagsalik) Eskimo, Greenland.
Date: 1880-1920
Period: 1850-1900, 19th century, 20th century
Origin: Greenland
Medium: Wood (cedar or pine), Walrus tusk, Bone
Dimensions: 62.3 cm (24¹/₂ inches)
Literature: See similar examples in the Museum of the American Indian, Smithsonian Museum, Washington D.C., N° 17/8225 ; and in the British Museum notably the one collected in Greenland by Andrew Croft, who accompanied Sir Martin Lindsay, 1st Bt, CBE, DSO (1905-1981) on the British Trans Greenland Expedition in 1934.
Categories: Tribal Art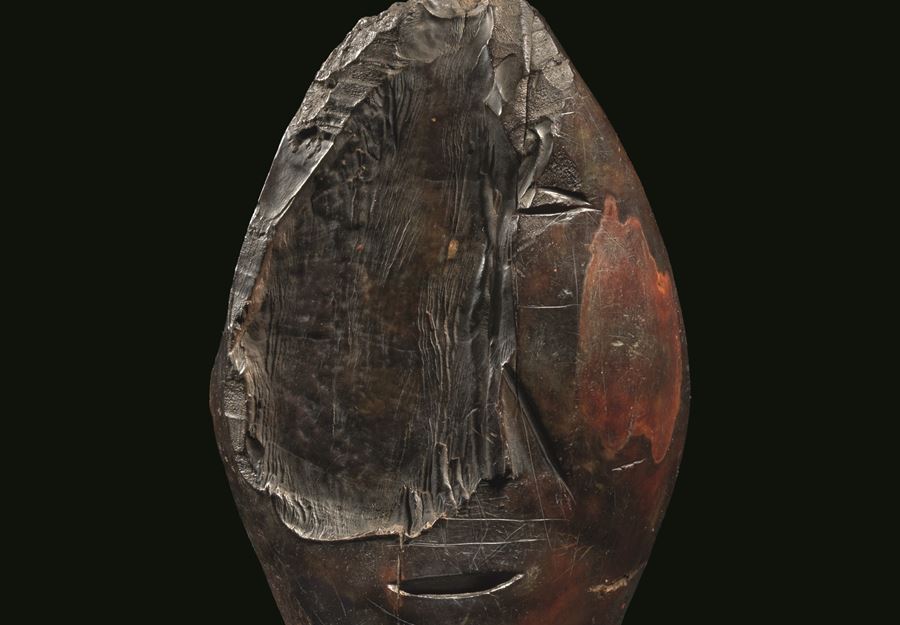 Discover the gallery
Galerie Meyer-Oceanic Art
Tribal Art dealer specializing in early Oceanic Art since 1980 and archaic Eskimo Art since 2010
More Works From This Gallery