Description & Technical information
Designed by: Adolf Loos, Vienna, around 1905
Executed by: Friedrich Otto Schmidt, Vienna
Surface slightly cleaned, retouches and repolished, solid copper fitting polished, ceramic tiles, glass on top, very good condition.
Ø 88 cm

In her standard reference, "Adolf Loos, Wohnkonzepte und Möbelentwürfe" (dining and side tables), Dr. Eva B. Ottillinger writes: "The final model, which is at the same time the one boasting the largest number of variations, has a round table top […] the most interesting variation of this model with a grid-like, perforated table stand can also be found in a smaller variant as side table, as illustrated by contemporary photographs of the interior of the Hirsch apartment taken in 1929".
An old design sketch of an almost identical table numbered model number 395 has been preserved in the archives of the company Friedrich Otto Schmidt.
We would like to thank Mr. Péter Rostás and Mr. Klaus Lorenz from the company Friedrich Otto Schmidt in Vienna for their friendly help and for providing us with the documentation.
Period: 20th century
Origin: Austrian
Medium: Solid mahogany and veneer on pine
Dimensions: 65 cm (25⁵/₈ inches)
Provenance: Private property, Vienna

Literature: Company archives of Friedrich Otto Schmidt, no. 395; E. B. Ottillinger, A. Loos, Wohnkonzepte und Möbelentwürfe, Vienna, 1994, p. 156, p. 159, ill. 227, G. Fahr-Becker, Jugendstil, 2007, p. 357, P. Rostás, Mágnások Lakberendezöje, 2010, p. 228

Categories: Furniture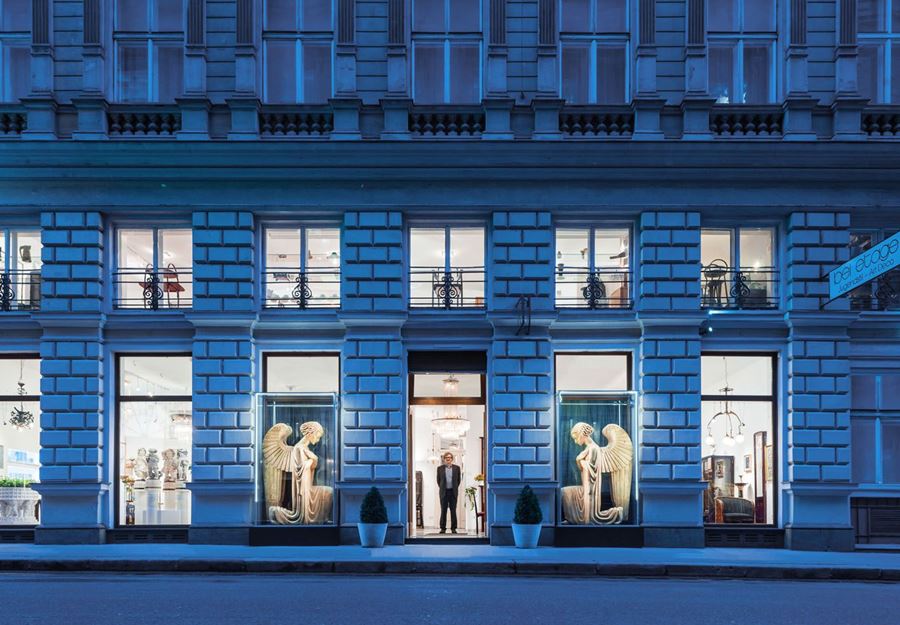 Discover the gallery
Bel Etage, Wolfgang Bauer, Vienna
Viennese Jugendstil, Secessionist Movement
More Works From This Gallery