Description & Technical information
European Market

Price: £19,000

A Chinese eggshell porcelain ruby back dish finely painted in famille rose enamels with three quail beside rockwork, chrysanthemum and peony, the rim with panels of flowers reserved on a pink diaper ground, the reverse with a deep ruby enamel ground.

The birds shown here are the Common Quail (Coturnix coturnix, L. 1758) which are widespread across Europe and Central Asia. They are also widely domesticated and bred for eggs and meat. They have been used for fighting in China and are sometimes thus associated with gambling.
They are very fierce little birds, often symbolising courage and ironically their Chinese name (an chún) includes 'an' which is a pun for peace.
Associated here with Chrysanthemum they may imply longevity and many generations living in harmony.
In the shijing or The Book of Odes, supposedly compiled by Confucius, it was thought that the quail turned into a field mouse during winter before reappearing as a quail in the spring. The Common Quail, unusually for a game bird, is strongly migratorial.

The quail, to guard his mate when danger 's near,
Will boldly face the foe and show no fear
The magpie, too, will fight, and do her best
To save her young ones and protect her nest.

If man or woman be all dissolute,
Let me prefer to them the bird or brute
I will not call them brothers, when they fail
To show the virtue owned by pie or quail.

from Shijing Book IV, No 5,
The Quail and The Magpie
(tr. CFR Allen, 1893)

References: Williamson 1970, plate XXXI, anpther example identical to this one.

Date: Circa 1730
Period: Yongzheng period, 18th century
Medium: Chinese eggshell porcelain
Dimensions: 21 cm (8¹/₄ inches)
Literature: References: Williamson 1970, plate XXXI, anpther example identical to this one.

Categories: Oriental and Asian Art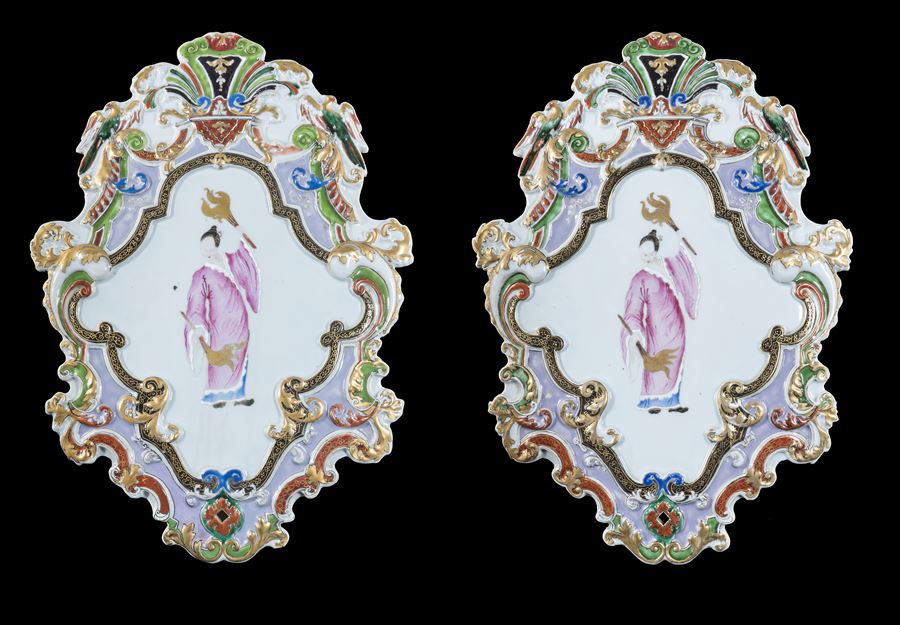 Discover the gallery
Cohen & Cohen
Chinese Export Porcelain, 17th & 18th Century, Works of Art
More Works From This Gallery