Description & Technical information
Standing Figure - MEZCALA - GUERRERO - Mexico - 350 - 100 B.C - Pre-Columbian
Height : 20.5 cm
Width : 6 cm
Depth : 4.6 cm
Spotted green diorite
Documents (originals) provided to the acquirer:
- Certificate of authenticity of the Galerie Mermoz,
Santo Micali, Expert, (CNE) Compagnie Nationale des Experts
- Certificate of Art Loss Register
- Passport of free circulation
- Microanalysis report
- Invoice
This magnificent figure is a beautiful example of the lithic art of Guerrero, a mountainous region in Western Mexico considered to be one of the cultural cradles of Mesoamerica and a prodigal land for the late pre-classical sculptors who found deposits of highly sacred green stones there.
Worked with care in a beautiful polished diorite, it is a sculptural achievement and a precious work on a symbolic level, a silent guardian of the memory of ancestral peoples, deeply connected to their ancestors and to the spirits of the Earth and Nature in general.
With an introverted and penetrating expression, this figure stands upright, with its hands clasped on the chest. The narrow shape of its skull indicates a ritual deformation, a widespread practice in Mesoamerica among the dominant social classes that showed their noble status.
Its eyebrows, sculpted in slight relief, are thick and rectangular. The "coffee bean" eyes are closed. They are identified by a fine groove and closed eyelids. Slight hollows above and below accentuate their volume. The nose is triangular with a soft ridge and a wide tip. The closed mouth is also a groove. The cheeks are flat and the lower face harmonious. The ears, long and thin, are identified by a redent at the temples.
The shoulders are drooping and the arms are held to the body. Only the forearms have been carved in relief. Hugging the round belly, they converge towards the plexus in a gesture of meditation. We can guess that the hands may be clasped, although they are not apparent.
Date: 350 - 100 BC.
Dimensions: 20.5 x 6 x 4.6 cm (8¹/₈ x 2³/₈ x 1³/₄ inches)
Categories: Sculpture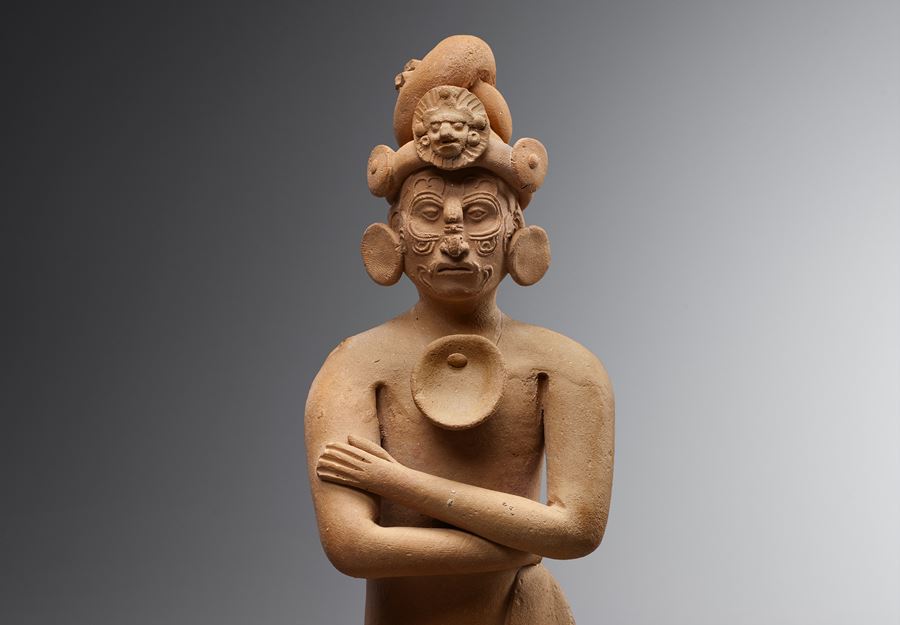 Discover the gallery
Galerie Mermoz
Pre-Columbian Mesoamerican and South American
More Works From This Gallery