Description & Technical information
European Market

Price: £80,000

A pair of Chinese porcelain figures modelled as laughing boys decorated with lotus, enamelled in famille rose.

Pairs of laughing boys are known as hehe erxian or the Twin Immortals of Harmony. They are the patron deities of Chinese merchants, particularly of Chinese potters, and in paintings they often accompany Cai Shen, the God of Wealth. Boys were always strongly favoured in Chinese culture, and these have special protective amulets or gilded lockets around their necks to ward off evil spirits, and their bracelets, which were traditionally worn by boys under sixteen years old, are made from the beaten iron nails of old coffins.

Pairs of these figure are recorded mainly in famille verte enamels and occasionally in blue and white, but the large famille rose examples such as these are very rare.

References: Antunes 1999, p61, a pair of famille verte boys; Alves et al. 1998, p318, No 124, a pair of famille verte boys; Du Boulay 1963, p89, the figures of a boy and lady from the Lady Lever Art Gallery, also illustrated in Hobson 1925; Gyllensvärd et al. 1972, p295, No 76, a single famille rose boy very similar to these two; Howard & Ayers 1978, p579, No 600, a pair of famille verte boys; Howard 1994, p248, No 293, a pair of famille verte boys; Howard 1997, p135, No 171, a single boy in famille rose with a yellow jacket, 26 inches high, Yongzheng c. 1735—a magnificent example; Sotheby's London, 10 May 1994, lot 210 and again 17 Nov 1999, lot 982, the same boy with yellow coat, now in the Peabody Essex Museum, Salem, Massachusetts; Cohen & Motley 2008, an earlier pair of famille rose boys, p92, No 4.7; Williamson 1974, plate LIX, a single famille rose boy of this type holding a candle sconce.

Date: 1780
Period: 18th century, Qianlong period
Origin: China
Medium: porcelain
Dimensions: 33.5 cm (13¹/₄ inches)
Categories: Oriental and Asian Art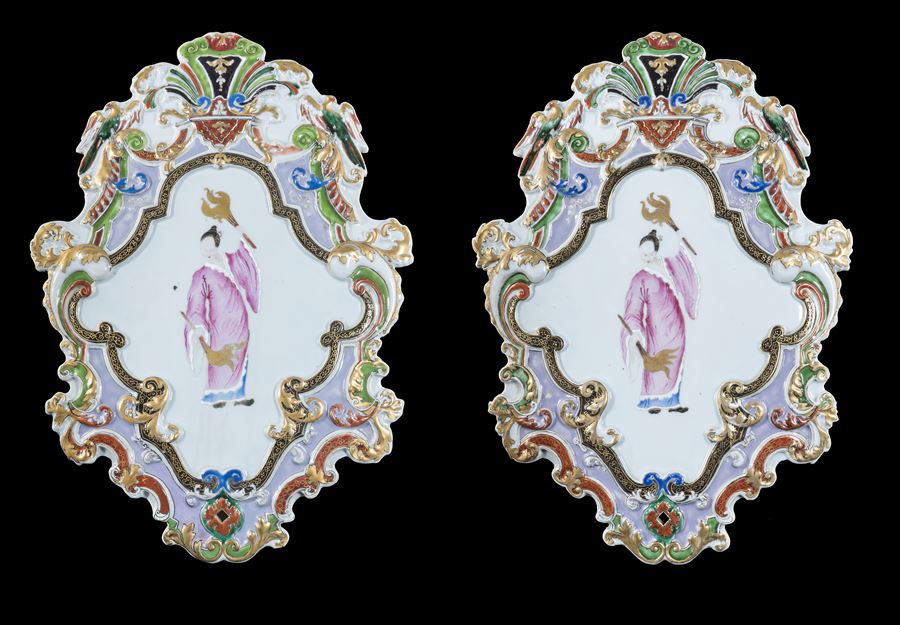 Discover the gallery
Cohen & Cohen
Chinese Export Porcelain, 17th & 18th Century, Works of Art
More Works From This Gallery