Description & Technical information
English or American Market

Price: £46,500

A very large punchbowl decorated with masonic emblems in famille rose enamels., the rim with scrolling decoration in purple and green, the interior with further decoration. Masonic emblems on Chinese export porcelain are rare and much sought after though also quite well documented. This bowl is a fine example of the type. The origins of freemasonry are inevitably clouded in history. Supposedly going back to the builders of Solomon's temple, in their present form they originate from the early eighteenth century. Certainly there were lodges or associations of stonemasons in medieval times and in the seventeenth century there were many guilds that operated box clubs where members contributed to help those who fell on hard times – and such clubs often had simple initiation ceremonies, passwords and hierarchical membership. During this time the stonemason clubs began to include members of other trades – and Elias Ashmole, founder of the Ashmolean Museum, Oxford, is recorded joining a Free Mason lodge in 1646, most of whose members were not operative masons. These lodges were forming in a time of extreme religious turbulence and it is argued that they were an attempt to build a better society and, in the custom of the times, used complex symbolism and allegory to express their ideas. The series of designs on this bowl illustrate some of these. In the early eighteenth century this became more structured with lodges combining and organising. Masons were found throughout the large trading companies and the merchant navy, and especially in the East India Companies. An interesting range of pieces is known with Masonic designs - almost all would have been special private orders and none were made in large numbers. This bowl is exceptionally large - and bowls of this size were mostly made for the American market.



Date: 1770-80
Period: 18th century, Qianlong period
Origin: China
Medium: porcelain
Dimensions: 52 cm (20¹/₂ inches)
Literature: References: Howard, DS & Ayers, J (1978) pp323-328, various Masonic items; Herbert, P and Schiffer, N (1980) pp137-142, Masonic items for the US market; Hervouet, F&N & Bruneau, Y, (1986) pp278-290, numerous Masonic porcelains; Howard, David S, (1974) p729, a pair of armorial salts inscribed Brother Richard Meriton; Cohen & Cohen (2007) Ladies First, p52, No 31, a smaller bowl with identical decoration but with inscription to the base: 'Brother Joseph Elliott'; Arapova et al 2003, p60, No 66 Masonic punchbowl.

Categories: Oriental and Asian Art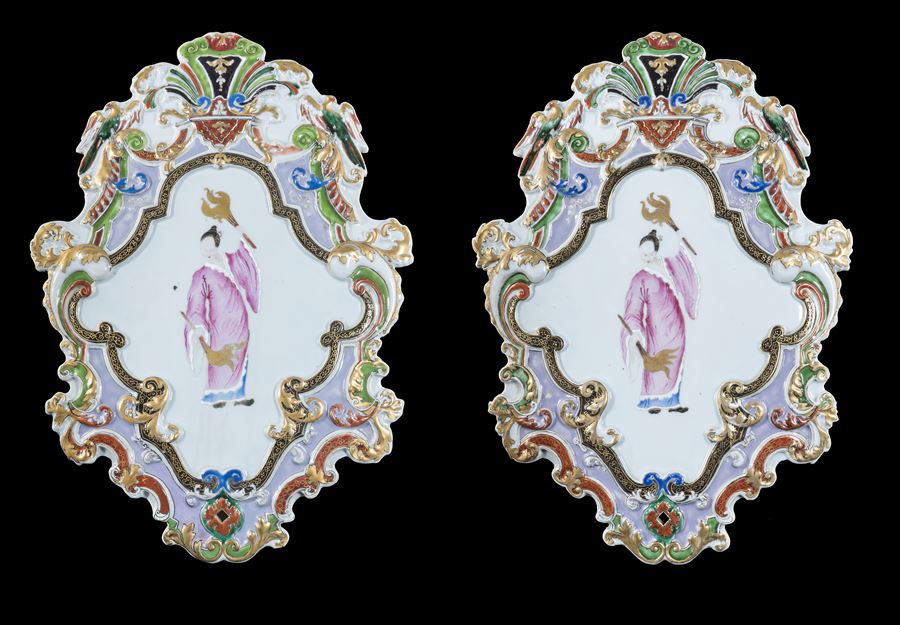 Discover the gallery
Cohen & Cohen
Chinese Export Porcelain, 17th & 18th Century, Works of Art
More Works From This Gallery