Description & Technical information
Nicolas Petit (1732-91), maître 1761
Jean André Lepaute (1720-1789), maître 1759

The upper section of lyre-shaped form with round Roman and Arabic-numeral dial signed Lepaute Hger Du Roi surrounded by an ormolu guilloché border surmounted by a ormolu crest trophy with cockerel,trumpet, caduceus and laurel branches, the glazed central door with rich scrolling piastre border terminating above a round glazed lunette flanked by ormolu rosettes joined by a berried laurel swag, the lower rectangular section with ormolu leaf-tip border raised on a moulded plinth with bold acanthus-leaf ormolu mount.


Although unstamped, the case of this magnificent clock can be firmly attributed to the leading 18th-century ébéniste Nicolas Petit, who ran a thriving workshop and showroom in the Rue du Faubourg Saint-Antoine under the name Au Nom de Jésus for nearly three decades, spanning the late Louis XV, Transition and Louis XVI periods. He worked as both cabinetmaker and dealer, trading in both his own and other makers' case furniture, and counted important aristocratic collectors like the Duc d'Orléans, the Duc de Bouillon and the Princesse de Hesse among his clients. One of his particular specialities was the manufacture of tall clock cases in expensive tropical wood veneers with exquisitely refined gilt-bronze mounts, and his work with Lepaute represents one of the most successful collaborations in horological history. Jean-André Lepaute, in partnership with his younger brother Jean-Baptiste Lepaute (1727-1802), also an official Royal clockmaker, joined Petit to produce some of the finest timepieces of the late 18th century.

This régulateur is part of a distinctive group of longcase clocks with movements by Lepaute and cases stamped by or attributed to Nicolas Petit, all of identical lyre-shaped form and sharing similar gilt-bronze mounts, notably a large sunflower on the crest, leading to the description in some sources as a régulateur aux tournesols. According to Lepaute's Description de plusieurs ouvrages d'horlogerie published in 1766, the model was designed by the architect, sculptor and designer Gilles-Paul Cauvet (1731-1788), director of the Académie de Saint-Luc and sculptor to Monsieur, frère du Roi (later Louis XVIII), and the mounts executed by the bronzier Etienne Martincourt (master 1762), also a member of the Académie de Saint-Luc. The model enjoyed a certain degree of success and remained in production for nearly twenty-five years. The majority of the surviving versions are veneered in tulipwood, among them a clock in the Musée des Arts et Métiers, Paris (illustrated in Tardy, La Pendule Française, Paris 1975, p.336 fig.3) and several examples from the London and Paris trades, including one sold Paris, Palais Galliéra, 12 June 1970; another from the Bruni-Tedeschi Collection sold Sotheby's London 21 March 2007, lot 175, and a further version formerly with Galérie Fabre (ill. Anne Droguet, Nicolas Petit, Paris 2001, p.73). A variation of the model exists, with a mahogany-veneered case and a verre églomisé panel on the base representing the four continents, formerly Dr Benchoufi Collection sold Sotheby's New York 9 November 2006, lot 96; this is possibly the clock illustrated in Pierre Verlet, Les Meubles Français du XVIIIe Siècle (Paris 1982), fig.128.

The existing Petit-Lepaute model most closely related to the present régulateur is in the British Royal Collection, which is also veneered in ebony and also shares more of the highly refined gilt-bronze mounts not seen on the previous examples, namely the bold laurel swag joining the rosettes and acanthus leaf frieze along the moulded top of the plinth, as well as the particularly elegant piastre and guilloche borders along the central and top sections of the case. These specific mounts do not appear on any of the other cases apart from that of the Palais Galliéra version. The Royal Collection clock does however bear the sunflower crest, so the present version is the only recorded example surmounted by the elaborate cockerel trophy, which is based directly on a design by Gilles-Paul Cauvet engraved by Mlle Liottier, published as plate 41 in his Recueil d'Ornemens à l'Usage des Jeunes Artistes qui se destinent à la Décoration des Bâtimens published in 1777 (see below). As the cockerel is a recognised symbol of France, it raises the possibility that this particular régulateur was manufactured for a member of the Royal Household, a possibility that is not inconceivable given Cauvet's links not only to the Comte de Provence but also the Duc d'Orléans, for whose Paris residence the Palais Royal he provided designs, and Marie-Antoinette, for whom he is believed to have provided the design for four steel and gilt-bronze tables with petrified wood tops for her private apartments at Versailles. A lyre-shaped longcase clock stamped Martin Carlin (maître 1766) with a gilt-bronze cockerel mount on the top, now in the collection of the Musée des Arts et Métiers, is also reputed to come from Versailles (ill. F.J. B. Watson, Louis XVI Furniture, London 1960, pl.48).

Edward Marriot Hodgkins was a leading London antiques dealer and collector in the late 19th and early 20th centuries, trading in Wardour Street from 1887 and moving premises to King Street, Pall Mall and finally Bond Street from 1903 – 1920. He had a particular interest in Sèvres porcelain, his whole collection of which he sold to Henry Walters of Baltimore where it remains in the Walters Art Museum. He also supplied important international art merchants like Joseph Duveen. In 1910 he was made a Chevalier de la Légion d'Honneur by the French president Armand Fallières.

Date: 1770
Period: 1750-1850, 18th century
Origin: France
Medium: Ebony, ormolu-mounted
Dimensions: 224 x 63.5 x 25.5 cm (88¹/₄ x 25 x 10 inches)
Provenance: Edwin Marriott Hodgkins (1860-1932)

Categories: Furniture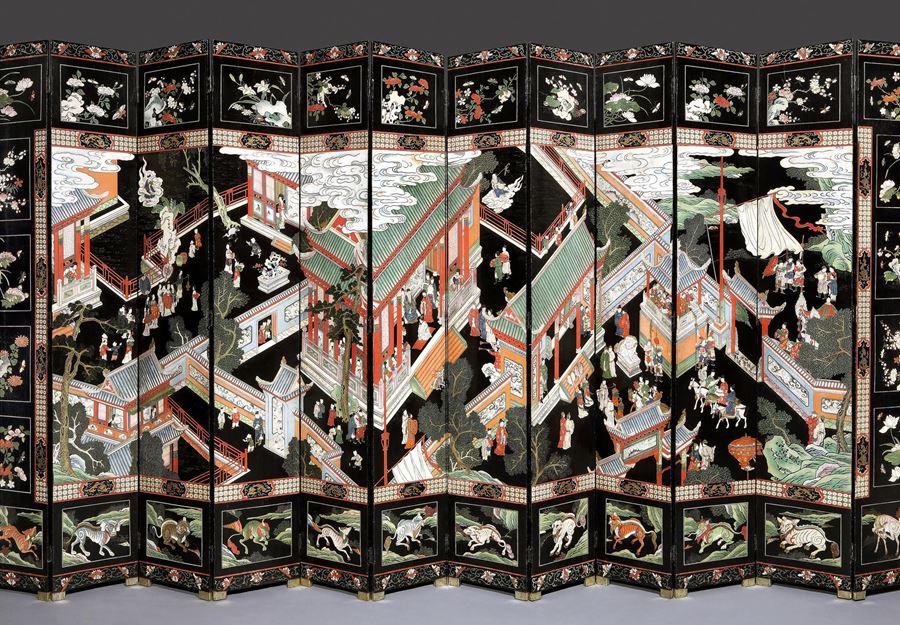 Discover the gallery
Pelham Paris & London
Furniture, Works of Art, Screens, Architectural Decorations and Early Musical Instruments
More Works From This Gallery