Description & Technical information
This exceptionally fine and rare Tuscan renaissance walnut and parcel gilt credenza dates from the late 16th century, a commission for the important family of Michelangelo di Lodovico Buonarroti Simoni (1475 – 1564), their coat of arms, with three golden fleur de lis and double golden stripes, appearing in the centre of the upper frieze.

Of beautiful small proportions, the canted upper section is topped with a moulded frieze, the cornice decorated with carved egg-and-dart motifs. On the entablature can be seen a centred cartouche framing the Buonarroti family coat of arms. The two folding square doors with scroll patterned wrought iron grilles are framed by fluted pilasters with carved brackets, the inside covered with aged green velvet.

A single wide drawer separates the upper and lower sections, adorned with an intricate gilded rose frieze and two brass turned knobs.

The lower section stands on a moulded base with a guilloche frieze. The two rectangular doors are embellished with paterae motifs surrounded by volutes and two further brass turned knobs, framed by parcel gilt pilasters.

The origin of credenza date to when their function was related to religious ceremony, comprising at first a simple cavity inside the wall of the church closed by wooden panels containing valuables such as religious artefacts placed near the altar or in the sacristy. Until the 14th century, these rudimentary objects were made from roughly hewn timbers with plain surfaces painted and decorated with elaborate metalwork, such as that seen on the upper doors of the present example. The early 14th century saw carved decoration added to the painting together with a more sophisticated construction to coincide with a change in function from a mere opening in the wall to a decorative and moveable piece of furniture for domestic use.

Michelangelo di Lodovico Buonarroti Simoni was a Florentine sculptor, painter, architect, poet and city figure active during the High Renaissance. In recognition of the family's military and other services in the 14th century, the House of Anjou granted permission to include in their coat of arms the three goldern fleur de lis of the House. In 1515 Pope Leo X granted the Buonarroti family the rare and highly signficant honour of allowing inclusion also of his papal insignia.

Of great rarity, exquisite dimension and proportion, with four doors, a deep rich brown patina and original parcel gilt finish, and retaining all original hinges, locks, knobs and iron work, the present credenza is a superb example of Tuscan renaissance craftsmanship commissioned for an important noble family.
Date: Late 16th century
Period: 1400-1600, 16th Century
Origin: Italian, , Italy, Florence
Medium: Walnut, parcel gilt
Dimensions: 180 x 160 x 59 cm (70⁷/₈ x 63 x 23¹/₄ inches)
Provenance: Private collection, France
Private collection, Belgium
Private collection, France
Literature: A. Pedrini, Italian Furniture, interiors and decorations of the XV-XV1 centuries (Alec Tiranti, London, 1949), p. 134, fig. 343
R. Ciabani, Le famiglie di Firenze, Vol. 2 (Bonechi Editore, Firenze ,1992), pp. 514-518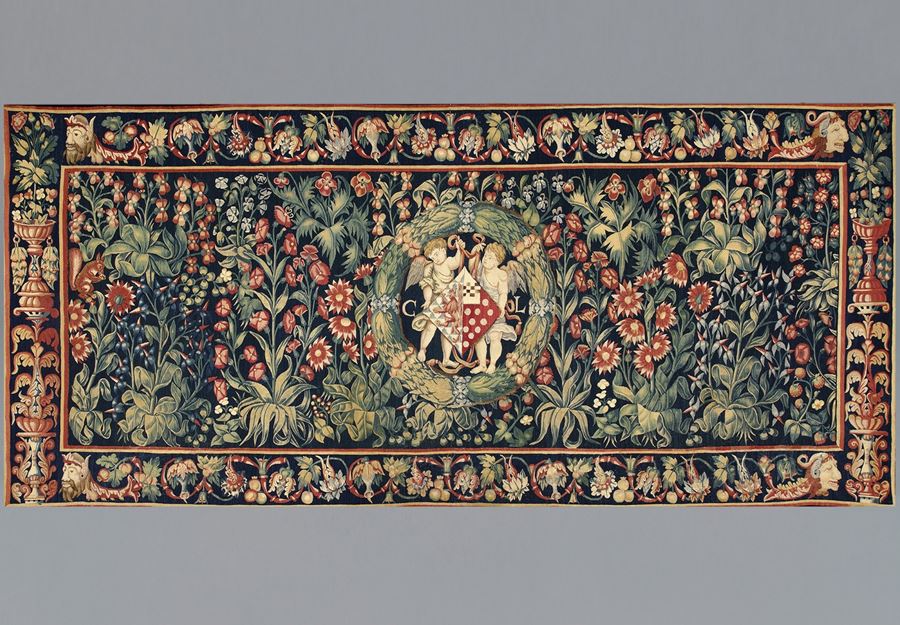 Discover the gallery
Mullany
Haute Epoque Fine Art
More Works From This Gallery