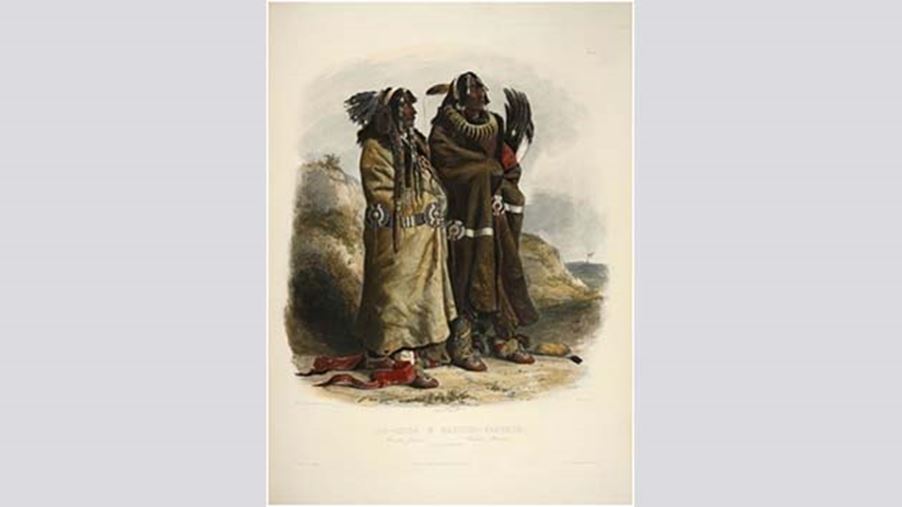 In the nineteenth century the Mandan homelands didn't extend as far as New York, but now, courtesy of London book dealers, Shapero Rare Books, the Mandan from North Dakota will be in New York in November in the shape of the beautiful artwork of Swiss –born Karl Bodmer, who depicted these proud native Americans and their lifestyle at their zenith, just before the coming of the railroad, the fur trade, and disease changed the face of North America forever.
Bodmer served as the official artist for the German prince, Maximilian, who previously had fought Napoleon at Waterloo, and now led an expedition to study and report on the Native American tribes, particularly the Mandan, of the Upper Missouri in 1832.
The result of their 18-month sojourn was a monumental four-volume work, Maximilian Prince of Wied's Travels in the Interior of North America (Coblenz, 1839-1841), with 81 fine aquatint engraved illustrations, which provides the finest record of America's native inhabitants in the nineteenth century and which also serves as a moving elegy to a vanished way of life.
Shapero Rare Books are bringing a rare original complete set of this magnificent work, all the illustrations finely colored by hand, to the Haughton Antique Show at the Upper East side 67th Street Armory. This represents a great opportunity to see and possibly acquire an outstanding piece of historic Americana.
Shapero Rare Books
are leading specialists in Antiquarian Travel, Fine Illustrated & Colour Plate Books, First Editions of English and European Literature, important works in other fields, in particular Eastern Europe and Russia, Maps, Atlases and Decorative Works on Paper.
Stand B8 - The International Fine Art & Antique Dealers Show
The Park Avenue Armory
Park Avenue at 67th Street
New York
25 - 31 October, 2013
Daily: 11am – 7.30pm
Sunday 24th and Thursday 31st October: 11am - 6pm