Description & Technical information
Painted in 1872, Bords de l'Oise, Environs de Pontoise is an extraordinary example of early Impressionism and testament to Pissarro's desire to paint a true portrait of contemporary France.

Pontoise is the place with which Pissarro is most closely associated, having originally visited the area in the 1860s, he returned there in 1872 and made it his home over the following decade. When the artist arrived the town was flourishing, from the rural tranquillity of the surrounding countryside to the bustling activity of the busy riverside, the town presented Pissarro with a wealth of possible subjects.

In the present work, Pissarro presents a view of the river l'Oise that reveals the inherent modernity of the landscape. The two barges, one moored in the foreground and the other mid-river are placed against a backdrop in which the distinctive silhouette of a factory chimney dominates the horizon. Pissarro was evidently intrigued by the idea of showing industrial features within a more rural setting returning to paint a number of similar scenes the following year.

Pissarro was fascinated by the symbols of the new urban scenery, whether in the form of the new Parisian boulevards or the factory chimneys and smoke of the present work. His interest in depicting the changing face of France is at the heart of this work, but subject matter aside, this painting is also a celebration of the nuances of atmosphere, weather, and light. Pissarro skillfully juxtaposes the solidity of the boats against a broad sweep of sky that is reflected in the river beneath. Painted with small, deft brushstrokes, Bords de l'Oise, Environs de Pontoise perfectly captures the quiet industry of this riverside scene.

Date: 1872
Period: 1850-1900, 19th century
Origin: France
Medium: Oil on canvas
Signature: Signed and dated lower right, C. Pissarro 1872
Dimensions: 32.41 x 40.89 cm (12³/₄ x 16¹/₈ inches)
Provenance: Hector Brame, Paris
Galerie Durand-Ruel, Paris, acquired from the above, 24th October 1921
Terves, acquired from the above, 1st March 1924
Bruno Stahl, Berlin, placed in storage at the Wildenstein Gallery, Paris
Confiscated with other artworks belonging to Georges Wildenstein from the gallery by the Einsatzstab Reichsleiter Rosenberg (ERR) in occupied Paris and transferred to the Jeu de Paume, Paris
Transferred to Lager Peter in Altaussee, Austria, 15th January 1943
Transferred to the Central Collecting Point, Munich, 20th June 1945 (inv. no. 212/21)
Repatriated to France on 18th April 1946
Restituted to Georges Wildenstein on 21st March 1947 and returned to Bruno Stahl
Wildenstein & Co., Inc., New York, acquired from the above, January 1949
Jacques Guerlain, Paris, acquired from the above, 1951
Private collection, France, acquired from the above
Literature: A. Tabarant, Pissarro, Paris, 1924, pl. 13
L-R. Pissarro & L. Venturi, Camille Pissarro Son Art-Son Oeuvre, Paris, 1939, vol. I, catalogued no. 161, p. 102; vol. II, no. 161, pl. 32
G. Jedlicka, Pissarro, Bern, 1950, pl. 8
T. Natanson, Pissarro, Lausanne, 1950, pl. 8
R. Brettell, Pissarro and Pontoise, the Painter in a Landscape, 1990, referenced on p. 158
J. Pissarro & C. Durand-Ruel Snollaerts, Pissarro, Catalogue Critique des Peintures, vol. II, Paris, 2005, p. 218, no. 274 (illustrated)

Exhibitions: Paris, Galerie Durand-Ruel, Pissarro (1830-1903), 1956, no. 11


Categories: Paintings, Drawings & Prints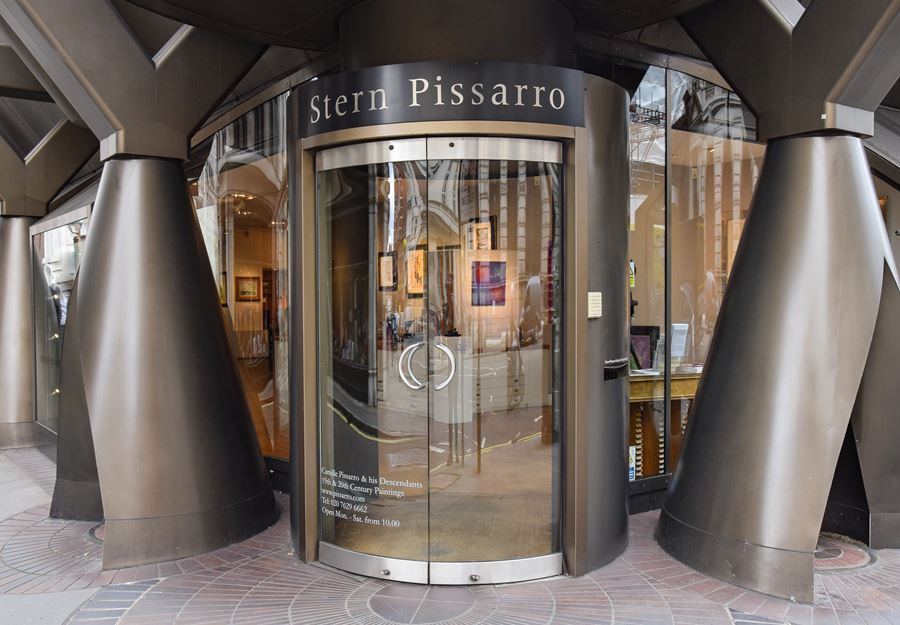 Discover the gallery
Stern Pissarro Gallery
Impressionist - Modern - Contemporary
More Works From This Gallery