Description & Technical information
The present small silver, parcel-gilt canister is a vessel typical for the late seventeenth century. The hexagonal body with a smooth bottom is left plain. The sides are gilt on their outer edges, so that a kind of frame is shaped for each side. The engraved in an oval ?AL? adorns one of the six sides, making it the only decorative element. The body is covered with a hexagonal, multi-layered plate. Above it raises the vaulted screwed-on lid. A cast hinged handle is attached to the lid.
On the bottom, "K.M.O.R. Sd 38 und 246" is engraved, probably a reference to a former owner.
A coffee and tea service – canister included ? with very similar design is displayed in the Felicitas room of the Maximilian Museum, Augsburg.
Canisters
Canisters, in various shapes and sizes, were mostly used as transport containers for liquids in the seventeenth century. Originally, these were used by pharmacists for the storage of easy evaporating liquids or for spices with a strong aroma, such as vanilla. The canisters also served to carry drinks whilst traveling. In cylindrical, multi-pass or angular form, these vessels are very simple but can also be elaborately decorated.
Augsburg
The city of Augsburg is one of the most important cities in Germany for gold- and silversmith's works from the sixteenth to the nineteenth century. The royal courts of Europe, as well as churches, synagogues, cities, wealthy citizens and guilds, were customers of the gold- and silversmiths of Augsburg. They received orders of all sizes and types and delivered works in a high quality, so that works made in Augsburg were valued throughout Europe. Today, historic silver and gold objects from Augsburg enjoy a prominent position within public and private collections all over the world.
Maker
Christian Franck was a Protestant goldsmith born in Augsburg in 1638. Around 1666, he became a master and married for the first time. In 1685, he married for the second and in 1687 for the third time. In 1689, he entered his fourth marriage. Christian Franck died in 1704. His works are preserved in private collections.
Date: mid-18th century
Period: 1750-1850, 18th century
Origin: Austria, Salzburg
Medium: silver, Parcel Gilt, Ibex horn, Lid and base carved
Provenance: Collection B. Böck

Literature: Johann Jacob Bräuner: Unschätzbares Artzney-Büchlein zur Zeit der Noth.

Bestehend In einer Anzahl sicherer und approbirter Recepten, Wider vilerley täglich fürfallende inn- und äusserliche menschliche Leibs-Gebrästen, mit sonderbahrem Nutzen zu gebrauchen : Zu Erspahrung viler weitläuffiger Bücher, Allen angehenden Studiosis Medicinae & Chirurgiae … außgestellet, München 1736.

Johann Heinrich Zedler: Großes vollständiges Universal-Lexikon. Spif ? Sth (= 39), Halle Leipzig 1744.

Benedikt Pillwein (Hg): Biographische Schilderungen oder Lexikon Salzburgischer Künstler, Salzburg 1821.

Johannes Neuhardt (Hg): Geschnitztes Steinbockhorn, Salzburg 1990.
*Elfriede Grabner: Der Steinbock im Volksglaube. In: Johannes Neuhardt (Hrg): Geschnitztes Steinbockhorn, Salzburg 1990, S. 44–55.

*Franz Wagner: Die Hornschneider und Dosenmacher. In: Johannes Neuhardt (Hrg): Geschnitztes Steinbockhorn, Salzburg 1990, S. 56–63.

*Friederike Zaisberger: Das Steinwild in Salzburg. Jagd und Hege einst und jetzt. In: Johannes Neuhardt (Hrg): Geschnitztes Steinbockhorn, Salzburg 1990, S. 18–33.

Johannes Neuhardt: Geschnitztes Steinbockhorn. In: Weltkunst, Jg. 60, Heft 14, 1990, S. 2164–2166.

Eugen von Philippovich: Kuriositäten, Antiquitäten ein Handbuch für Sammler und Liebhaber ; 12 Farbtaf. u. 355 Abb., Braunschweig 1966.

Eugen von Philippovich: Steinbockhornarbeiten der Barockzeit aus Salzburg. In: Alte und moderne Kunst, XXIV, 192 u. 193, 1984, S. 18–22.

Nora Watteck: Geschnitztes Steinbockhorn. Ein vergessener Zweig des Salzburger Kunsthandwerks. In: Alte und moderne Kunst, 58/59, 1962, S. 27–31.

Categories: Silver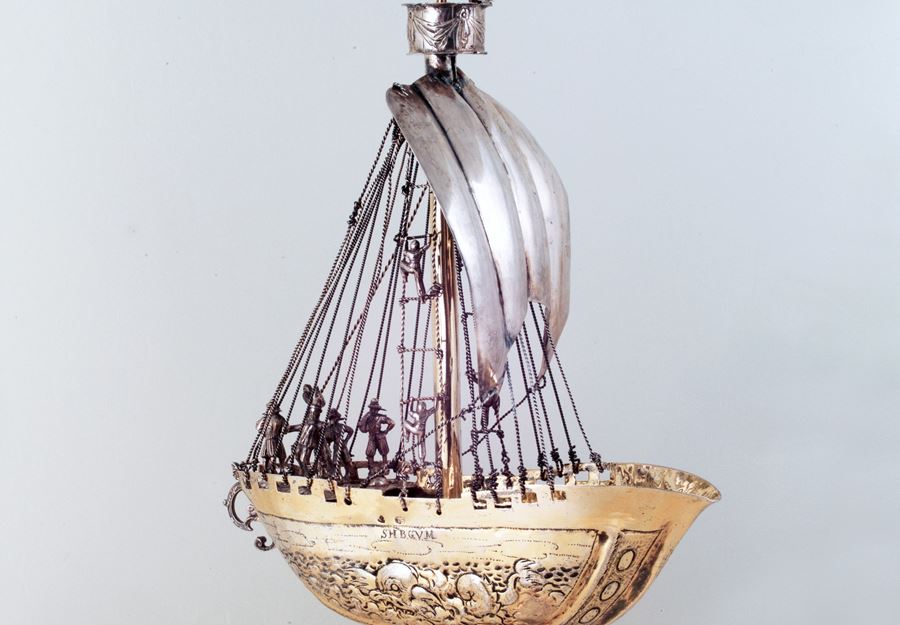 Discover the gallery
Helga Matzke
European Silver and Silver-Gilt Objects coming from the 16th to the early 19th centuries. Our key areas are collectibles and tableware, especially of German cou...
More Works From This Gallery