Description & Technical information
This coffeepot has a slender form with eight edges and a smooth surface, which is adorned by an engraved crest in a careful decorated frame. The spout has an S-form, ends up in a bird's head and is standing at a right angle to the handle. A cast baluster knob adorns the octagonal, high, vaulted lid. A very fine, geometric coffeepot of timeless elegance.
European travellers knew coffee and tea since the sixteenth century. These warm beverages conquered the continent in the seventeenth century. They were at first sold in pharmacies as remedies and were consumed as healing beverages. Since the end of the seventeenth century though, coffee was increasingly consumed for pleasure and for its effect on the alertness and attention of the body and the intellect.
The form of the first coffeepots in England was strongly influenced by the Orient. Early English coffeepots had thus a conical lid with a pointed end. During the eighteenth century the lid had gained in curvature. The style developments of the period during 1710-20 gave the coffeepots an octagonal, very elegant, form.
The present coffeepot in Britannia Standard silver (i.d. with a 95,84 % silver proportion) complies with the style of this early period.
Maker
Humphrey Payne was son of Nicholas Payne of Ludlow and apprenticed since August 1694 to Thomas Parr. He became a master maker in 1701. Humphrey Payne was a successful silversmith, who mostly made objects like coffee- and teapots, tankards, etc. He died on the same day like the famous silversmith Paul De Lamerie, that is on the 2nd August 1751 (s. Grimwade 1990: 616).
Weight: 630 gr
Date: 1716/17
Period: 1600-1750, 18th century
Origin: England, London
Medium: silver
Signature: City Hallmark: Figure of Britannia (Jackson 1921: 84)
Maker's mark: Initials "Pa" under a tree in a curved shield for Humphrey Payne (Grimwade 1990, nr. 2117)
Assay mark: lion's head erased (Jackson 1921: 84)
Date letter: "A" in a curved shield for 1716/7 (Jackson 1921: 85)
Engraving: Crest

Dimensions: 23 cm (9 inches)
Literature: Grimwade, Ar., London Goldsmiths 1697-1837. Their marks and lives from the original registers at Goldsmiths' Hall and other sources, GB: Faber and Faber, 1990 [Grimwade3]Hernmarck, Carl, Die Kunst der europäischen Gold- und Silberschmiede von 1450 bis 1830, C.H. Beck Verlag: München, 1978Jackson, Ch., J., English Goldsmiths and their marks, London: MacMillan and Co. Limited, 1921

Categories: Silver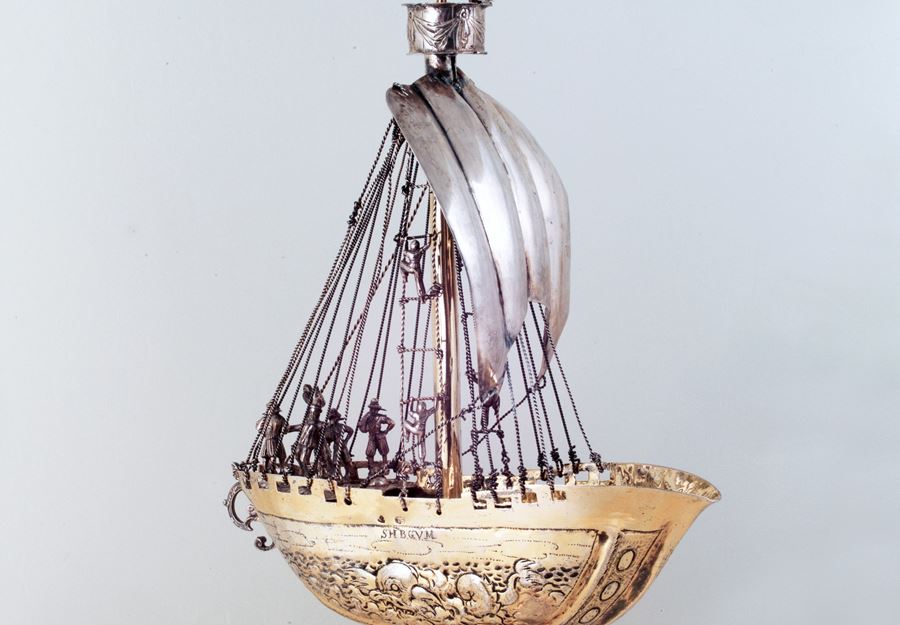 Discover the gallery
Helga Matzke
European Silver and Silver-Gilt Objects coming from the 16th to the early 19th centuries. Our key areas are collectibles and tableware, especially of German cou...
More Works From This Gallery