Description & Technical information
This pair of candlesticks is an interesting, early type of English silver. The spreading, circular foot is standing on an octagonal, strong base. This must have served as a collection-pan for the dripping of the wax. The foot is decorated with naturalistic, flat-chased sprays of Chinese foliage, the so-called Chinoiserie. The shaft of the candlestick is adorned with profiled rings that are in accordance to the profiled nodules. The spout in a baluster form is decorated with flat-chased slanting bars. The candlesticks come probably from a toilet-set.
Antique English Silver
The English gold- and silversmith has a long history. The system of silver finesse, the Sterling Standard (11 Oz. 2. dwts. pure silver and 18 dwts. of alloy) has been instituted in 1300 and was into force until 1696 (institution of the Britannia Standard). Since 1720 the sterling standard came back into force.
The last quarter of the 17th century is as "Silver Age" England's mentioned. After the reign of Charles II (1630-1685) there was political uncertainty in England. There was a small production of new silver objects and moreover old silver was being melted down. Despite this, the court and the nobility have appreciated a lot the luxury wares in silver.
Around the end of the reign of Charles II (1630-1685) and during the reign of his brother James II (1685-1688) (the Restoration time) were foliage, landscapes and figures in Chinese-style en vogue.
Objects of Nanking-porcelain, which were imported to England, were used as patterns for such decoration's motifs. Chinoiserie was used onto different objects (tankards, vases, candlesticks, etc.).
However, Chinoiserie has known its name by objects that were part of toilet sets (cf. Jackson 1911: 255/fig. 267, 268, 269). In terms of the here-described candlesticks, we are undoubtedly standing in front of a particularly beautiful object.
A very similar type of candlesticks with Chinoiserie, part of a toilet set of English production, of the same time-period is in the collections of the Museum of Fine Arts, Boston.
Maker
Anthony Nelme was as son of John Nelme born. He had started an apprenticeship in 1672 by Richard Rowley and ended it by Isaac D(e)ighton in 1679 or 1680. He was elected assistant at the Court of Goldsmiths in 1703 and warden in 1717 and 1722. He died before the 18th Februar 1723.
Anthony Nelme was one of the most prominent London Silversmiths of around the 1700s. Anthony Nelme for instance had partly fabricated the municipal service set of London. Although Anthony Nelme protested at the invasion of Huguenot craftsmen, he was quite influenced by them (Grimwade3 1990: 605-6; Honour 1971: 122-7).
Weight: each 320 gr.
Date: 1688/89
Period: 1600-1750, 17th century
Origin: England, London
Medium: silver
Signature: Town Hallmark: Leopard's head crowned for London (Jackson 1921: 84)
Maker's mark: monogram "AN" in curved shield for Anthony Nelme
(Jackson 1921: 146; Grimwade3 1990: 605-6)
Date letter: An "ł" in a shield for 1688/9 (Jackson 1921: 84)

Dimensions: 15.2 cm (6 inches)
Literature: Dauterman, C. C., 1964, 'Dream-Pictures of Cathay: Chinoiserie on Restoration Silver' in Metropolitan Museum of Art Bulletin, 1964, vol. 23 (1), S. 11-25
Grimwade, Ar., 1990, London Goldsmiths 1697-1837. Their marks and lives from the original registers at Goldsmiths' Hall and other sources, GB: Faber and Faber [Grimwade3]
Honour, Hugh, 1971, Goldsmiths & Silversmiths, London: Weidenfeld & Nicolson
Jackson, Ch. J., 1911, An illustrated History of English Plate, ecclesiastical and secular in which the development of form and decoration in the Silver and Gold Work of the British Isles form the earliest known examples to the latest of the Georgian Period, Bd. I, Plauen i. Vogtl.: C.F. Schulz & Co.
Jackson, Ch., J., 1921, English Goldsmiths and their marks, London: MacMillan and Co. Limited

Categories: Silver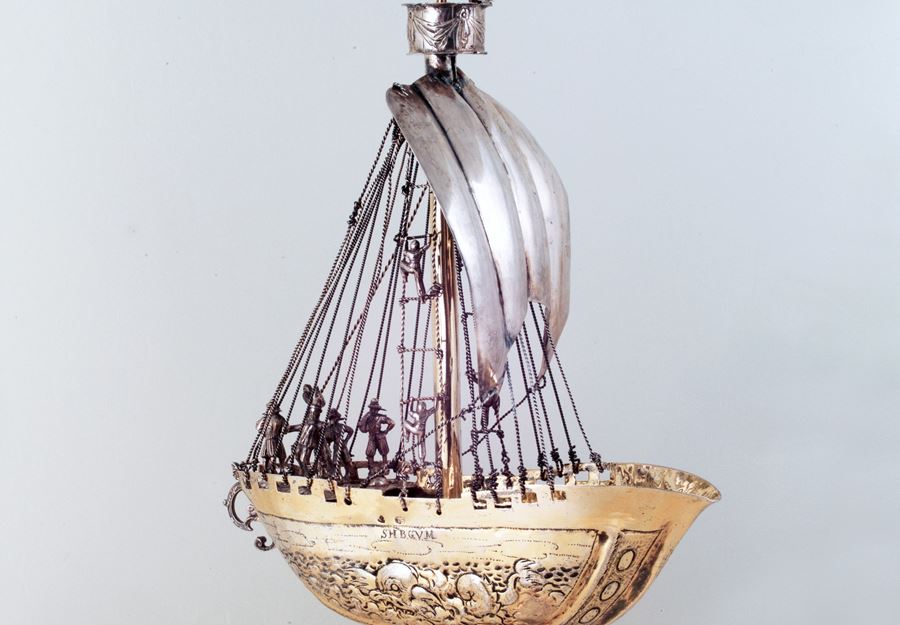 Discover the gallery
Helga Matzke
European Silver and Silver-Gilt Objects coming from the 16th to the early 19th centuries. Our key areas are collectibles and tableware, especially of German cou...
More Works From This Gallery