Description & Technical information
Drawn in 1947, this large charcoal drawing is one of several large-scale drawings and paintings David Bomberg made of the cityscape of London both during and after the end of the Second World War. As the Bomberg scholar Richard Cork has written of these powerful works, 'He reduced his draughtsmanship to its most skeletal in order to convey the gutted, sooty wreckage of a metropolis battered almost beyond recognition by Nazi bombing-raids. Charcoal was the ideal medium for the purpose.'

Bomberg had begun making these charcoal cityscape drawings around 1944, when he had served as a firewatcher in Kensington. As the artist's biographer William Lipke has written, 'While standing watch on long dark nights, he became more and more intrigued with the monumental buildings that had withstood many centuries. Deciding at last to begin that series of sketches that would record London's historic monuments blackly silhouetted against the sky, he turned to his favourite drawing medium, charcoal. With its rich, velvety texture the artist drew out the firmness of the architecural forms, yet rubbed in the pervading darkness like a thin haze covering the inky night...This experience left an indelible stamp on his mind, and later he would return to examine the architectural heritage of London more closely after peace was restored.'

Bomberg had envisaged publishing a book of these drawings. As he wrote to the Ministry of Works in October 1945: 'I am working on a series of drawings that will form when co-ordinated a panorama of London – to be reproduced and published in London.' As Cork notes, however, 'Like so many of Bomberg's projects, the scheme never reached fruition: his style was too stark to attract publishers interested in topographical surveys of the city. But the drawings themselves remain, testifying to the compassion with which he surveyed the battered remains of a city whose skeletal structure lends itself well to Bomberg's defining line.'

Bomberg's drawings of this type led to his appointment to teach a weekly drawing class at the Bartlett School of Architecture in London. The artist had shown some of his cityscape drawings to the eminent architect Sir Charles Reilly, who in a letter of December 1944 recommended him to the Bartlett as a teacher: 'I have been looking at Mr David Bomberg's drawings of great masses of buildings, and feel he has something valuable to convey to the young architectural student. He has extraordinary powers of giving a sense of mass and it is on its mass and volume a modern building so much relies. He could help therefore the young architect...If I had charge of a school still I should like Mr Bomberg to take a sketching class for me, feeling he would help the student to get at the meaning of the mass composition of the building rather than of their detail, and that is what is wanted.'

The Honourable Society of the Middle Temple, generally known as Middle Temple, is one of the four Inns of Court in the City of London, along with the adjoining Inner Temple, Gray's Inn and Lincoln's Inn. The Middle Temple is the western part of the 'Temple'; the building that served as the English headquarters of the Knights Templar until the order was dissolved in 1312. This drawing depicts the bomb-damaged main church at Middle Temple. As the present sheet has been recently described, 'The architectural mass almost entirely fills the sheet, recalling Giovanni Battista Piranesi's eighteenth-century etchings depicting imagined subterranean spaces. Incomplete walls and empty windows, undarkened by Bomberg's furious shading, eliminate the solidity that defined [a drawing of the same site] three years earlier. Now the walls of Middle Temple appear wavering and skeletal, more akin to scaffolding than centuries old stone. Bomberg invites contemplation of the monumental and deeply historic made fragile to deliver an unexpected poignancy only heightened by the brusque handling.'

Bomberg also made a number of large charcoal drawings of late 12th century round Temple Church at Middle and Inner Temple, which are stylistically comparable to the present sheet, and of similar dimensions. These include a drawing of The Round Church at Middle Temple which appeared at auction in 1983 and another with Fischer Fine Art Art in London in 1988, and a third with Marlborough Fine Art in in 1967 and Piano Nobile and Gerrish Fine Art in 2017.

Date: 1947
Period: 20th century
Origin: England
Medium: Charcoal on light brown paper
Signature: Inscribed Authenticated by Lilian Bomberg. / London Series. / Possibly [crossed out] SOUTH Middle Temple. / by David Bomberg/ LB in blue ink on the verso.

Dimensions: 47.5 x 62.2 cm (18³/₄ x 24¹/₂ inches)
Provenance: Marlborough Fine Art, London, in c.1967
Anonymous sale, London, Sotheby's, 25 May 1983, lot 142
Anonymous sale, Sotheby's London, 18 January 1984, lot 208
Redfern Gallery, London
Anonymous sale, London, Sotheby's, 8 March 1995, lot 121 (bt. Bowie)
David Bowie, London and New York.

Literature: London, Piano Nobile, Bomberg/Marr: Spirits in the Mass, exhibition catalogue, London, 2017, pp.32-33, no.11 (entry by Sean Ketteringham).

Exhibitions: London, Marlborough Fine Art Ltd., David Bomberg 1890-1957: Drawings and watercolours, n.d., (1967?), no.29; London, Piano Nobile, Bomberg/Marr: Spirits in the Mass, exhibition catalogue, London, 2017, no.11.

Categories: Paintings, Drawings & Prints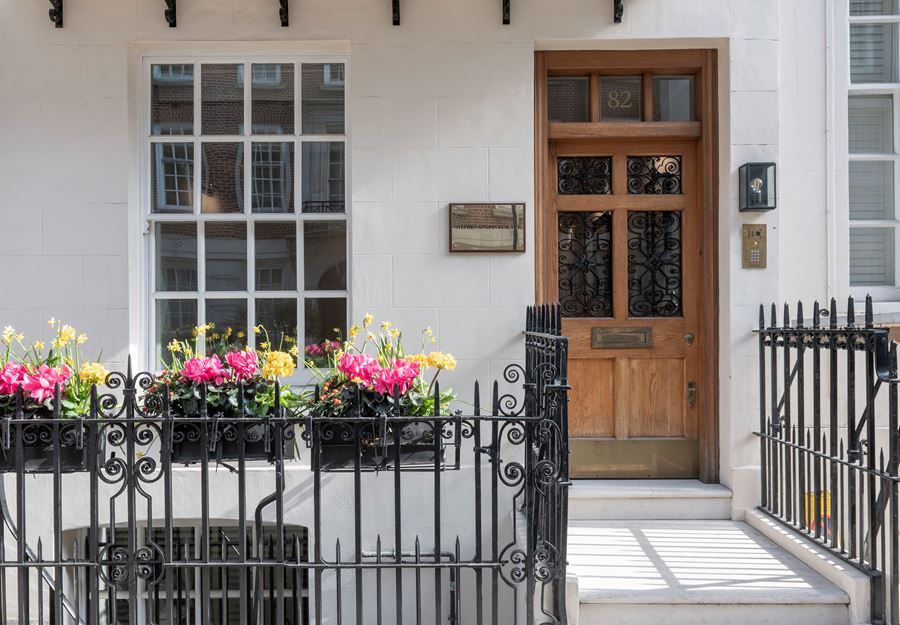 Discover the gallery
Stephen Ongpin Fine Art
Old Master, 19th Century and Modern Drawings, Watercolours and Oil Sketches
More Works From This Gallery