Description & Technical information
A very unusual or possibly unique Janus ancestor heads probably used in yam crop related ceremonies. The heads are joined at the back to each other and surmounted with a square lug , which creates the loop with which the heads are possibly tied to the selected yam during the fertility rituals. Central Wosera area, Abelam, East Sepik Province, Papua New Guinea, Melanesia. Wood (Alstonia) with thickly painted and encrusted pigments showing several layers of paint.

The Abelam cultivate two distinct categories of yams - a short variety used as their ordinary staple food and long yams, that can be up to 3 to 4 meters in length. A man's social status is determined largely by his success in growing long yams. Each man has a permanent exchange partner to whom he ceremonially presents his largest yams following the annual harvest - he later receives those of his rival in return. The ability to give their partners longer yams than that which they receive gives the man great prestige. The selected long yams are ceremonially transformed into human images and decorated like the men in full ceremonial dress. The tops of the long masks – the "heads" are dressed with specially manufactured masks made exclusively for the yams. These masks are most often made of woven rattan though some are carved of wood.
Date: Mid 20th century
Period: 20th century
Origin: Melanesia, Papua New Guinea
Medium: Wood (alstonia)
Dimensions: 18 cm (7¹/₈ inches)
Provenance: Ex Todd Barlin, Sydney; Collection Elizabeth Pryce, Sydney. Sold Collection Elizabeth Pryce – l'Art de Vivre en Océanie Sotheby's, Paris, 10 October 2018.
Literature: http://www.lemanoush.fr/waapi-igname-magique-papouasie/
Categories: Tribal Art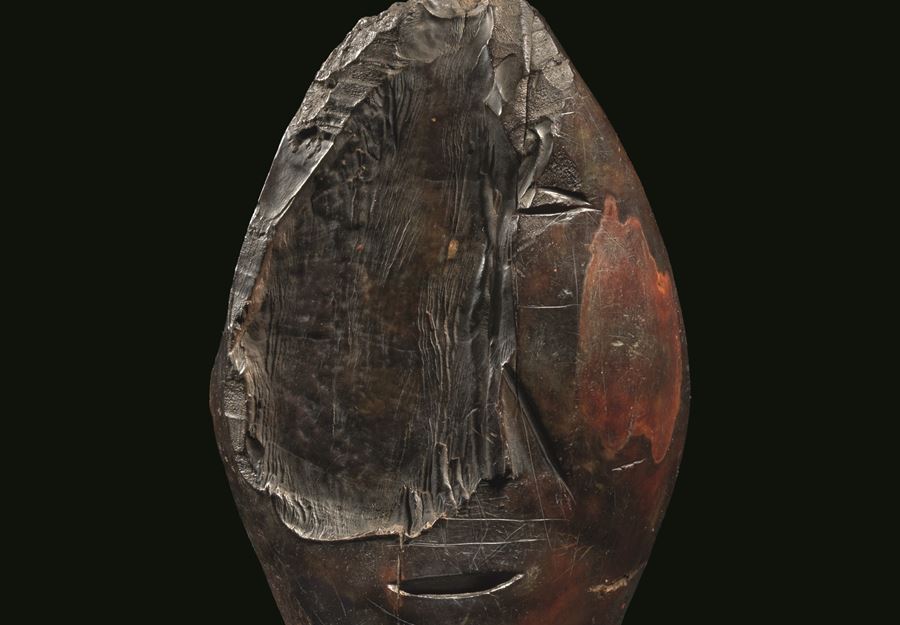 Discover the gallery
Galerie Meyer-Oceanic Art
Tribal Art dealer specializing in early Oceanic Art since 1980 and archaic Eskimo Art since 2010
More Works From This Gallery