Description & Technical information
Namban fall-front cabinet in lacquered wood (urushi) modelled after na Iberian prototype known as contador in Portugal and as vargeño in Spain.
The cabinet interior is fitted with a large number of drawers of various sizes, intended for the safekeeping of important documents or letters, jewellery and precious objects. The hinged front surface drops down to create a writing surface. Such pieces of furniture ranked amongst the most essencial pieces of furniture in early modern European domestic interiors.
An essential typology for European officials and merchants working in Asia, they were made in a variety of exotic materials such as tortoiseshell, ivory and delicate lacquer decorated in gold, the latter much admired and avidly sought after in Europe due to their appealing design and technical quality.

On the front of its central drawer a decorative composition of a heavily loaded branch of tachibana orange (Citrus tachibana), the bottom drawer featuring Japanese arrowroot coiling vines or kuzu (Pueraria lobata), a species that is also often depicted in the decoration of the lacquered back and in the inner side of the fall front. Amongst the botanical species present in the decoration of this important cabinet, the lotus flowers (Nelumbo nucífera) should also be referres.
Not unlike other Namban lacquered pieces of furniture, with flat exterior sides and protruding edges, in keeping with Chinese furniture, this cabinet's decoration consists on central panels with geometric borders (in a chequered pattern or ishitatami) combining the gold decoration with the mother of pearl (raden).
Nevertheless, and with the exception of the back, which is decorated by a large and continuous panel of Japanese arrowroot coiling vines, the remaining surfaces are coated in gilt copper plaques - single on the sides and double on the top and front - decorated in a black urushi lacquer fishscale pattern, each scale centered by a round head gilt copper tack.

Throughout the Momoyama period a particular type of lacquerware made for export, which combined mother-of pearl inlay with hiramaki-e, was referred to as nanban makie or nanban shitsugei. Nanban, also spelled Namban, or Nanban-jin (literally 'Southern Barbarian') is a Japanese term, derived from Chinese, that refers to the Portuguese and Spanish merchants, missionaries and sailors who arrived in Japan in the 16th and 17th centuries.
Namban has also become synonymous with lacquerware types and other products commissioned in Japan both for the home market or for export, reflecting western taste and modelled after European prototypes such as the present. Namban-style objects, which were made for export, commonly combined Japanese techniques, materials and motifs with European styles and forms, the present object being a valuable testimony of such production.

At the present no other Namban piece is known of identical fishscale pattern decoration, thus making this cabinet a remarkable document of a refined and ostentatious taste, a choice that portrays the manners of the Portuguese in Asia during this period of Discovery and Expansion.

Date: 1573 - 1615
Period: 1400-1600, 1600-1750, 17th century
Medium: Lacquered wood
Dimensions: 54 x 78 x 41.7 cm (21¹/₄ x 30³/₄ x 16³/₈ inches)
Provenance: Private collection, Paris
Categories: Oriental and Asian Art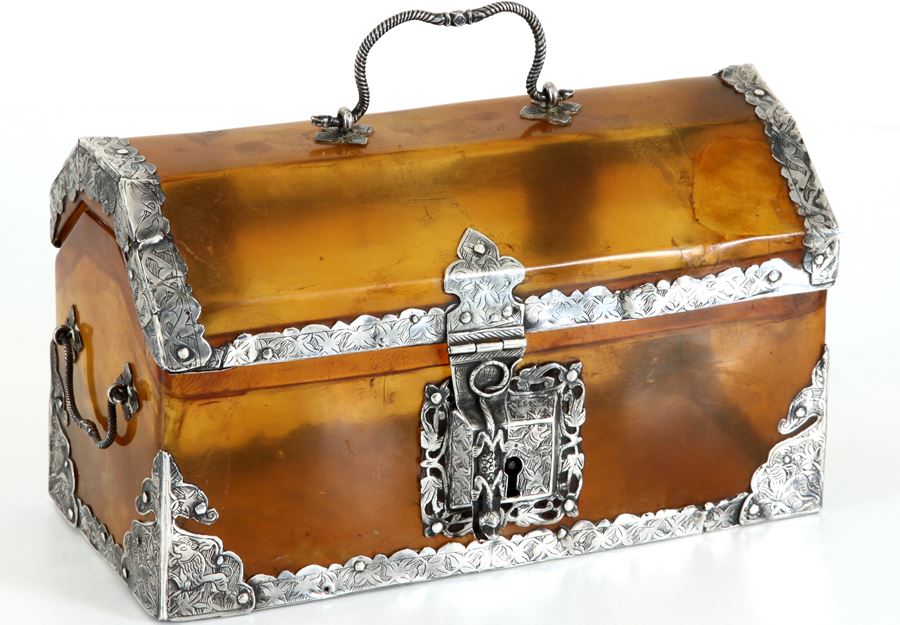 Discover the gallery
São Roque
Fine Furniture, Silver, Portuguese Tiles and Ceramics, Arts of the Portuguese Expansion, Chinese Porcelain, Fine Arts
More Works From This Gallery