Description & Technical information
Bust-length views of beautiful women became a distinct painting type in Mughal painting in the mid-17th century, and were soon emulated in Deccani and Rajput courts. In this elegant work, the artist fills virtually the entire composition with the figure, who does not idly hold the customary flower or flask and wine cup, but is caught in reverie as she raises a hand to grip the frame of the painting itself. Together with that engaging gesture and velvety black background, the close-up view of the woman's lovely features, voluptuous body, jhoomar tikka (forehead ornament), and gleaming pearl jewellery creates a palpably alluring mood. The painter's mastery of his craft is evident in every detail: the subtle tonal gradation in the iris and pupil; the hint of shading around the discreet arching forms of the eyelids; the slightly parted lips; the soft, irregular hairline and layered, swept-back hair articulated with individual strands; the dusky modelling of the singer's jaw and neck; the long, sinuous sidelock; the thinly painted, diaphanous red madder garment; and the elegantly curled fingers of her open hand. On close examination, even the pearls of her earring and nose-ring have a slightly darker centre, which gives them a nuanced three-dimensionality.
If this painting draws upon the Mughal tradition in its formulation and precision, its flattening and abstract traits point unmistakably to the court of Bikaner in northwestern Rajasthan, which had close cultural ties with the Mughals throughout the 17th century. Its facial type differs from those of the better-known Ruknuddin (active 1650-1700) and his descendants, and relates closely to a painting of Lakshmi-Narayana by the Mughal-trained painter Ustad Ali Raza of Delhi (active 1645-65), and especially to a work ascribed to Hasan Raza, one of his two sons. That equally superb painting presents a woman with practically identical features and jewellery in a frontal view. A bust-length drawing of a very similar woman in profile is in the Mittal Museum in Hyderabad.

Date: 1680
Period: 1600-1750, 17th century
Origin: India, Bikaner
Medium: Ink, Opaque watercolour on paper
Dimensions: 20.5 x 15.5 cm (8¹/₈ x 6¹/₈ inches)
Provenance: Private USA Collection since the 1960s

Literature: Khandalavala, K., Chandra, M. and Chandra, P. Miniature Paintings from the Sri Motichand Khajanchi Collection, Lalit Kala Akademi, New Delhi, 1960, nos. 83 and 90, pl. E and fig. 71.
Topsfield, A. and Mittal, J. Rajasthani Drawings in the Jagdish and Kamla Mittal Museum of Indian Art, Jagdish and Kamla Mittal Museum of Indian Art, Hyderabad, 2015, no. 11.

Categories: Oriental and Asian Art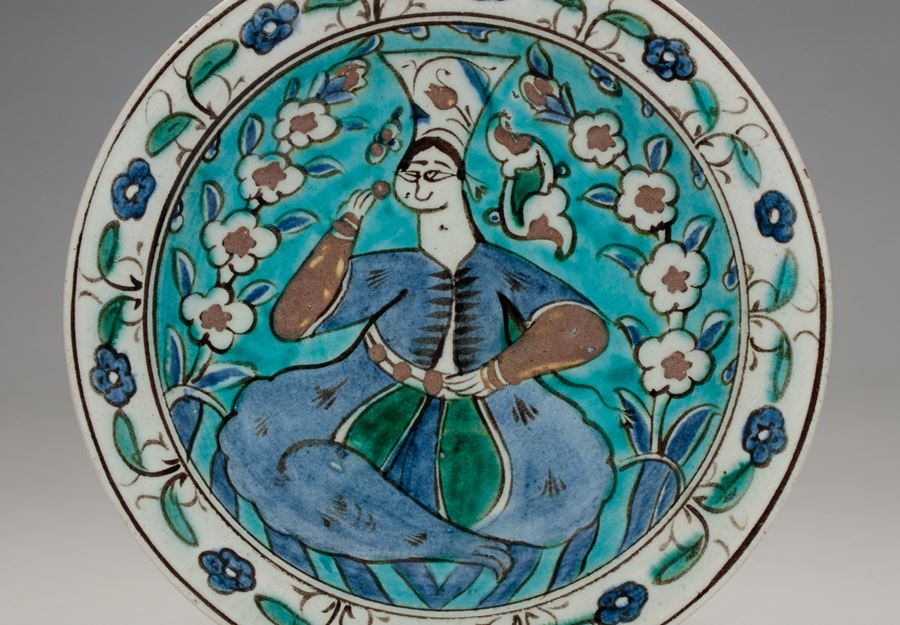 Discover the gallery
Amir Mohtashemi Ltd.
Indian,Islamic and Cross-Cultural Works of Art
More Works From This Gallery