Description & Technical information
English Market
from the Golden Gate Collection

Price: £10,000

A pair of hexagonal dinner plates with a central armorial with elaborate mantling, the cavetto with a double gilt spear border and the rim with six panels, five of peony and the sixth with a crest of an arm holding flowers, all reserved on a ground of iron red cell diaper.

The arms are: Jephson: Azure a fess embattled or between three cocks' head erased argent impaling Chase: Gules, four crosses patonce argent, on a canton azure, a lion passant or; Crest: arm holding a pansy (Jephson)

This service was ordered for the marriage of William Jephson a wealthy barrister of Lincoln's Inn who married Hannah Chase of Much Hadham, Hertfordshire. The hexagonal shape and the finely detailed iron red diapering are unusual and with the ample mantling this is one of the most sought after examples of early English armorials on Chinese export porcelain.
Hannah Chase was the aunt of Sir Richard Chase who, ten years later, ordered his own service which echoed the design of this in its diapering (see the next item in this catalogue).
William Jephson was born circa 1695 the son of Alexander and Priscilla in Stepney, London. The Jephson family was originally from Froyle, Hampshire but had a significant branch in Ireland including Colonel William Jephson MP (1615-1659) who served with Murrough O'Brien (Lord Inchiquin) in the daring relief of Castle Rathbarry, 1642. His relative Colonel Alexander Jephson was a ringleader of Thomas Blood's plot to take Dublin Castle in 1663 (the same Blood who later stole the Crown Jewels from the Tower of London). Alexander's father, Sir John Jephson lived at Mallow Castle and it was said of him that 'his love of pleasure was greater than his fortune' so he fell into debt. One night a gentleman appeared unannounced and, putting a large bag of gold on the table, asked Jephson if he would like to be free of debt. Jephson eagerly responded and the gentleman produced a white rat and said that he could have the gold, provided that he agree to have the rat with him at all meal times, sitting on the chair to his right. Eventually after some years he tired of his rodent companion and dismissed him. Immediately the gentleman appeared and whisked Jephson away out of the window. It is said that ever since a white rat will appear before a family member dies.
This colourful and charismatic family also included William Jephson MP for East Grinstead and Secretary to the Lords of the Treasury under Charles II, and Robert Jephson (1736-1803) the poet and dramatist whose nephew, Robert, was poet laureate to the ViceRegal Court in Blackrock until one day caught mimicking the Marquis of Buckingham in a mirror and summarily sacked. Arthur Mounteney Jephson was an explorer who accompanied Henry Morton Stanley in Africa, writing very frank diaries which were later published.

References: Howard & Ayers 1978, p409, a plate; Howard 1974, p259, this service; Bullivant Collection, Phillips, March 1988, lot 167, four plates


This item is currently located in the USA and may be subject to additional shipping and import charges if shipped outside the USA. However, this also means it is NOT subject to any tariffs on Chinese-made goods entering the USA.

Date: 1730
Period: 1600-1750, 18th century
Origin: China
Medium: porcelain
Dimensions: 24.7 cm (9³/₄ inches)
Categories: Oriental and Asian Art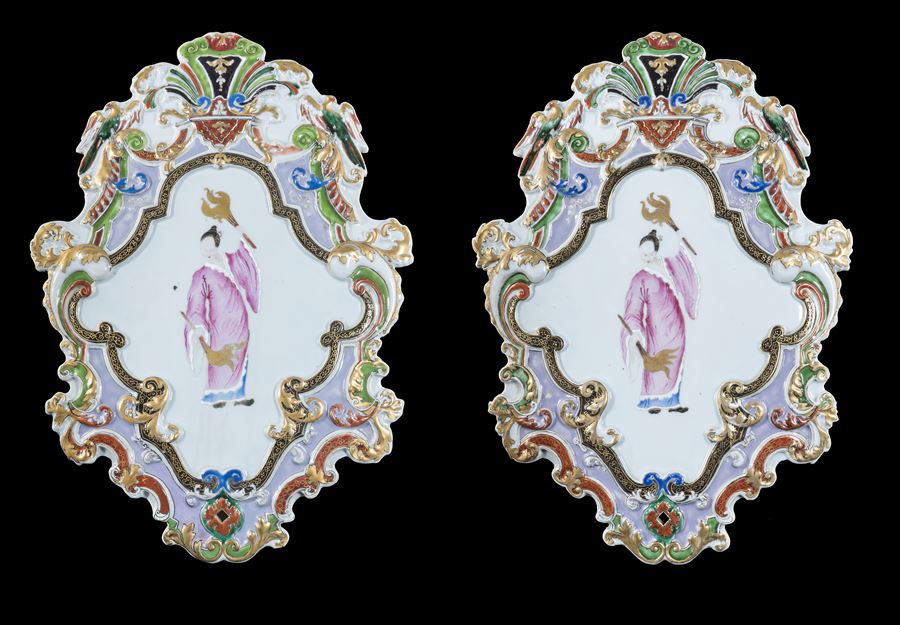 Discover the gallery
Cohen & Cohen
Chinese Export Porcelain, 17th & 18th Century, Works of Art
More Works From This Gallery