Description & Technical information
A very fine « martyred orphan » mask carved in the form of a distorted human face.

These types of masks were worn during « drum fights » in the early contact period. Drum fights were a traditional way to settle disputes in the small isolated communities of East Greenland, and were often able to settle feuds between settlements as well as resolving conflicts between individuals. Unfortunately much about the use and representation of the masks was hidden from early researchers and is now lost due to the prohibition by the Danish missionaries of the « pagan » ceremonies and beliefs. Their most extensive use was probably in the « uâjêrtut » games that took place in the large winter house during the prolonged winter months when the ice permitted guests to travel by sled between the islands. There were many different "games" or scenes in uâjêrtut which are played in no particular order (Rosing, 1957; Gessain, 1984). However, as in drum fights, one of the most important aims was to amuse the audience and make them laugh. Although the meaning of many of the mask traits and shapes remains unknown, some are related to legendary figures or mythical beings (Gessain, 1984). For example, the mask here with the enlarged nostrils represents the « martyred orphan » who was lifted by the nose and teased. The deeply engraved tattoo lines across the face indicate the level of rank and initiation of the person. Ammassalik Eskimo, Eastern Greenland. Soot blackened wood, iron nails and musk ox skin (Ovibos moschatus).
Date: 19th/20th century
Period: 1850-1900, 19th century, 20th century
Origin: Eastern Greenland
Medium: Soot blackened wood, Iron nails, Musk ox skin
Dimensions: 34 cm (13³/₈ inches)
Provenance: Ex coll. : the Danish artist Werner Pawl (1918-1970).
Literature: See similar examples in the Gustav Holm collection in the Danish national museum, Copenhagen; the Greenland National Museum in Nuuk; and the Musée du Quai Branly - Jacques Chirac, Paris.
Categories: Tribal Art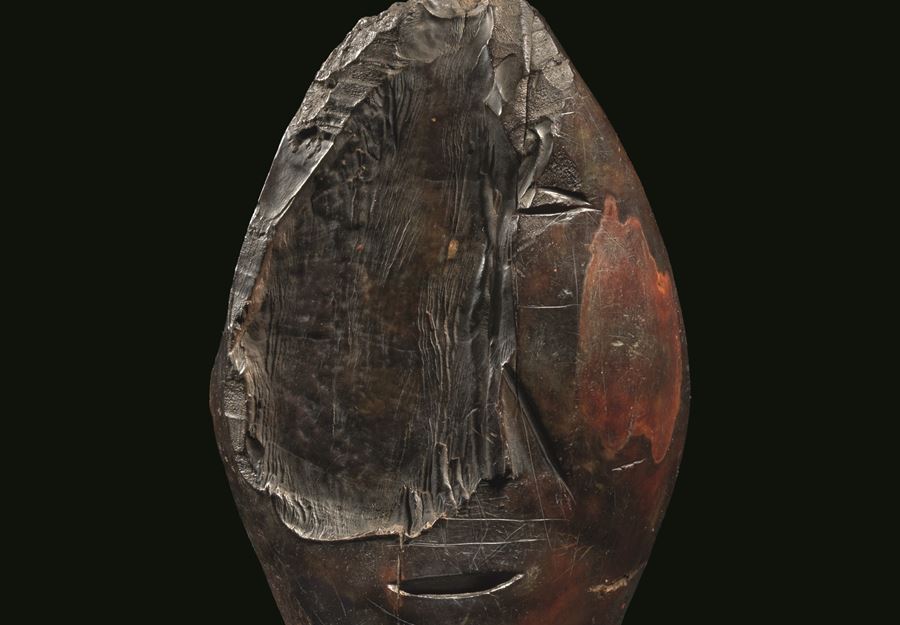 Discover the gallery
Galerie Meyer-Oceanic Art
Tribal Art dealer specializing in early Oceanic Art since 1980 and archaic Eskimo Art since 2010
More Works From This Gallery