Description & Technical information
A George III giltwood pier mirror designed by Robert Adam and attributed to John Linnell. Note: The mirror retains its original Queen Anne centre plate and has replaced mercury silvered marginal glasses. The frame has been re-gilded.
The dimensions of the frame were altered shortly before its first gilding, probably to house the slightly larger Queen Anne glass.
Gilding analysis has revealed that all components, including the inserted extensions, have the same gilding history, which confirms that the glass to the mirror is original too.
Mirror plates were exceptionally expensive in the 18th century and re-using an old plate would have saved a lot of money. The cost of extending the frame would have been minimal compared with ordering a new plate for the mirror.
BOWOOD HOUSE AND ROBERT ADAM
The Bowood estate, formerly the property of Sir Orlando Bridgeman, became the family seat of John Petty, the 1st Earl of Shelburne, in 1754. Petty employed the architect Henry Keene to extend the house. Robert Adam took over work in the early 1760s following the death of the 1st Earl, whose heir, the 2nd Earl and 1st Marquess of Lansdowne, later to be prime minister, completed the extension and connected the 'little house' with the 'big house', now demolished.
Adam designed the drawing room which connected both houses. The room had three piers and would have had three pier mirrors of the same design.
The big house had to be demolished in 1955 following decades of neglect and a decline in the family fortunes. The grand dining room interior, however, was saved and sold to Lloyds of London, and it serves as their boardroom today. The furnishings of the lavish Adam interiors have been dispersed and lost, making this remarkable mirror, originally from a set of three, an important discovery.
A design drawing by Robert Adam, dated 1765 and annotated 'Glass frame for the Drawing Room at Bowood', has been preserved in the Sir John Soane's Museum in London, England.
Adam's design varies slightly from the actual mirror, which is not uncommon with collaborative work between Robert Adam and the Linnell firm. Similar alterations in design took place at Osterley Park, Isleworth, England, for example.
Helena Hayward describes this as an 'apparently easy and flexible collaboration between architect and cabinet-maker... reflected in the way in which Linnell interpreted and even perhaps amended Adam's designs'.
LINNELL AT BOWOOD
The firm of Linnell was commissioned to supply furnishings to Bowood between the years 1763 and 1766 for the total sum of £1,013 9s 5d. This was during the time when the house was being refurbished, and the work very probably included the suite of mirrors for the drawing room.
Date: 1765
Period: 1750-1850, 18th century
Origin: England
Medium: Giltwood
Dimensions: 180.5 x 100 cm (71¹/₈ x 39³/₈ inches)
Provenance: William Petty Fitzmaurice, 2nd Earl of Shelburne and 1st Marquess of Lansdowne, Bowood House, Wiltshire, England.
By descent to George John Charles Petty-Fitzmaurice, 8th Marquess of Lansdowne.
Private collection, England.
Literature: Arthur Bolton, The Architecture of Robert & James Adam, 1922, pp. 192-215.
Helena Hayward and Pat Kirkham, William & John Linnell, Eighteenth Century London Furniture Makers, 1980, vol. I, p. 62.
Geoffrey Beard and Christopher Gilbert, The Dictionary of English Furniture Makers 1660-1840, 1986, p. 545.
Categories: Furniture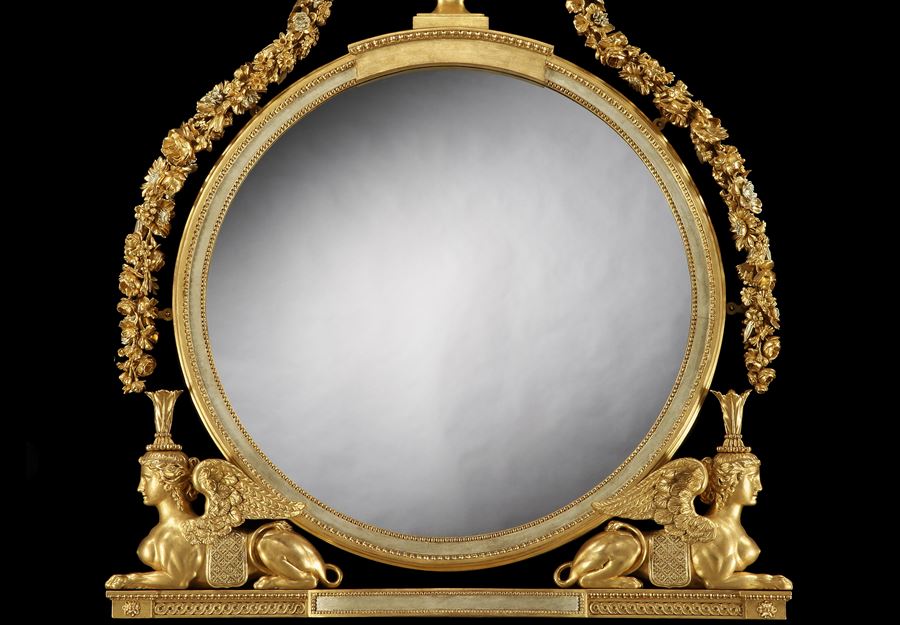 Discover the gallery
Ronald Phillips Ltd
18th Century and Early 19th Century English Furniture, Objets d'Art, Glass, Clocks and Barometers
More Works From This Gallery