Description & Technical information
A pair of George III brass mounted dining room pedestal urns by Thomas Chippendale.
Each urn retains all the original brass mounts typical of the Chippendale workshop and has a removable lid revealing a lead lined interior for water. One pedestal, intended as a plate warmer, is zinc lined. The other pedestal was originally fitted with two drawers and now has a fitted shelf.
BRASS MOUNTED PEDESTAL URNS BY CHIPPENDALE
The pair belong to a small group of known pedestal urns that are virtually identical and are associated with the Chippendale workshop. One pair are in the collection of Paxton House, Berwickshire, Scotland. Another pair without provenance is in the collection at Cannon Hall, Yorkshire, England, on loan from the Victoria and Albert Museum, London. A pair en suite with a curved serving table fitted to a curved niche were supplied to Sir John Duntze of Rockbeare Manor in Devon, England, circa 1770. A further un-provenanced pair are illustrated in Moss Harris's 1930s 'Catalogue and Index'. A brass mounted neoclassical dining room suite, supplied to Sir Richard Worsley for Appuldurcombe on the Isle of Wight, England, has not yet been located.
A pair of pedestals now lacking their urns are in the collection at Stourhead, Wiltshire, England. Another pair of pedestals without urns were supplied to Wedderburn Castle in Berwickshire.
The well-documented pair of pedestal urns by Chippendale at Harewood House, Yorkshire, share the same basic outline, but their extra ormolu mounts and the use of exotic veneers put them into a different group.
THE URNS
The urns in this group all share the same outline and are turned on a waisted socle with gadrooned base to the body, fluted rim and pointed lid with gadrooned finial. All of them feature the same distinctive loop handles and Bacchus masks.
The differences are largely in the use of mounts and variation in carved detail. There are two different types of swag mounts known: one uses rather flat laurel leaves with berries and was probably slightly cheaper; the other has more sculpted husk swags and probably more costly mounts. Paterae mounts and collar mounts are also seen in different variations on this type of urn.
THE PEDESTALS
The pedestal bases too are of identical outline and size, and all of the known examples either retain the original fittings or had them previously. One pedestal of the pair would have been zinc lined and fitted out with racks and a coal compartment at the base for warming plates. The companion pedestal would have been fitted with lead lined drawers for food waste and a pot cupboard compartment. The basic carcass is the same on all the models known. The pedestals rest on a plinth base and terminate in a fluted frieze with a stepped moulding above. The Paxton urns have the addition of a fluted collar approximately two inches tall above the plinth, making them that much taller than all the other models: this supports the theory that the carcass was of a standard design. A standard size would have made production far more cost effective. For example, the interior fitments for plate warmer pedestals were identical throughout this group, making them universal for this model.
Variations occur on the execution of the door panel. All the pedestal doors currently known feature oval panels, but these can vary from oval carved inlaid paterae and oval veneered centres to oval centres with brass mount edging. The main veneer is quartered on all the known examples. All examples have carved paterae corners bordered by an astragal moulding.
CHIPPENDALE STANDARD ITEMS
The Chippendale firm kept stock on hand of their standard items, which were probably available for immediate purchase. A number of virtually identical examples can be identified, such as small hexagonal tripod tables (at Harewood, Paxton and Aske Hall, Yorkshire), Pembroke tables (at Petworth House, Sussex, England, and Paxton), bedside tables (at Paxton and Mersham-le-Hatch, Kent, England) and secrétaire cabinets with virtually identical cabinets (at Paxton and Aske).
All these examples share very similar design and construction, with variations only in veneer choice, carved elements or alternative turnings.
Pedestal urns of this model may also have been stock items, since there are a number of pedestal urns in existence of virtually identical outline and with only slight variations.
HOME HOUSE, 20 PORTMAN SQUARE
Elizabeth, Countess of Home was an extremely wealthy Jamaican-English heiress. She inherited vast sums of money and land in Jamaica on her father's death, and in 1720, at the age of 16, she married James Lawes, a wealthy plantation owner and son of the governor of Jamaica. When disputes arose with the new Jamaican governor, the couple moved to London, where James died in 1734, leaving Elizabeth an even greater fortune.
Despite her wealth, London society may have been hard to adapt to after her upper-class life in Jamaica, and Elizabeth never quite fitted into the elite of the capital.
Her marriage to William, 8th Earl of Home, in 1742, seems to have been a marriage of convenience and part of her struggle to be accepted socially. William deserted her after only a few months, but left her with her new title.
Elizabeth, now Countess of Home, spent the rest of her life trying to establish herself in society by giving lavish parties in her newly built town house on Portman Square, originally designed by James Wyatt and finished by Robert Adam. The house is today seen as one of Adam's masterpieces.
No evidence that Lady Home commissioned Chippendale for her furniture has come to light, but the fact that she used James Wyatt and Robert Adam shows that she was eager to use the best craftsmen of her time in order to impress and gain social recognition. Chippendale often worked alongside Adam, who probably suggested him as a suitable supplier of furniture.
After Elizabeth's death in 1784 the house was occupied by a succession of residents including the Marquis de la Lucerne, the Duke of Atholl, the Duke of Newcastle, Sir Francis Henry Goldsmid, Lord and Lady Islington and eventually Samuel Courtauld, founder of the Courtauld Institute, which was housed there until 1989. Today Home House is a private members' club.
There is no doubt that the pedestal urns are by Chippendale: the question is, were they made for Home House, or moved there at a later date? Further research may in due course confirm a Chippendale commission for Home House.
Date: 1775
Period: 1750-1850, 18th century
Origin: England
Medium: Mahogany
Dimensions: 171.5 x 45.5 x 44 cm (67¹/₂ x 17⁷/₈ x 17³/₈ inches)
Provenance: Home House, No. 20 Portman Square, London, England.
Private collection, USA.

Literature: Arthur Bolton, The Architecture of Robert and James Adam, 1922, vol. II, pp. 80–93.
M. Harris & Sons, 'A Catalogue and Index of Old Furniture and Decorative Works of Art', circa 1930s, Part III 1770–1840, p. 335.
Christopher Gilbert, The Life and Work of Thomas Chippendale, 1978, vol. II, p. 194, pl. 353.
Eileen Harris, The Genius of Robert Adam: His Interiors, 2001, p. 308, illus. 458; the dining room at Home House, London.
Judith Goodison, The Life and Work of Thomas Chippendale Junior, 2017, pp. 370–71.

Photographed:
Country Life, 1932, unpublished.
Categories: Furniture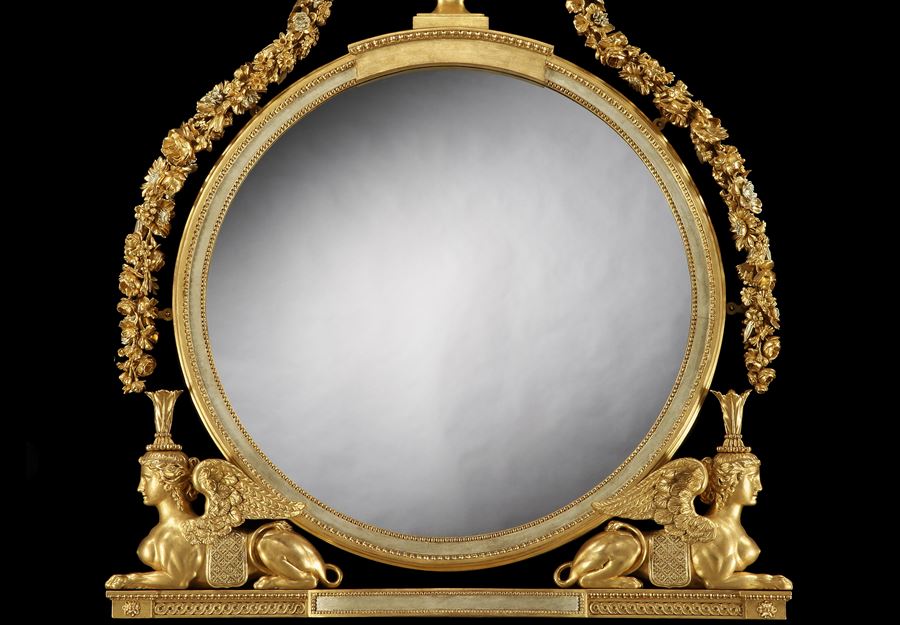 Discover the gallery
Ronald Phillips Ltd
18th Century and Early 19th Century English Furniture, Objets d'Art, Glass, Clocks and Barometers
More Works From This Gallery