Description & Technical information
Painted by the draughtsman Amir Baksh in the Punjab style, this architectural watercolour shows two of the four minarets from the seventeenth century Wazir Khan Mosque. Baksh chose to paint the minarets from an angle which enables one to appreciate both the octagonal and the square style minarets with their distinctive balconies and domes. The façades are painted with precision, showing the intricate details and vibrant colours of the kashi-kari mosaics made of glazed pottery and tiles.
Born in Lahore, Amir Baksh belonged to one of the most prominent artist families, the Chughtai family, who dominated the musawir (painter) and naqqash (decorator and illuminator) scene in the Punjab since the 18th century.[1] Having studied at the Mayo School of Art in Lahore, Baksh was a student of John Lockwood Kipling. During the Simla Fine Art Exhibition of 1882, Kipling showed twelve of his own sketches while only two works by his students are known to have been displayed, including a painting by Amir Baksh, which won the Patiala Prize for "the best picture, in native style, original or copy, by a native artist of the Punjab".[2]
Baksh was later responsible for training a large number of Drawing Masters of the Punjab.[3] He later became the Head Teacher of Drawing in the Municipal Artisan's Training School at Amritsar.[4] He is also notable for his unfinished work entitled The Chauburji Gateway which is held at the Victoria and Albert Museum, see Accession Number IS.2491-1883.
References
[1] R.P. Srivastava. 1983. Punjab Painting. New Delhi: Abhinav Publishers. p. 46.
[2] Quoted in Susan Weber. 2017. "Kipling and the Exhibitions Movement". In John Lockwood Kipling: Arts & Crafts in the Punjab and London, edited by Julius Bryant and Susan Weber, 205-280. New York: Bard Graduate Centre Gallery. p.209.
[3] Muhammad Abdullah Chughtai. 1961. A Century of Painting in the Panjab, 1849-1947. Lahore: Kitab Khana-i-Nauras. p. 44.
[4] Tahir Kamran. 2016. "Lockwood Kipling's Role and the Establishment of the Mayo School of Art (1875-1898)", Journal of the Royal Asiatic Society, 26 (3) p. 456.

Date: 19th century
Period: 19th century, 1850-1900
Origin: India
Medium: Watercolour
Dimensions: 60 x 42 cm (23⁵/₈ x 16¹/₂ inches)
Categories: Paintings, Drawings & Prints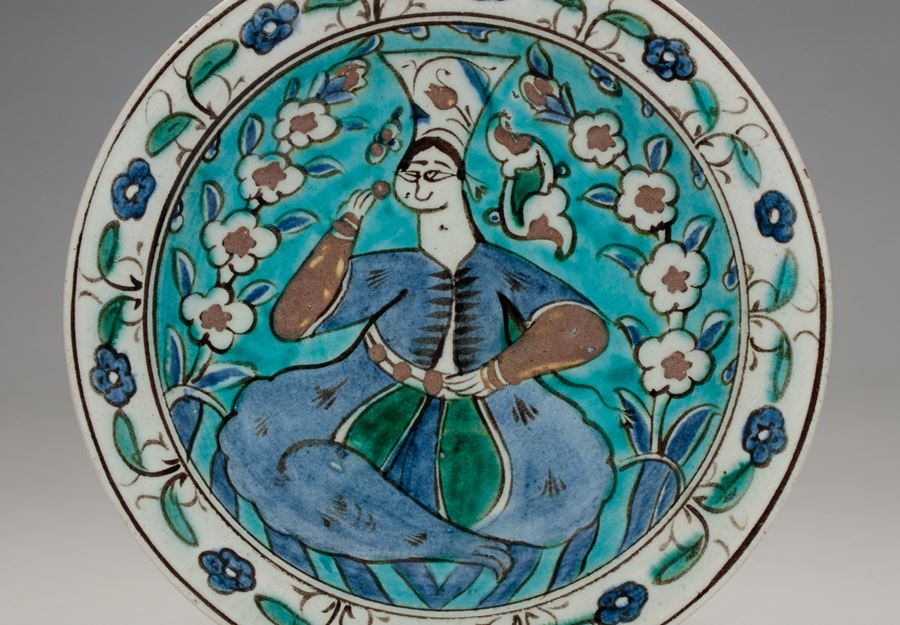 Discover the gallery
Amir Mohtashemi Ltd.
Indian,Islamic and Cross-Cultural Works of Art
More Works From This Gallery