Description & Technical information
Watercolours occupied Cross throughout his life, and, in the words of one scholar, 'hold a special place' in his oeuvre. This is particularly true of the later stages of his career, after he had settled in the South of France. In March 1900 he wrote to his fellow painter Charles Angrand that he was concentrating his activities on watercolours, adding that 'It's fun. The absolute necessity to be quick, bold, even insolent, has brought a kind of beneficial feverishness into my work after the months spent languishing on my paintings...' Cross would make these drawings from nature, having already begun with an idea of what colour combinations and forms he would need, and having developed these basic ideas in the studio. As the artist wrote to one critic, 'I compose in the studio, coming as close as possible to my interior vision; then, the harmony being established, partly on paper and canvas, and partly in my head, I set about making my sensations objective – sensations corresponding to the initial vision – in front of nature. These documentary sketches, during the definitive execution of the painting, more often than not are behind me or in a filing box.'

As the Cross scholar Patrick Offenstadt has written, 'Cross produced drawings and watercolours throughout his life, but it seems that it was not until around 1888, advised by Pissarro and guided by Signac, that it became a daily practice. True, he used watercolour initially as a preparatory springboard for his oil paintings, but some of them are so accomplished, harmonious and poetic that one can only consider them as fully-fledged works of art in their own right, and sometimes even as masterpieces. Then came watercolour for watercolour's sake. It was around 1903-05 that he freed himself of all constraints...Signac used ink and pencil to structure his compositions and explore his subjects, while Cross worked directly with the brush. His technical mastery and sure hand allowed him to be bold, while his chronic arthritis drew him to the medium because it forced him to work 'light'. Watercolour was therefore the result – and great beneficiary of both his physical suffering and his genius.'

From 1895 onwards Cross sold some of his watercolours through the Galerie Bing in Paris, and also showed some at the Salon des Indépendants in 1903. The importance of his watercolours to Cross is seen in the fact that, in the two major solo exhibitions of his work, held in galleries in Paris in 1905 and 1907, the artist chose to show numerous watercolours alongside his finished paintings; indeed, there were more of the former than the latter in both exhibitions. Cross's watercolours are, however, only rarely signed and are almost never dated, making a chronology of his drawings difficult.

The small fishing port of Le Lavandou lies below the hilltop town of Bormes and some two kilometres from the inland village of Saint-Clair, where Cross lived for much of the last two decades of his life. On one of his first visits to the area he wrote to Paul Signac, 'It's so beautiful! I owe you a debt of gratitude for guiding me to this corner of Provence. After the two or three conversations we had on the subject, two names have always stayed in my mind: Bormes – Lavandou.' In another letter, written ten years later, after he had settled at Saint-Clair, Cross wrote to Charles Angrand, 'The light which bathes all things in its radiance is enticing, dazzling, overwhelming…Our beaches here are deserted. Elegance can be found only in the pines that rise out of the sand and in the delightful half-moon of the shoreline. But what never-ending beauty!' Cross made numerous paintings and drawings of this coastal region, and is buried in the cemetery at Le Lavandou.

This work will be included in the forthcoming Cross catalogue raisonné being prepared by Patrick Offenstadt.

Period: 20th century
Origin: France
Medium: Watercolour over a pencil underdrawing
Dimensions: 17.3 x 24.8 cm (6³/₄ x 9³/₄ inches)
Provenance: The studio of the artist, Saint-Clair
Possibly the Cross atelier sale, Paris, Hôtel Drouot, 28 October 1921
Sale, Paris, Galerie Charpentier, June 1955, according to an inscription on the old backing board)
Georges Renand, Paris
By descent to Edouard and Jeannine Chapet, Paris.

Categories: Paintings, Drawings & Prints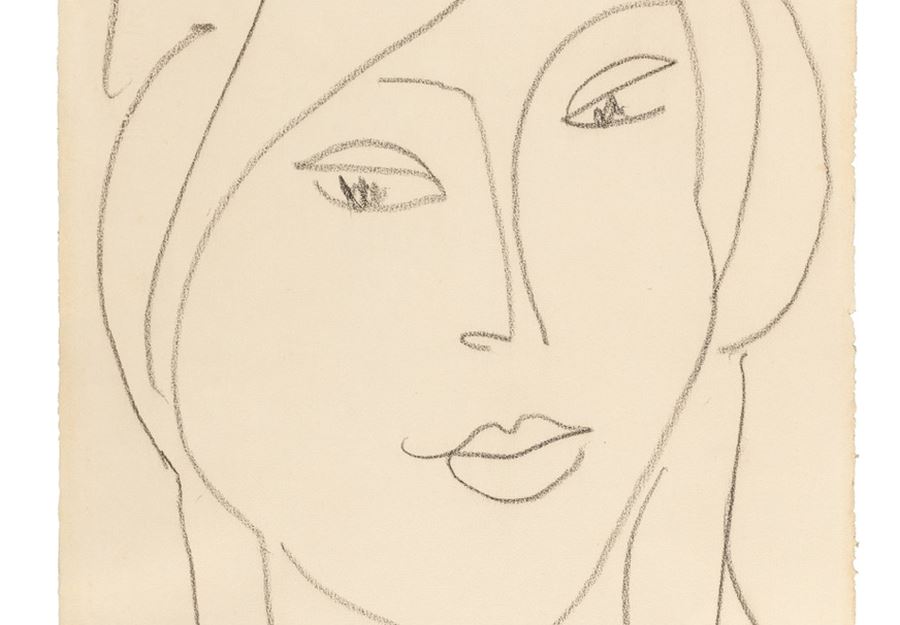 Discover the gallery
Stephen Ongpin Fine Art
Old Master, 19th Century and Modern Drawings, Watercolours and Oil Sketches
More Works From This Gallery