Description & Technical information
KARL WITZMANN/SCHOOL OF PROF. JOSEF HOFFMANN
1883 – Vienna – 1952
JAKOB SOULEK Viennese cabinetmakers, 1060 Vienna, Mollardgasse 54 15. STATELY DINING-ROOM SUITE exhibited at the Turin Exhibition "L'Esposizione internazionale d'arte decorativa moderna" 1902 consisting of: large sideboard, small sideboard, extendable dining-room table, 4 chairs, eight-bulb chandelier
Designed by: Karl WItzmann, Vienna, 1902
Executed by: Jakob Soulek
Marked on two original keys: J. Soulek, Wien
Surface professionally repolished, original marble tops, newly nickel-plated brass fittings, cut and facetted glass, upholstery and fabric renewed, excellent condition.
15.1. LARGE SIDEBOARD
H 175/95.5 cm, W 162 cm, D 72.5 cm
15.2. SMALL SIDEBOARD

H 17.5/90 cm, W 83 cm, D 45 cm
15.3. EXTENDABLE DINING TABLE

H 80 cm, D 110 cm, L 130/370 cm
Opens up in four steps (each 60 cm), offers space for
up to 16 people
15.4. FOUR CHAIRS
H 76 cm, SH 46 cm, W 56 cm, D 51 cm
15.5. EIGHT-BULB CHANDELIER
Nickel-plated brass, one lampshade glued, easily adjustable to the height of the room, excellent original condition.
H 120 cm, 70 x 70 cm
Period: 20th century
Origin: Austrian
Medium: Solid mahogany and veneer, ebony, dyed to rosewood
Provenance: private property, Italy

Literature: L'Arte Decorativa
Moderna, 1902, Anno 2, N. 5, p. 129 ff.; Die Kunst, Bd. 6., Munich 1902, p. 458

Categories: Furniture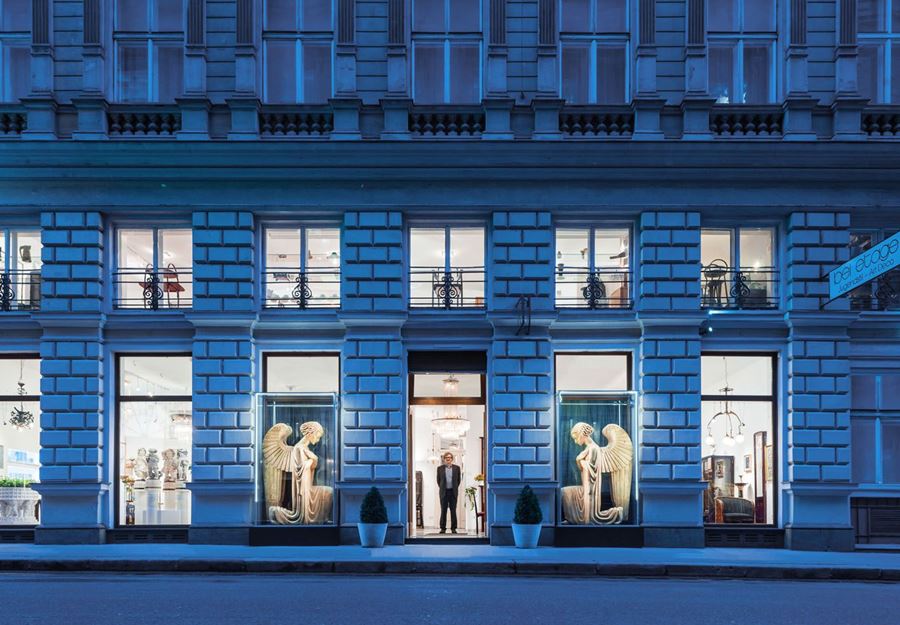 Discover the gallery
Bel Etage, Wolfgang Bauer, Vienna
Viennese Jugendstil, Secessionist Movement
More Works From This Gallery