Description & Technical information
This striking square tile is decorated with an overglaze bronze-brown lustred ground with cobalt blue and turquoise underglaze paintings. It would have originally formed part of a horizontal frieze along the top of a dado, most likely in the imperial complexes of the Ilkhanid rulers in Takht-e Soleymān, south of Tabriz.
The moulded upper border projects slightly from the main surface and is decorated with band leaves. Across the centre of the tile, the two tri-lobed arches painted in turquoise form a border with a hemistich in naskh script written in cobalt blue. The script comes from the Persian national epic Shahnameh ("Book of Kings") by Firdausi, which reads:
برھنھ چو زاید ز مادر کسی
("Man being born in mother-nakedness ...")1
This verse occurs in the section relating to the reign of Iskandar (Alexander the Great) and is part of the answer given by the Brahmins of India to Iskandar's question regarding the Brahmins' choice to lead a life of asceticism. On either side of the lobed arches there are animal heads growing out of trees, some of which are picked out in turquoise.
Tiles similar to this piece were found during excavations at Takht-e Soleymān in a palatine complex identified as the summer palace of the Ilkhanid ruler Abaqa Khan (r.1265-1282). There are numerous frieze tiles from Takht-e Soleymān with texts from the Shahnameh in lobed inscription bands or scenes of hunting and fighting, some of which bear dates to the AH 670s/AD 1270s.2 These tiles are particularly important because Abaqa Khan's palace is the sole surviving secular building of the period with lustre decoration.3
There are similar examples held in the Bargello Museum in Florence (Accession Number: bg. C1969 GF SSPMF neg. n. 537546),4 the Harvard Art Museums in Massachusetts (Accession Number: 1958.47), the Asian Art Museum of San Francisco (Accession Numbers: B60P2145 and P60P2146),5 the British Museum in London (Accession Numbers: 1878,1230.573.1 and 1878,1230.573.2), and the Shangri La Museum of Islamic Art, Culture & Design in Honolulu (Accession Numbers: 48.346.1 and 48.346.2).


Date: 1270-75
Period: 13th century
Origin: Ilkhanid Iran
Medium: Overglaze bronze-brown lustred ground with cobalt blue and turquoise underglaze paintings
Dimensions: 28.5 cm (11¹/₄ inches)
Provenance: Private collection

Literature: Footnotes:
1. For translation see, Arthur George Warner and Edmond Warner. 1912. The Sháhnáma of Firdausí. Done into English, Vol. VI. London: Kegan Paul. p. 144.
2. Oliver Watson. 1985. Persian Lustre Ware. London: Faber and Faber. pp.134-36.
3. Venetia Porter. 1995. Islamic Tiles. London: British Museum Press. p.37.
4. See, Watson, 1985:135, fig.112.
5. See, Tomoko Masuya. 2002. "Ilkhanid Courtly Life". In The Legacy of Genghis Khan: Courtly Art and Culture in Western Asia, 1256-1353, edited by Linda Komaroff and Stefano Carboni, 74-103. New York: The Metropolitan Museum of Art.

Categories: Oriental and Asian Art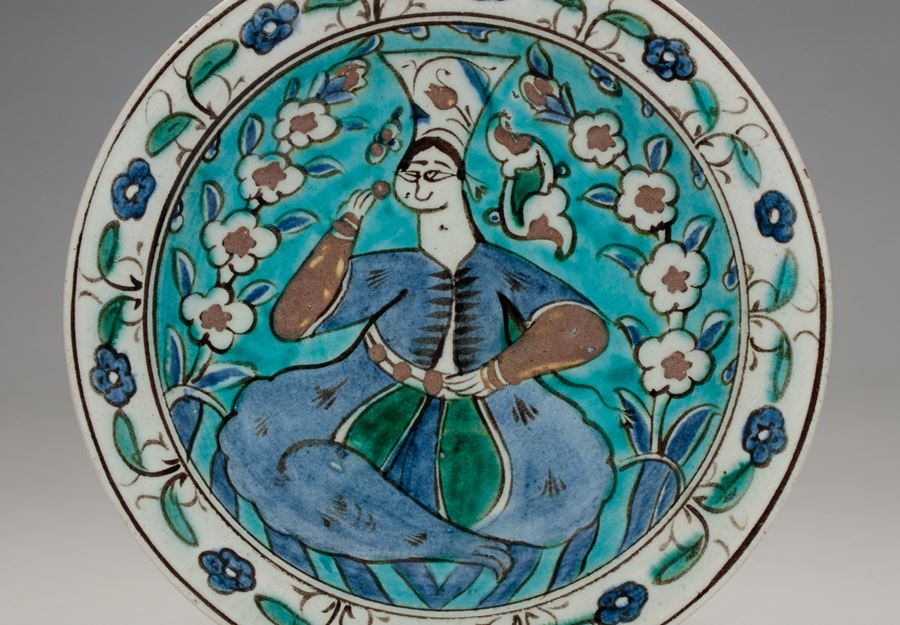 Discover the gallery
Amir Mohtashemi Ltd.
Indian,Islamic and Cross-Cultural Works of Art
More Works From This Gallery