Description & Technical information
Delicate little painting, masterpiece of balance and harmony, this vase of flowers of Balthasar van der Ast moves us at the same time by its richness and its simplicity. The speech is that of humility, before the creations of the Almighty. This composition is an invitation to wisdom and contemplation of both the simplest and the most beautiful things, it gives us the effect of a mirror and returns us to our own and fragile destiny, thus inciting us to more humility.

Balthasar van der Ast ranks among the most brilliant pupils of Ambrosius Bosschaert the Elder, whom he marries his sister, and who was the first great painter of still lifes and flowers of the modern Netherlands. Born in Middelburg, he settled for a time in Utrecht from 1619 before settling in Delft in 1632, a city in which he remained active until his death in 1657. He remained faithful to the manner of his brother-in-law in the early part of his career, about the mid-1620s, sometimes drawing inspiration from the details of small insects or lizards from Roelandt Savery, who returned from Prague and settled like him in Utrecht in the 1620s.

The originality of our painting lies in the presence of two elements of very great prices in Holland in the seventeenth century: the tulip and the shell. Coming from Constantinople, the tulip made its entry into Holland at the end of the 16th century, where it enjoyed an immediate success, reinforced in the 17th century by the development of horticulture. The bulbs are slowly appearing on the markets, but, still rare and expensive, they remain the privilege of wealthy bourgeois who garnish their gardens and arouse greed. Become an emblem of prosperity and luxury, the delicate colorful flowers adorn the flower beds as well as the still lifes of which they become a privileged motif. The craze is such that the onions become an object of speculation, with a system of stock market and a tulip course that peaks in 1637 - it is called "tulipomania" - before collapsing. Also from distant lands, exotic shells were brought from Indonesia, Japan, Brazil, the East Indies and the Caribbean by the boats of the flamboyant and insolent East India Company. Populating the cabinets of curiosity, the shells of different species, with varied shapes and pearly reflections, also become privileged motifs of the greatest artists1. Like tulips, shellfish were the subject of speculation and lust and could reach huge prices. The poet Roemer Visscher himself made a sharp criticism: he stigmatized in his book 'Sinnepoppen', published in 1614, the madness of collectors who spent their money in shells. Speech of vanity or speech of fascination on the beauties and the wealth of the creation, Balthasar van der Ast paints on our table the wonders which make us travel.

Footnote:
1 L. J. Bol, 'The Bosschaert dynasty', Londres, 1980, p. 39.

Date: 1622
Period: 17th century
Medium: Oil on copper
Signature: Signed and dated lower left: B. vander. Ast. 1622

Dimensions: 23.6 x 17.1 cm (9¹/₄ x 6³/₄ inches)
Provenance: Sale Amsterdam, Paul Brandt, 6 June 1961, no. 29 ;
Terry-Engel Gallery, London, in 1964 ;
With Douwes, Amsterdam-London, in 1965 ;
Sale London, Sotheby's, 9 December 1987, no. 67 ;
With P. de Boer, Amsterdam, in 1989 ;
Gallery Friederike Pallamar, Vienna;
Sale Artcurial, Paris, 13 November 2019, lot 76, reproduced.

Literature: Weltkunst, Munich, 15 May 1961, p. 5, repr.;
"Notable works of art now on the market", in The Burlington Magazine, vol. CVI, London, 1964, pl. 1 .

Exhibitions: London, Terry-Engel Gallery, 3 November - 18 December 1964, no. 3 ;
Niederländische Meisterwerke des 17. Jahrhunderts, Vienna, Gallery F. Pallamar, 15 October - 30 November 1990, no. 2.

Categories: Paintings, Drawings & Prints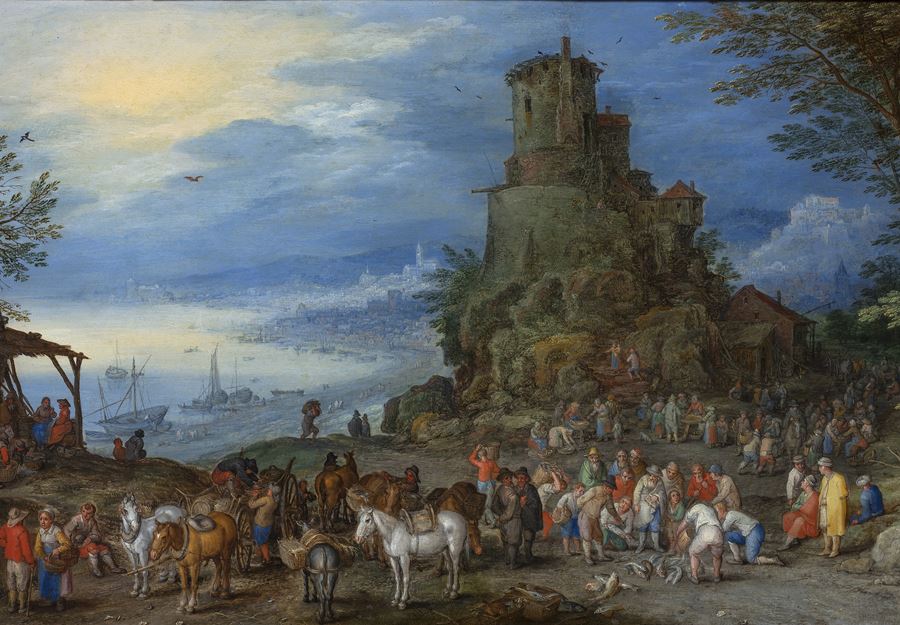 Discover the gallery
David Koetser Gallery
17th Century Dutch and Flemish Paintings, 14 through 18th Century Italian and Spanish Paintings
More Works From This Gallery