Description & Technical information
A stylistically comparable drawing of a lion by Giambattista Tiepolo, drawn in red and white chalk, is part of the so-called Beurdeley album of Tiepolo drawings now in the collection of the Hermitage in St. Petersburg. The Hermitage drawing is a preparatory study for a lion in the centre of Tiepolo's massive ceiling painting of The Apotheosis of Angelo della Vecchia Surrounded by Virtues of c.1749-1750, formerly in the Palazzo dei Conti Vecchia in Vicenza and today in the Palazzo Isimbardi in Milan. The present sheet may, in fact, be a first idea for the head of the lion in the same painting, which measures 8 x 6 metres and is the largest painting in oil on canvas of a secular subject in Tiepolo's oeuvre.

A somewhat similar, albeit much more sketchy, chalk study of the head of a lion looking to the left is part of an album of Tiepolo drawings - entitled Vari Studi e Pensieri T.I. ('Various Studies and Sketches Vol.I') - in the collection of the Victoria and Albert Museum in London.

This drawing was once part of a large and significant group of Tiepolo drawings in the Bossi-Beyerlen collection in Munich, formed by the painter Johann Dominik Bossi (1767-1853), who was born in Trieste and may have been a student of Domenico Tiepolo in Venice. He worked primarily as a miniaturist in Germany, Austria, Sweden and Russia before settling in Munich, where he was appointed a court painter. Bossi owned some eight hundred and fifty drawings by both Giambattista and Domenico Tiepolo, of which about six hundred and thirty were studies in black or red chalk on blue paper – including nearly three hundred studies of character heads - and the remainder in pen and grey or brown ink.

At his death, Bossi's collection of drawings passed to his daughter Maria Theresa Caroline Bossi (1825-1881) and her husband Carl Christian Friedrich Beyerlen (1826-1881). In March 1882, six months after the death of Maria Theresa Bossi, the drawings were sold at auction in Stuttgart and dispersed. A large number of the Bossi-Beyerlen drawings (although none of the studies of heads) were acquired at the 1882 sale by the Staatsgalerie in Stuttgart, where they remain today. Another one hundred and twenty of the drawings, including the present sheet, passed through several German collections until they were dispersed in the early 20th century. A later owner of this drawing was the art dealer Kurt Cassirer (1883-1975).

Period: Early 18th century
Medium: Black chalk, heightened with touches of white chalk, on faded blue paper.
Signature: Numbered and inscribed No. 3066. (or 3086) i. f. G. M. and 432 on the verso.
Further inscribed Today, 9th of August 1972 / we, Eva and Kurt Cassirer / do give this drawing of a Lion head / by G. B. Tiepolo / to Irmi(?) D. F. Jones / Eva and Kurt Cassirer / DIESSEN, Ammersee on the backing board.
Also inscribed This drawing by Tiepolo / is of some value and is / [overwritten, in a different hand, not any more] the property of KURT / CASSIRER, and dated 9. 8. 1972 in a different hand, on a label pasted onto the backing board

Dimensions: 24.6 x 28.2 cm (9⁵/₈ x 11¹/₈ inches)
Provenance: Possibly Giovanni Domenico Tiepolo, Venice
Johann Dominik Bossi, Munich
His daughter, Maria Theresa Caroline Bossi, Munich, and by her marriage to her husband, Carl Christian Friedrich Beyerlen, Stuttgart
Their posthumous sale, Stuttgart, H. G. Gutekunst, 27 March 1882 onwards, probably as part of lot 637 ('Kohlenskizzen und -Zeichnungen auf blauem Papier…Studien von Händern, Füssen und Thieren. 8o und 4o. 17 Bl.', bt. Eisenmann for 5.50 Marks)
Dr. Oskar Eisenmann, Kassel
Wilhelm Lübke, Stuttgart
Joseph Baer & Sons, Frankfurt
Dr. Hans Wendland, Lugano
Dr. Kurt Cassirer and Eva Cassirer, Dießen am Ammsersee
Given by them in August 1972 to Irmi(?) D. F. Jones
Private collection, United Kingdom.

Literature: Possibly George Knox, Giambattista and Domenico Tiepolo: A Study and Catalogue Raisonné of the Chalk Drawings, Oxford, 1980, Vol.I, p.289, no.M.681.

Categories: Paintings, Drawings & Prints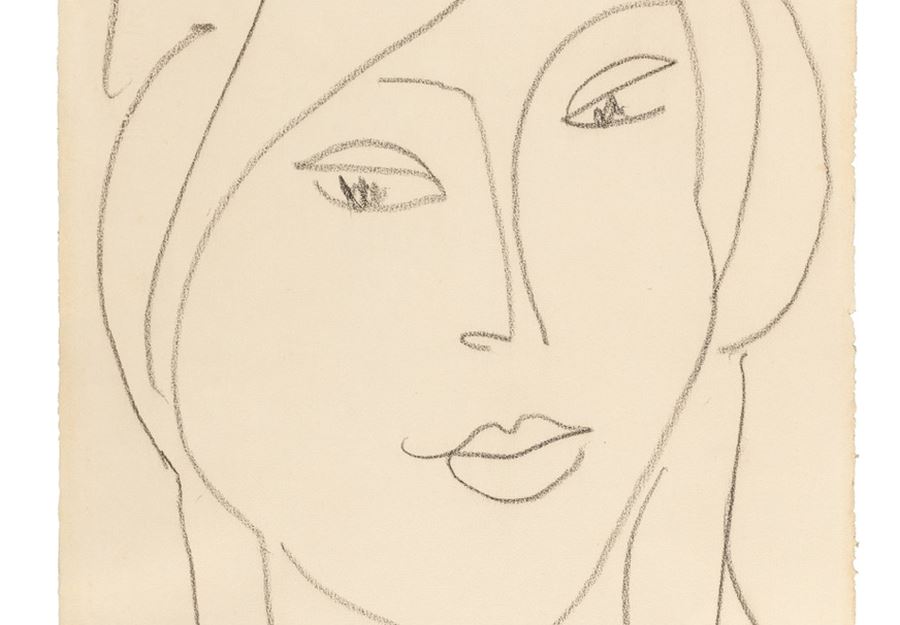 Discover the gallery
Stephen Ongpin Fine Art
Old Master, 19th Century and Modern Drawings, Watercolours and Oil Sketches
More Works From This Gallery