Description & Technical information
The "Jeux de Nausicaa" were part of a decoration for the dining room of the Hôtel Kapferer.

The paintings of Maurice Denis are known to the public because they are
often exhibited in museums and galleries worldwide. But there are also
others which are less known, for example big decorations which often
remain hidden treasures in private collections. This is the case for the
panels forming a great decoration on the theme of the "Jeux de
Nausicaa." Maurice Denis created them for the Parisian merchant and
gallery owner Eugène Druet between 1909 and 1914. He created in 1909 "Le
sommeil d'Ulysse", in 1914 "Femme portant sa compagne" and "Deux femmes
près d'une mule harnachée". He added additional panels like "Femme à la
grappe" and "Le jeu des laveuses" in 1923.
The classic studies at
Lycée Condorcet, where Maurice Denis was introduced to the modern art
and literature, made him a scholar. Greek mythology became a subject
pool of foundation of many paintings, large murals and decorative
compositions. Before the "Jeux de Nausicaa", he was commissioned to
decorate the dome of the great hall of the Theâtre des Champs-Élysées.
He decided to paint a "synthesis of Music History" in a circular frieze
in the vault of the great hall of the theater. Apollo, Orpheus and
Bacchae are the heroes of the first panel, "L'Orchestique grecque".
After this experiences, Maurice Denis also created the private decor of
"Jeux de Nausicaa" shown at the National Exhibition of Fine Arts in
1914.
One can not understand and appreciate these panels without
reading "Odyssey", the paragraph about Odysseus and Nausicaa: "As
Poseidon was now back in his submarine palace near Evia, Athena was
emboldened to send a wind which would calm the waves in front of Ulysse ;
and two days later he approached, totally exhausted, the island of
Drépan, which is inhabited by Phaecians. He laid down behind a thicket
near a river, covered himself with a pile of leaves and fell into a deep
sleep. The next morning, the lovely Nausicaa, daughter of King Alcinous
and Queen Arete, the royal couple that had once shown so much kindness
to Jason and Medea, came to wash her clothes in the river. When she
finished her laundry, she began to play ball aith her abigails. Their
ball fell into the water, one of the abigails screamed and wakened
Ulysse who was seized with anxiety. He had no clothes but he took an
olive branch with very tight leaves to hide his nudity. He approached
Nausicaa crawling and spoke to her in such a charming way that she took
him discreetly under her wings and brought him to the palace.
The
first panel painted in 1909, entitled"Le sommeil d'Ulysse" is the one
that relates most to this extract. An oil,also painted in 1909 entitled
"Les Bergers" shows a similar background.
Painted in 1914, the two
panels "Femme portant sa compagne" and "Deux femmes près d'une mule
harnachée" were certainly created to be seen together. They are the same
size, both located in a maritime landscape, they represent two young
girls, naked in "Femme portant sa compagne" and in the other panel,
dressed in an ancient dress, which lend themselves to "Jeux de
Nausicaa". The tones of the sea and the hills harmonize with the pastel
colors which are also used for the characters. Note the lovely work of
painted foam like a Japanese style garland in "Femme portant sa
compagne".

These panels were made with the same pictorial
writing. Maurice Denis created a stunning brightness thanks to the
harmonies of the light blue, light pink, pale yellow and light green. In
addition, the simplification of forms creates a serene emotion adding
to the radiant beauty of the models.
According to Jean-Paul
Bouillon, author of a book about Maurice Denis, it seems that the
artist's children have served as models for "Jeux de Nausicaa". His
daughter Noële, aged eighteen in 1914 and Bernadette, thirteen years old
can be seen in "Femme portant sa compagne" and "Deux femmes près d'une
mule harnachée".
These panels were acquired at the Galeerie Druet
in 1921 by Marcel Kapferer (1872-1956), a great collector like his
brother Henry. Marcel, who made his fortune in the oil business by
working for the Royal Dutch and Shell Oil, had a predilection for Redon,
Bonnard, Cézanne, Renoir, Van Gogh and Maurice Denis. The panels about
the history of Nausicaa, originally six in number, were used to decorate
the dining room of his mansionat avenue Henri Martin in Paris. The
dialectic of the game and the sacred was in the spotlight because it was
so appreciated by Maurice Denis.
Date: 1914
Period: 20th century
Origin: France
Medium: Oil on canvas
Dimensions: 160 x 80 cm (63 x 31¹/₂ inches)
Provenance: Druet Gallery, Paris, 1914.
Marcel Kapferer, Paris, 1921.
Sale M. Loudmer and Poulain, Paris, 27-28 mai 1975, n°170.
Private Collection, Paris, in the 80's.

Literature: Gazette des Beaux-Arts, "À propos de l'exposition Maurice Denis", Paris, July - December 1924, illustrated p.211.

This
work will be included in the Catalogue Raisonné de l'Oeuvre de Maurice
Denis being prepared by Mrs. Claire Denis and Mrs. Fabienne Stahl.

Exhibitions: Salon de 1914, Société Nationale des Beaux-Arts, Galeries nationales du Grand Palais, Paris, April-June 1914, n°340.
Panama-Pacific International Exposition, Palace of Fine Arts, San Francisco, Summer 1915, n°314F.
Exhibition
of Contemporary French and Belgian Art from the Panama-Pacific
International Exposition : The Art Institute, Chicago ; City Art Museum,
Saint Louis ; Albright Art Gallery, Buffalo ; Carnegie Institute,
Pittsburg ; Mahoning Institute of Art, Minneapolis ; Brooklyn Museum,
New-York, 1915-1916, n°63 then 84, 268, 87, 77, 76 and 64.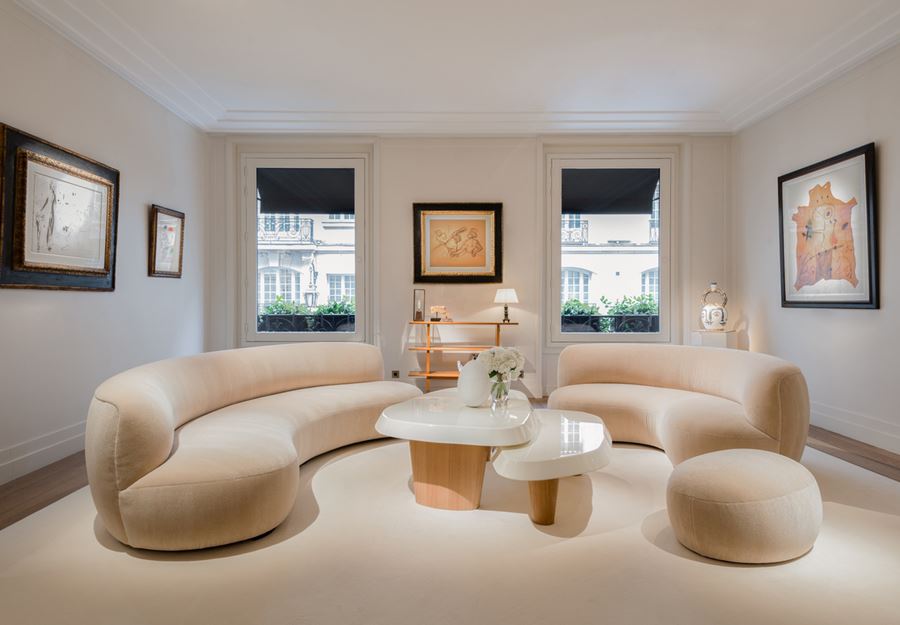 Discover the gallery
Helene Bailly Gallery
Impressionist, Modern and Contemporary art
More Works From This Gallery