Description & Technical information
After the market crash of 1882, Paul Gauguin left his work and decided to dedicate his entire career to painting. Nevertheless, the success he had expected did not come at first and his financial situation worsened quickly. Life in Paris was hard and the one outside the city seemed easier. Gauguin, his wife Mette and their five children moved to Rouen in January 1884. Eight months later, he had to move again with his family to Denmark.
Paul Gauguin was 36 when he painted
Les falaises de la Bouille. Daily served by a steamer, this small town
of Normandy located in the meander of the Seine, 18 km from Rouen, seduced many painters such as Alfred Sisley, William Turner or Albert Lebourg including writers such as Victor Hugo or Octave Mirbeau.
When he was in Rouen, Gauguin met the Manthey family. Carl August Manthey was a Norwegian wood trader and he became close friends with Gauguin and
his family which explains the dedication to Carl August's wife on our work: "à mon amie, Fru Manthey". Paul Gauguin also painted in 1884 a
portrait of Sophie Margrethe Manthey, Carl August's younger sister.
We suppose this work was executed in Summer 1884, while Mette was in Copenhagen. Gauguin probably sailed on the Seine with the Manthey, departing from Rouen to arrive in la Bouille, this typical chalk cliff
town in Normandy.
Our work captures the joyful atmosphere of a
summer day in 1884 along the Seine. Reflecting a gentle lifestyle, the light-flooded landscape under a broad blue and barely cloudy sky contrasts with the cliffs, dividing the sky and the Seine while
conserving a vivid reflection. The houses of the town only appear under blue shapes along the shore. The sailboat on the background is animated by the soft breeze, the full sails, in opposition to the frontal one,
still and with no rigging.
The greens, the blues, whites and pinks of the painting form a perfect harmony of this summer day; their contrasts with notably the different shades of green on the shore and the undulating landscape already show the colorist signature of the
artist.Camille Pissarro was a good friend of Gauguin, like shown in their correspondence during the year 1884. Pissarro inspired him for the open air painting and notably told Gauguin later that he improved during his stay in Rouen.
Date: 1884
Period: 19th century
Origin: Suisse
Medium: Oil on original canvas
Dimensions: 38.5 x 56 cm (15¹/₈ x 22 inches)
Provenance: Mrs Carl August Manthey, Rouen, offered by the artist in 1884.
Collection Moen, Oslo, circa 1955.
Sale, Sotheby's London, 1 April 1981, n°15.
Collection Monsieur Samuel Josefowitz, Lausanne, 1981.
Sale, Christie's New York, 8 May 2002, n°205.
Galerie Salis et Vertes, Switzerland 2002 .
Private collection, North Rhine-Westphalia.

Literature: Georges Wildenstein, Paul Gauguin, Vol. I, Edition Les Beaux-Arts,
Paris, 1964, illustrated under the n°120, p.46-47 (under the title "Les
voiliers")
Daniel Wildenstein, Gauguin - Premier itinéraire d'un
sauvage, Catalogue de l'oeuvre peint (1873-1888), Wildenstein Institute
Editions, Paris, 2001, illustrated under the n°143, p.160
Christian
Borchsenius,"Manthey - en dansk-norsk embetsslekt", in Norsk
Slektshistorisk Tidsskrift, Oslo, 1976, Vol. 25, n°3, p.195-207
Elda
Fezzi, "Gauguin - Das Gesamtwerk", Francfort, Berlin, Vienna, 1979,
illustrated under the n°129 (under the title "Segelboote")
"Le chemin
de Gauguin - genèse et rayonnement", Exhibition Catalogue, Musée
départemental du Prieuré, Saint-Germain-en-Laye, 1985/1987, illustrated
under the n°36, p.31 (under the title "Les voiliers")
Paul Gauguin,
Musée national d'Art moderne, Tokyo / Musée d'Art de la Préfecture
d'Aichi, Nagoya, Exhibition Catalogue, 1987, illustrated under the n°4,
p.54 ( under the title "Les voiliers")
Arthur Ellridge, "Gauguin et les Nabis", Edition Terrail, Paris, 1993, illustrated p.18
Gauguin
und die Schule von Pont-Aven, Exhibition Catalogue, Museum Würth,
Künzelsau, Sigmaringen Thorbecke Verlag, 1997, illustrated under the
n°2, p.52 (under the title "Les voiliers")
Isabelle Cahn, Antoine
Terrasse, "Gauguin und die Schule von Pont-Aven", Exhibition Catalogue,
Kunsthalle der Hypo-Kulturstiftung, Munich, 1998, illustrated under the
n°1, p.35 (under the title "Les voiliers")

Exhibitions: Huitième exposition impressioniste, Paris 1886, n°59.
Kunstnerforbundet ("Paul Gauguin"), Oslo, 1955
Art Gallery of Ontario, Toronto
Musée départemental du Prieuré, Saint-Germain-en-Laye 1985/1986
The National Museum of Modern Art, Tokyo, Aichi Prefectural Art Gallery, Nagoya, 1987
Gauguin et l'École de Pont-Aven :
- Bunkamura Museum Art, Tokyo
- The National Museum of Art, Kyoto
- The National Museum of Art, Hokkaido
- Prefectural Art Museum, Mie (Japon)
- Art Gallery of New South Wales, Sydney
- Museum of Art, Indianapolis
- Walters Art Gallery, Baltimore
- Museum of Art, Montreal
- Dexon Gallery and Gardens, Memphis
- Museum of Art, San Diego
- Museum of Art, Portland
- Museum of Fine Arts, Boston
- The Israel Museum, Jerusalem
Museum Würth, Künzelsau
Kunsthalle der Hypo-Kulturstiftung, Munich, 1998

Categories: Paintings, Drawings & Prints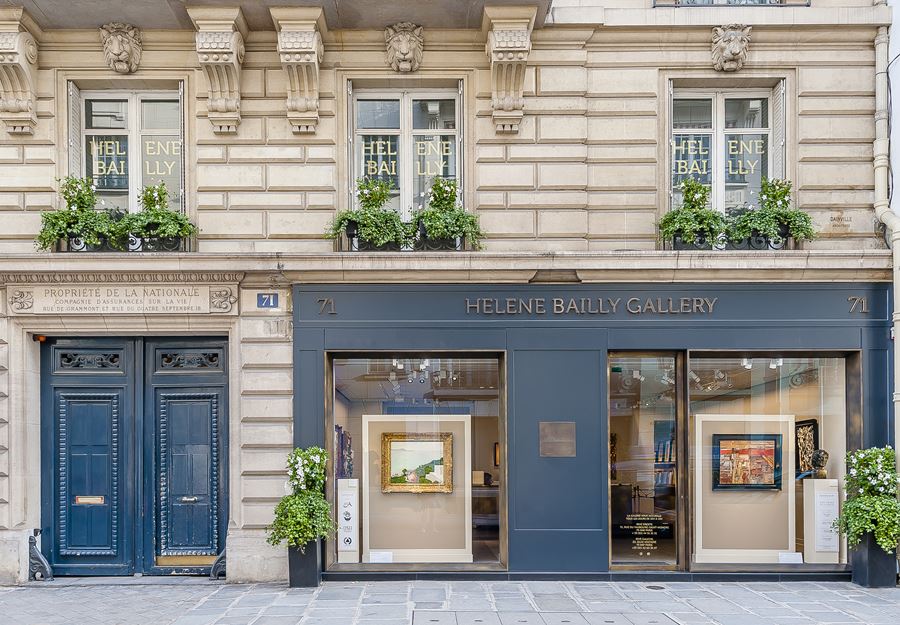 Discover the gallery
Helene Bailly Gallery
Impressionist, Modern and Contemporary art
More Works From This Gallery