Description & Technical information
Between 1907 and 1909, a strong interest in ceramic had developed into the Fauvist movement. Several artists such as Bonnard, Maurice Denis, Derain, Matisse or van Dongen collaborated with the ceramist André Méthey (1871-1920). Located in Asnières-sur-Seine, he provided his workshop and oven for the young Fauvist artists for them to create original and innovative decorative pieces. The interest for this material was at rst a reaction to the lack of stylistic innovation related to the industrial production and a desire to put forward the decorative arts. Ceramic decoration allowed them to renew painting but
also to break with the illusion of perspective and three-dimensionality at a time when even their paintings were approaching the same question. Ambroise Vollard, the renowned art dealer, widely participated in this
collaboration between artists and artisans. He commissioned numerous pieces to the ceramist and rewarded the contributing artists. The series of ceramics decorated by van Dongen was created in the same context of opening to the decorative arts. Executed in limited number, there were part of one the most ourishing period of production of the artist's career.
In 1908, within the context of his rst solo exhibition at
the Bernheim-Jeune Gallery, van Dongen collaborated in
Asnières-sur-Seine with André Méthey. The ceramist created the shapes in clay that the artist decorated a er. The artist used Méthey's shining glazes that he applied with a paintbrush to create drawings with the same determination and energy that was in his Fauvist paintings.
Following the shape of the ceramic, the artist had to reduce his drawing to the essential exploiting the decorative e ect of his subjects. Even if he had a rich panel of enamels at disposal in the workshop, the exacerbated expression of his Fauvist paintings was suddenly limited. He then focused on the line which allowed him to render the same
expressiveness and which is reminiscent of his ink drawings that he had produced four years earlier. Femme nue au lierre is a unique piece by van Dongen made up of twenty Maiolica assembled glazed tiles. It's a
perfect example of decorative ceramics that the artist executed at this period, also reviewing one of his favorite subject, the woman. He draws a con dent but delicate line that he modulates depending on the brush.
Unlike his paintings with an explosive palette, he only uses here three colors; green for the foliage, deep blue applied around the woman and sharp yellow to depict her long hair. But the Fauvist expressiveness is identical, van Dongen manages to keep this vibration which is unique and
that reminds of his most emblematic works.
An image of our ceramic is notably known from photographs of the interior of the artist's home in Paris, the Villa Saïd. As he had become a worldly painter he used to
show his works at his own house which was a prominent meeting place at the time.
Date: circa 1908-1910
Period: 20th century
Origin: France
Medium: Twenty coloured Maiolica glazed titles and red clay
Signature: Signed lower left: van Dongen

Dimensions: 54.5 x 44 cm (21¹/₂ x 17³/₈ inches)
Provenance:
Private collection, Rhineland
Literature:
Anita Hopmans, All eyes on Kees van Dongen, Rotterdam 2010, p.172.
This work will be included in the forthcoming Catalogue Raisonné de l'oeuvre de Kees van Dongen under the n°12189, réf. n°3346, being prepared by Mr Jacques Chalom des Cordes, Wildenstein Institute. Attestation of inclusion dated December 9th 2014.
Exhibitions:
Van Dongen, Bernheim-Jeune, Paris, November 25 -December 8, 1908, exhibition catalogue, listed under the n°84 ("Femme et branche de lierre") or n°85 ("La toilette"), p.23.
Categories:
Paintings, Drawings & Prints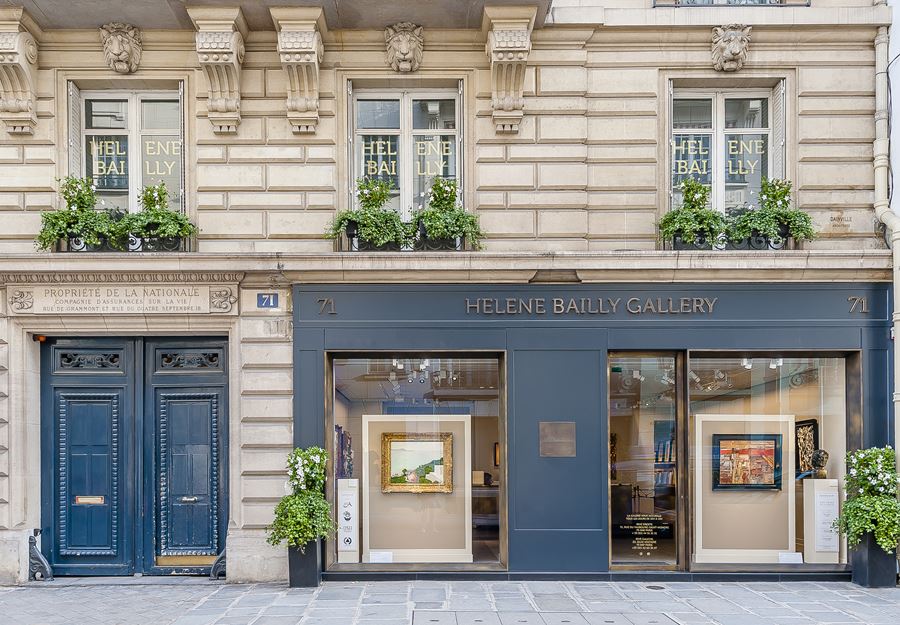 Discover the gallery
Helene Bailly Gallery
Impressionist, Modern and Contemporary art
More Works From This Gallery