Description & Technical information
A "crooked" knife with a riveted iron blade. The handle has a few worn decorative designs engraved into the surface which where most probably artistic trials rather than a specific attempt to decorate the object. Several holes have been drilled through either to server as attachment points or possible the handle was used as an occasional fire-starter.

Crooked knives were used for shaping wood, bone and antler. The crooked knife has a small blade attached near the end of a long-curved handle. The knife is held with the fingers of one hand on the underside of the handle, and the thumb positioned on top of the blade in an indentation in the handle. The craftsman rests the underside of the blade against the object being worked and draws the knife towards the body while using the thumb on the hand holding the tool to check the depth of the cut. Alaska possibly from Point Barrow. Mid to the late Thule culture.



Period: 1500 - 1900 AD
Origin: Alaska
Medium: Riveted iron
Dimensions: 28 x 2.4 x 1 cm (11 x 1 x 0³/₈ inches)
Provenance: Field collected by Leo Hansen the expedition photographer of the "5th Thule Expedition" in 1924. Ex Coll. : Leo Hansen (1888–1962). His son by descent. Ex coll. : David Utzon-Frank, Copenhagen. from a collection of pieces of early Eskimo ethnographic items collected in Alaska by Leo Hansen during the Danish "5th Thule Expedition" led by Knud Rasmussen between 1921 and 1924.

Leo Hansen joined the 5th Thule Expedition as filmmaker/photographer at Kent Peninsula where he was waiting for their arrival in November 1923. Rasmussen had requested a filmmaker from Denmark in a letter sent from Repulse Bay in January 1923. Hansen travelled across the Atlantic by ship landing in New York and then crossed Canada to Vancouver where he sailed on the Hudson Bay Company ship Lady Kindersley to Tree River, the Hudson Bay Company post; he finally arrived at the Kent Peninsula post on a small schooner in September. The Expedition lost no time putting Hansen to work documenting life in a Umingmaktormiut igloo village. He worked under extreme conditions between -40° c. and -50° c. and the camera would stop turning every 5 minutes. Hansen froze his fingers when he touched the metal camera. Hansen accompanied Rasmussen, Arnarulunguaq and Qavigarssuaq their Eskimo informants for the rest of the journey to Alaska. In Point Barrow, Alaska he had the opportunity of filming the whaler's festival.

Literature: Ref. :
An identical example in the Sheldon Jackson Museum, Sitka, Alaska
Categories: Oriental and Asian Art, Tribal Art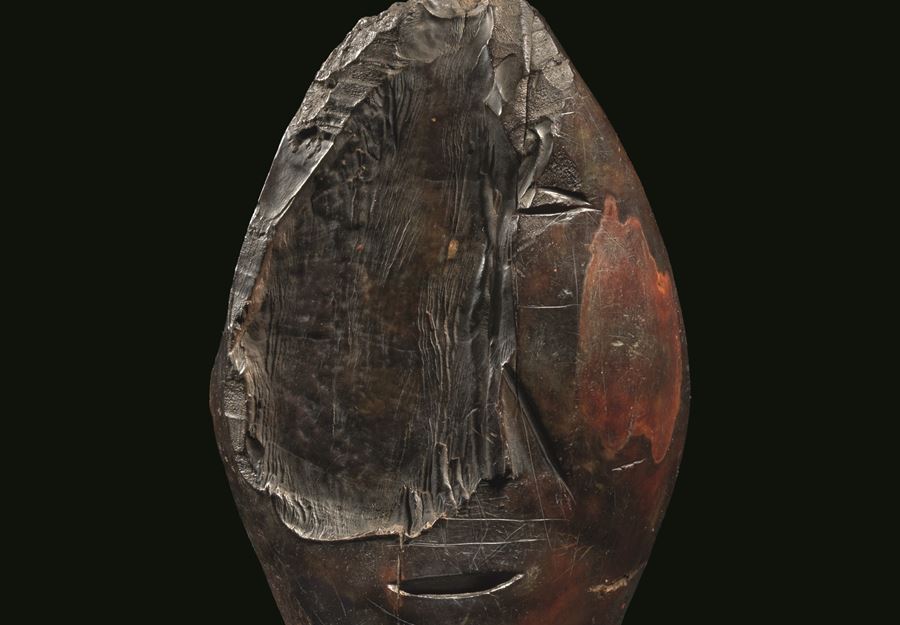 Discover the gallery
Galerie Meyer-Oceanic Art
Tribal Art dealer specializing in early Oceanic Art since 1980 and archaic Eskimo Art since 2010
More Works From This Gallery