Description & Technical information
A very finely decorated palau bubu type war club with flat bevelved tip. Shell money (diwarra) bound around the shaft with the cut and ornamented feather-bunchs as well as the twin cane loops covered in red cloth and ferns, shows that this weapon has been transformed into an important ceremonial staff which was used during war related ceremonies and bridal rituals. These staffs also called ram were notably used in the kulau dance and for dukduk ceremonies.

Tolai People, Gazelle Peninsula, New Britain, Bismarck Archipelago, PNG, Melanesia. Black palm wood, rattan, tapa, shell (nassa sp.), and feathers. 152,5 cm. 19th century. An old paper label (probably a German tax or customs stamp) with un-decipherable writing in pencil is affixed to the top of the club.

Medium: Shell, Feather-bunchs
Provenance: Provenance : Field collected by either Father Mathäus Rasher (murdered together with a number of missionaries and MSC sisters by the Baining People in Toma Village on August 13, 1904), or by Richard Parkinson (1844/1909). Father Rasher and Parkinson traveled often together with Parkinson collecting art-works and Rasher making converts. A large group of artifacts were shipped back to the main Mission in Hiltrup-Munster (Germany). Many of these items were later sold to Loed van Bussel in the 1960's. Four of these staffs were in the Hiltrup collection purchased by Van Bussel - two of which are in private collections (one ill. in OCEANIA at ING cultural Center, 2008/09) and two (including the present example) were in the collection of Galerie Meyer (2008/2009).

Ex collection : the Mission of the Sacred Heart (MSC – Mission du Sacré Coeur) Hiltrup, Munster, Germany. Ex coll. : Loed & Mia van Bussel, Amsterdam; a private Dutch collection.

Literature: See plate 8, in Parkinson (1907) for a palau bubu type club and two decorated staffs.

Ref. :
Lautz, T.: FEDERGELD UND MUSCHELKETTEN. Geldgeschichlichen Museum der Kreissparkasse, Köln. 1992.
Parkinson, Richard: DREISIG JAHRE IN DER SUDSEE. Verlage von Streder & Schroder, Stuutgart, 1907.
Heermann, Ingrid (ed.) FORM COLOR INSPIRATION, Oceanic Art from New Britain. Arnoldsche, Stuttgart, Linden Museum, Stuttgart, 2001.
Frank Herreman (Ed.) : OCEANIA. RITUAL SIGNS, AUTHORITY SYMBOLS. Fonds Mercator & ING Cultural Centre, Bruxelles, 2008.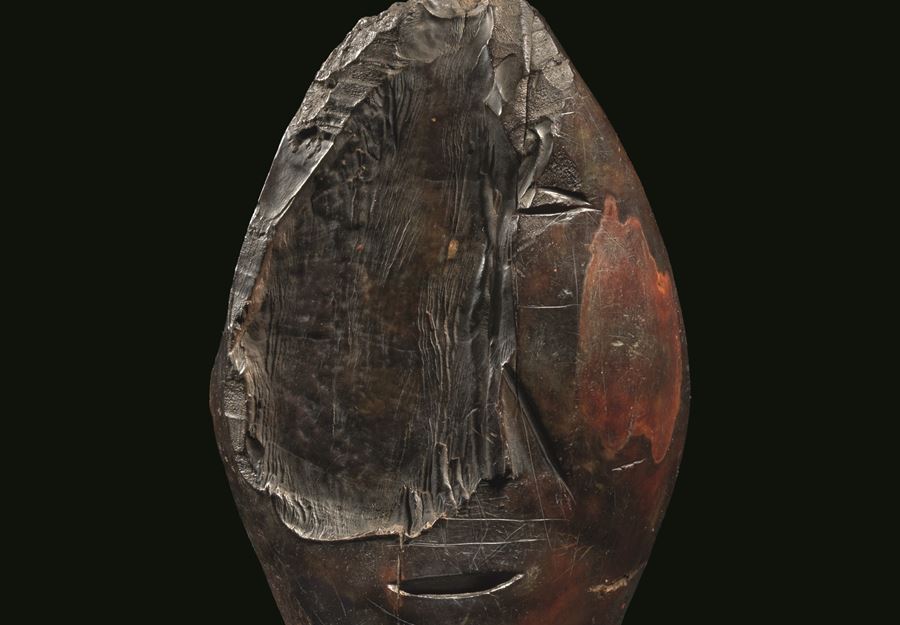 Discover the gallery
Galerie Meyer-Oceanic Art
Tribal Art dealer specializing in early Oceanic Art since 1980 and archaic Eskimo Art since 2010
More Works From This Gallery