Description & Technical information
The present, hitherto unpublished panel is a good example of the winter landscapes that van Goyen started to paint from 1622. Prior to this year van Goyen showed a clear preference for round panels, but as of 1622 he started to also use rectangular panels for his landscapes. Some of these were paired with summer scenes, others were conceived as individual works of art.

In this painting, fine yet rapid brushstrokes can be detected, applying the paint rather thickly in opaque layers, van Goyen rendered the various figures engaged in skating or pushing a sleigh on a frozen river which runs from the right foreground to the horizon in the left background. A house with a turret and some gnarled, bare trees close off the composition in the left foreground. The type of trees seems to have been copied directly from the specimens generally painted by Esaias van de Velde. In the middle distance on the right, some farmhouses are located next to a wooden bridge, whereas a single bare tree is silhouetted against the pale, wintry sky.
This type of composition with a house or farm on one side and other structures further away on the other side, is consistent with Van Goyen's other landscapes of the years 1624 -1628. For his earliest works the artist used a palette with bright colours but as of 1625/26 his colours become more subdued as in the present work, where earthy hues in various shades of brown, reddish-brown and greys dominate. Hence a dating around 1626 seems likely. This more restrained use of colours anticipates a further reduction of colours in the early 1630s when Van Goyen became one of the pioneers of the so-called tonal landscape.



Date: circa 1626
Period: 17th century
Medium: Oil on panel
Signature: Signed with the Monogram 'VG'.
Dimensions: 34.7 x 52.7 cm (13⁵/₈ x 20³/₄ inches)
Provenance: Private Collection France.
Literature: Previously unknown and unrecorded WInter Landscape by Jan van Goyen.
Categories: Paintings, Drawings & Prints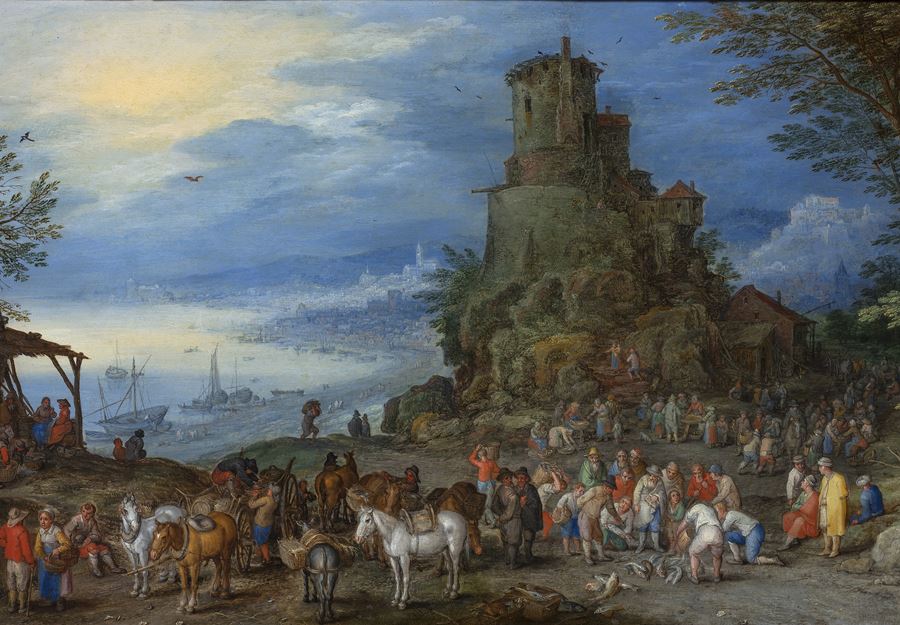 Discover the gallery
David Koetser Gallery
17th Century Dutch and Flemish Paintings, 14 through 18th Century Italian and Spanish Paintings
More Works From This Gallery