Description & Technical information
Price: £110,000

A rare Chinese export porcelain famille rose punchbowl decorated with a continuous scene of the hongs at Canton, the factories flying the French, Imperial Austrian, Swedish, British, Dutch and Danish flags, the interior with floral bands and a basket of flowers.

This hong bowl shows the waterfront buildings in Canton, where the Western offices and factories were located. It was a small area about the size of Buckingham Palace, where westerners were confined to their trade.
The earliest bowl with these Hongs dates from 1765 and is in puce enamels having a panel on the other side of Copenhagen from a print of 1764. The changes in the architecture can be plotted from a careful study of these bowls and from paintings which were also popular at the time (see Paul A Van Dyke & Maria Kar-wing Mok 2016, Images of the Canton Factories 1760- 1822, Reading History in Art). It is thought that each of the different schemes of the buildings found on such bowls was a template lasting in production for several years but that the flags were placed at the time of the order according to the occupation of the buildings by each of the countries trading in Canton at that time.
The panelled versions date from about 1775 and later ones from about 1780 have a continuous scene all round the bowl. From the late 1780s the US flag is found on some bowls after the first US ship The Empress of China had been to Canton in 1783 and a US base was set up a few years later.

Date: circa 1780-1785
Period: Qianlong period
Medium: porcelain
Dimensions: 36 cm (14¹/₈ inches)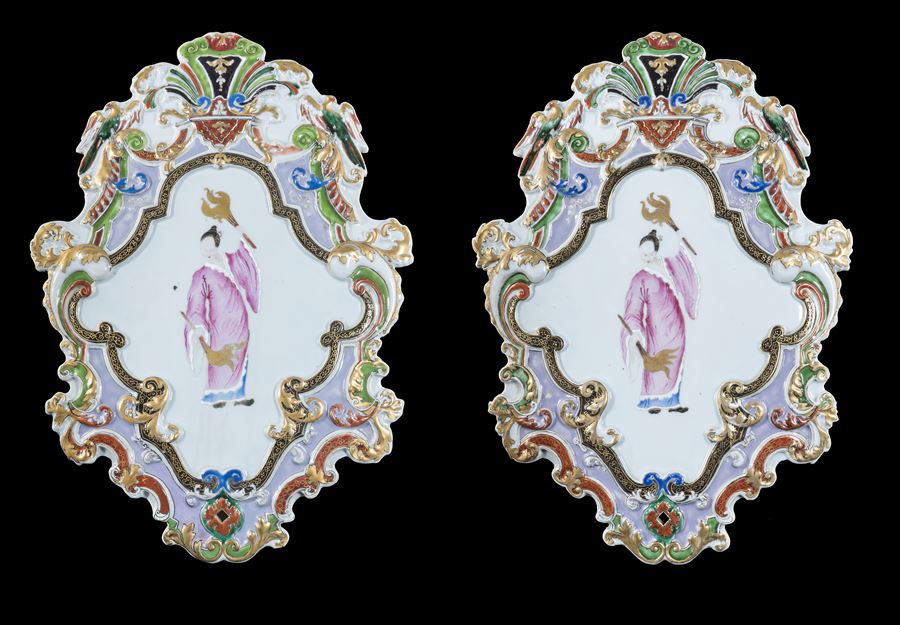 Discover the gallery
Cohen & Cohen
Chinese Export Porcelain, 17th & 18th Century, Works of Art
More Works From This Gallery